'Power Book II: Ghost': Tariq and Effie Are Very Similar
Tariq St. Patrick (Michael Rainey Jr.) will be in a very different mindset when Power Book II: Ghost returns for season 3. Though he's looking to get out of the drug game, he's still reeling from the death of his ex-girlfriend Lauren Baldwin (Paige Hurd). While he thinks he can depend on his lover and friend, Effie Morales (Alix Lapri) she has her own dark secrets.
Effie and Tariq have a long history. In fact, they are very similar.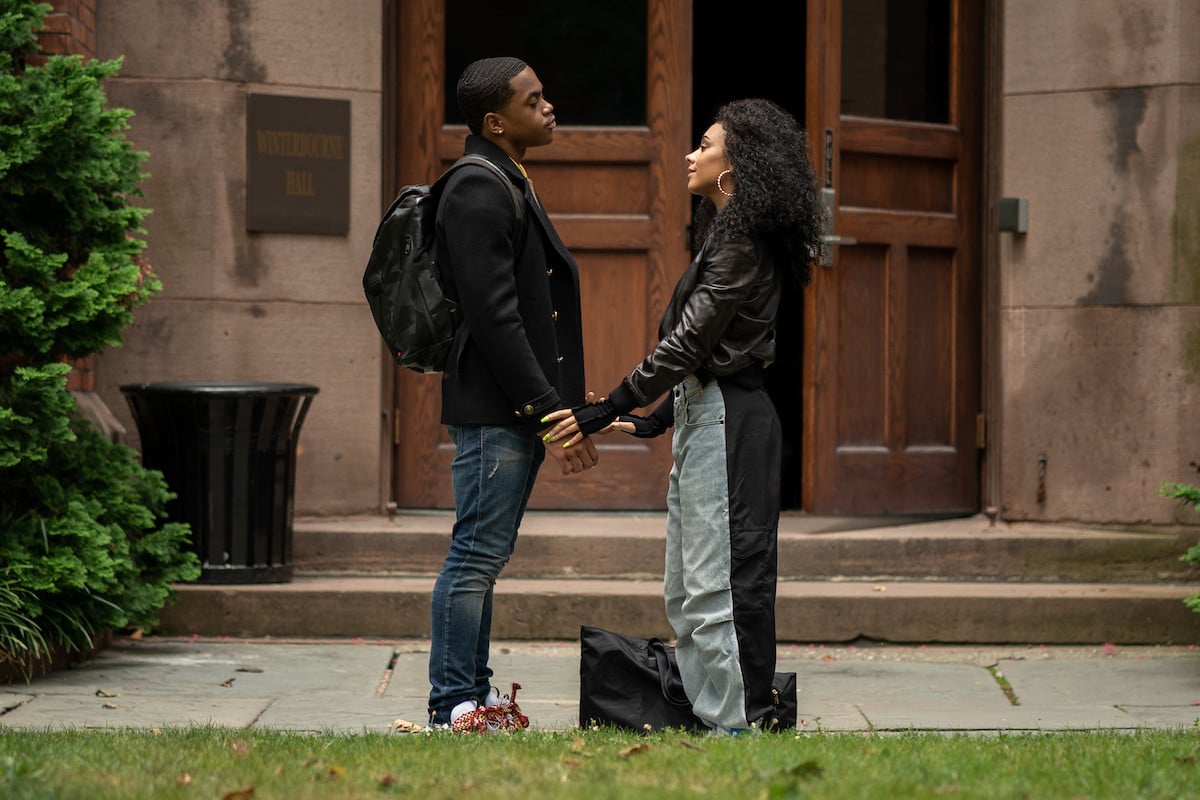 Fans will learn a lot more about Effie in 'Power Book II: Ghost' Season 3
When fans were introduced to Effie in Power Season 6 when she attended school with Tariq and Brayden (Gianni Paolo), it was clear that she came from an impoverished background. She revealed that she was attending Choate on scholarship, and Tariq noticed her old shoes and cracked cell phone.
Though she got into selling drugs, she initially worked at the campus bookstore. "Effie's mom is a mess. But I'll tell you about that later," Power Universe creator Courtney Kemp revealed in a 2020 Instagram Live. "And if you guys remember, close readers of the series, Effie's brother is dead. He was murdered, so keep that in mind."
Though there is much fans don't know about Effie, it should be noted that her brother was killed in a robbery gone wrong.
Tariq and Effie are very similar in 'Power Book II: Ghost'
Though they come from drastically different backgrounds, Tariq and Effie have much in common. They both lost siblings and had a strained relationship with at least one parent. Moreover, they are both now navigating their lives as young adults without the guidance of their families. "They kind of understand each other," Rainey told TV Fanatic. "I feel like out of everyone in Tariq's universe, Effie is the one that understands him the most. She understands him more than he understands himself. So just seeing them and her trying to be there for him."
Lapri had her on tack on the bond between Tariq and Effie. "I guess it's a little bit like if you've ever had a toxic ex, and sometimes you guys just probably aren't good for each other at times, but then it's just like, "Ooh… But…"
Fans think Effie and Tariq will end up together
Fans still believe that she and Tariq could end up together. After all, their similarities make them two peas in a pod. "Angela saw positive in Ghost which is a big part of the reason why he chose her over Tasha," a Redditor said via Express. "As far as we know right now, Lauren seems to be the only positive one over Effie and Diana. Effie is mainly the balance but Lauren just tends to be more on the positive side. Yes, we are only coming into season 2 but I can see this playing out. So basically, I'm saying Effie will be the long-run relationship, but Lauren will be the winner in the end."
Unfortunately, it's unlikely that Tariq will ever forgive Effie for killing Lauren once he learns the truth. Lapri has hinted that Ghost Season 3 will showcase a massive change in their relationship. "Yeah, um, not good," Lapri said on The Wayne Ayers Podcast about Effie and Tariq's relationship in season 3. "Not particularly the best. I think that he will be like, 'Tasha, I've just lost the love of my life.' Like back in OG Power days, that's literally what this situation is like."