'Power Book II: Ghost': Tariq and Brayden May Have Some Major Competition in Season 2
'Power Book II: Ghost' is currently filming Season 2 in NYC and Tariq and Brayden might have a lot more competition this season with the return of a familiar face.
Power Book II: Ghost has solidified the Power Universe's dominance on television. The drama series is the first spinoff in the franchise, and it opens following the events of the original Power. Following the murder of his father, James "Ghost" St. Patrick (Omari Hardwick), Tariq St. Patrick (Michael Rainey Jr.) enrolls in the prestigious  Stansfield University.
Juggling life as a college student so that he can eventually access his inheritance, Tariq is also strapped for cash at a time when his family needs it most. Tariq begins selling drugs on the university campus for the Tejada crime family to earn money to pay for his mother, Tasha St. Patrick's (Naturi Naughton) criminal defense and to support his younger sister and grandmother.
Though Tariq enlists the help of his friend and roommate Brayden Westen (Gianni Paolo), it looks like the guys are going to have some major competition in season two of the series.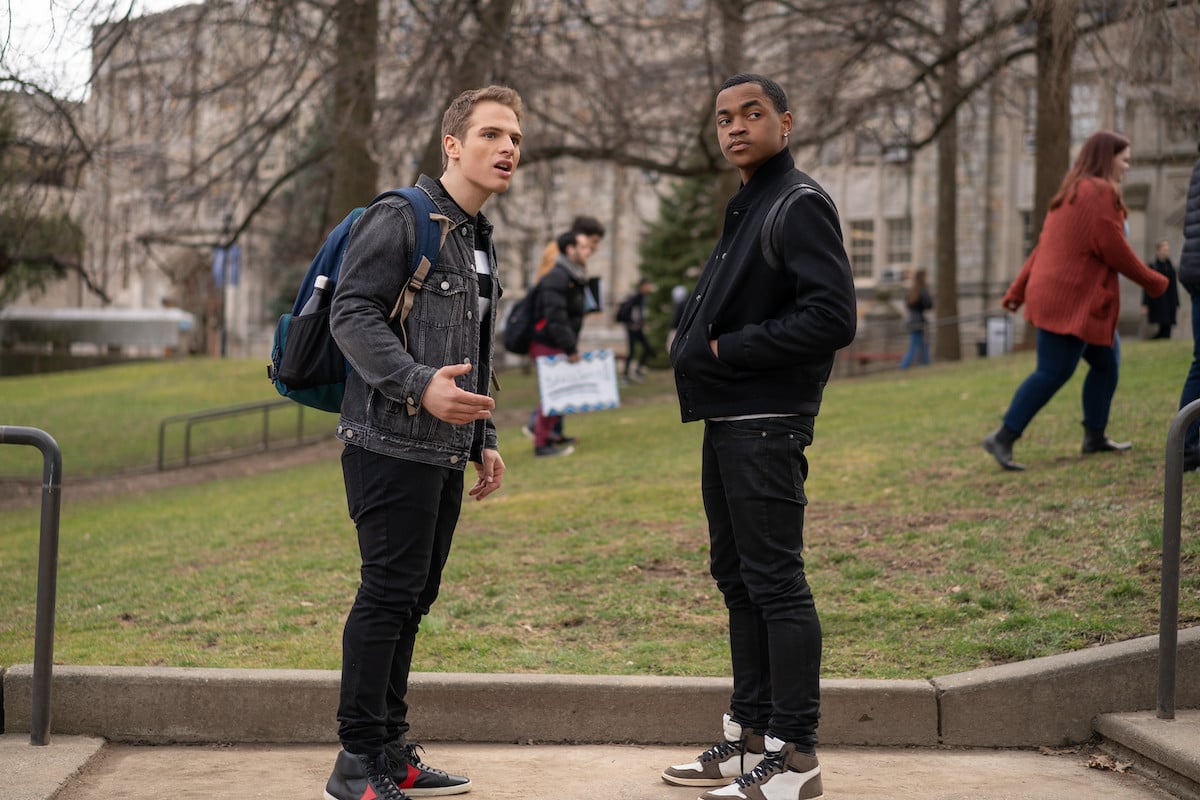 What will Season 2 of 'Power Book II: Ghost' be about?
Though Tasha was acquitted for Ghost's death at the end of the first season of Power Book II: Ghost, things aren't about to be easy breezy for Tariq. First, a gang member who was sent to kill him was murdered on campus grounds. Also, by the end of the first season, Tariq's college adviser, Jabari Reynolds (Justin Marcel McManus), discovered he was selling drugs on campus.
After attempting to blackmail Tariq in order to write a book about his life, Tariq kills Jabari in cold blood which will only lead to more trouble on campus. Power creator Courtney A. Kemp has explained that Jabari's death is going to have a "big response" on campus in Season 2.
"Where we had begun an encroachment of his drug life into his school life with the incidents that took place in episode 8 with the attempt on his life and the body in the pool, now his whole drug life is crashed into his campus life in a real way," she told Entertainment Weekly. "And Tariq definitely feels like he's walking around as a ticking time bomb. His relationships are going to get more complicated, and while that's all happening he's still got a love life."
Tariq and Brayden will have some major competition in 'Power Book II: Ghost' Season 2
Though Tariq and Brayden have agreed to keep selling for Monet Tejada (Mary J. Blige) on campus, they are set to have some major competition in the second season. Alix Lapri who stars as Effie Morales in the Power Universe was just upped to series regular on Power Book II: Ghost.
Tariq and Brayden initially met Effie at their boarding school, Choate. They pulled her in their circle when they were selling drugs, only to be betrayed by her when she turned them in to keep all of the competition for herself. Now a Yale University student, Effie is still on a quest for financial freedom. According to Starz's press release about her character this season, "she will be forced to determine where her loyalties lie — with herself and herself only, or with people who have shown their true colors time and time again."
When will 'Power Book II: Ghost' Season 2 premiere?
Starz has not yet announced a release date for season two of Power Book II: Ghost. Though the show is currently filming in NYC, the coronavirus (COVID-19), threw filming off schedule. "The truth is, COVID 'f-ed' up our first season in terms of how we were going to originally release it," Shane Johnson who plays Cooper Saxe in the Power Universe told Tea with Tia on Instagram Live. "We did five and five, and that was never the design. But because of COVID we got shut down for, like, five or six months."
However, it is lilely that the second season will debut in September 2021.