'Power Book II: Ghost': Tariq Will Change Drastically in Season 2
The second season of 'Power Book II: Ghost' is currently being filmed in New York City, and fans are about to witness an explosion. Creator Courtney A. Kemp just revealed that Tariq will change drastically in Season 2 of the series.
Power Book II: Ghost, the first spinoff on the Power Universe, has taken off like no one ever expected. The drama series follows Tariq St. Patrick (Michael Rainey Jr.), the 18-year-old son of the slain drug kingpin, James "Ghost" St. Patrick (Omari Hardwick).
Required to obtain his college degree to satisfy the terms of inheritance, Tariq begins precariously juggling his life as a college student with his role as a drug dealer trying to earn money for his mother, Tasha's (Naturi Naughton), criminal defense.
However, as we learned watching Ghost juggle his life as a businessman and a kingpin, nothing can be kept separate for long. As season two of Power Book II: Ghost, fans are going to witness a drastic change in Tariq.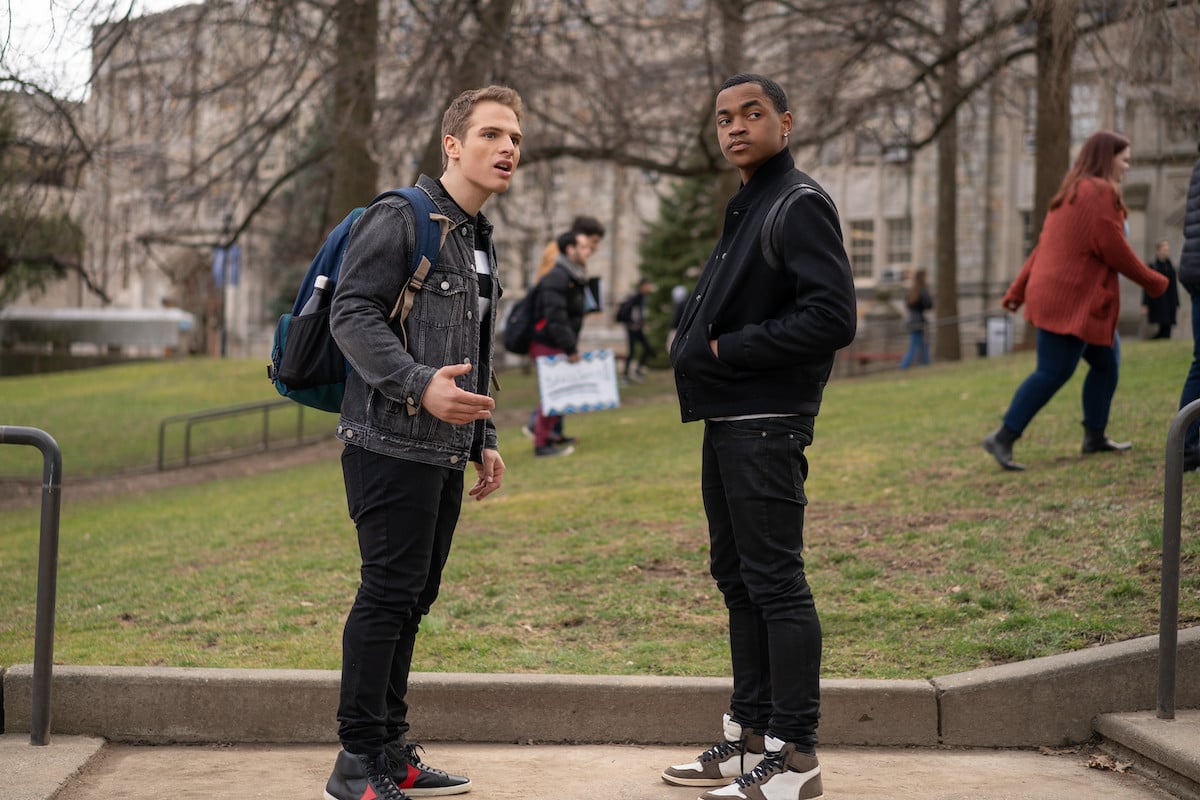 What will 'Power Book II: Ghost' Season 2 be about?
The second season of Power Book II: Ghost began filming in New York City in early 2021. This season, fans can expect to see even more of Tariq's school life as his criminal activities begin to intrude on his campus life.
"Where we had begun an encroachment of his drug life into his school life with the incidents that took place in episode 8 with the attempt on his life and the body in the pool, now his whole drug life is crashed into his campus life in a real way," Power creator Courtney A. Kemp told Entertainment Weekly. "And Tariq definitely feels like he's walking around as a ticking time bomb. His relationships are going to get more complicated, and while that's all happening, he's still got a love life."
Kemp also revealed that the theme of season two is ethics.
Tariq will change drastically in 'Power Book II: Ghost' Season 2
In the first season, we watched Tariq lean on his mother's advice for how to navigate his new life as a drug dealer, especially when it came to queenpin, Monet Tejada (Mary J. Blige). Now, with Tasha in the Witness Protection program, Tariq is going to have to trust his own instincts.
"Part of the journey of season two is absolutely going through and making decisions without the benefit of someone to call," Kemp explained via Express.
Now that he's under Monet's thumb without his mother's protection, Tariq is about to change drastically.
When will 'Power Book II: Ghost' Season 2 premiere?
Though Power Book II: Ghost fans are anticipating what will occur when Tariq's school life and drug life collide, Starz has not yet announced a release date for season two. Rainey hilariously shared what he knew about the season two premiere on his Instagram page. He posted a photo of himself shrugging with the caption, "Me every time someone asks me when season 2 is dropping😂 IDK YET!! #powerbookiighost."
The first season of the show was delayed amid the coronavirus (COVID-19) pandemic, which has thrown everything else off course. "The truth is, COVID 'f—–' up our first season in terms of how we were going to originally release it," Shane Johnson who plays Cooper Saxe in the Power Universe told Tea with Tia on Instagram Live. "We did five and five, and that was never the design. But because of COVID we got shut down for, like, five or six months."
Our best guess is that Power Book II: Ghost Season 2 will debut in late 2021.