'Power Book II: Ghost': Tariq Could Find out What Effie Did to Lauren in Season 3
Tariq St. Patrick (Michael Rainey Jr.) has operated on his own since the death of his father James "Ghost" St. Patrick (Omari Hardwick) on Power. Now in Power Book II: Ghost his connections and loyalties are to his best friend, Brayden Weston (Gianni Paolo), and his business partner/lover Effie Morales (Alix Lapri).
However, Effie is keeping a very dark secret from Tariq about his ex-girlfriend Lauren Baldwin (Paige Hurd). Tariq could find out the truth in Ghost Season 3.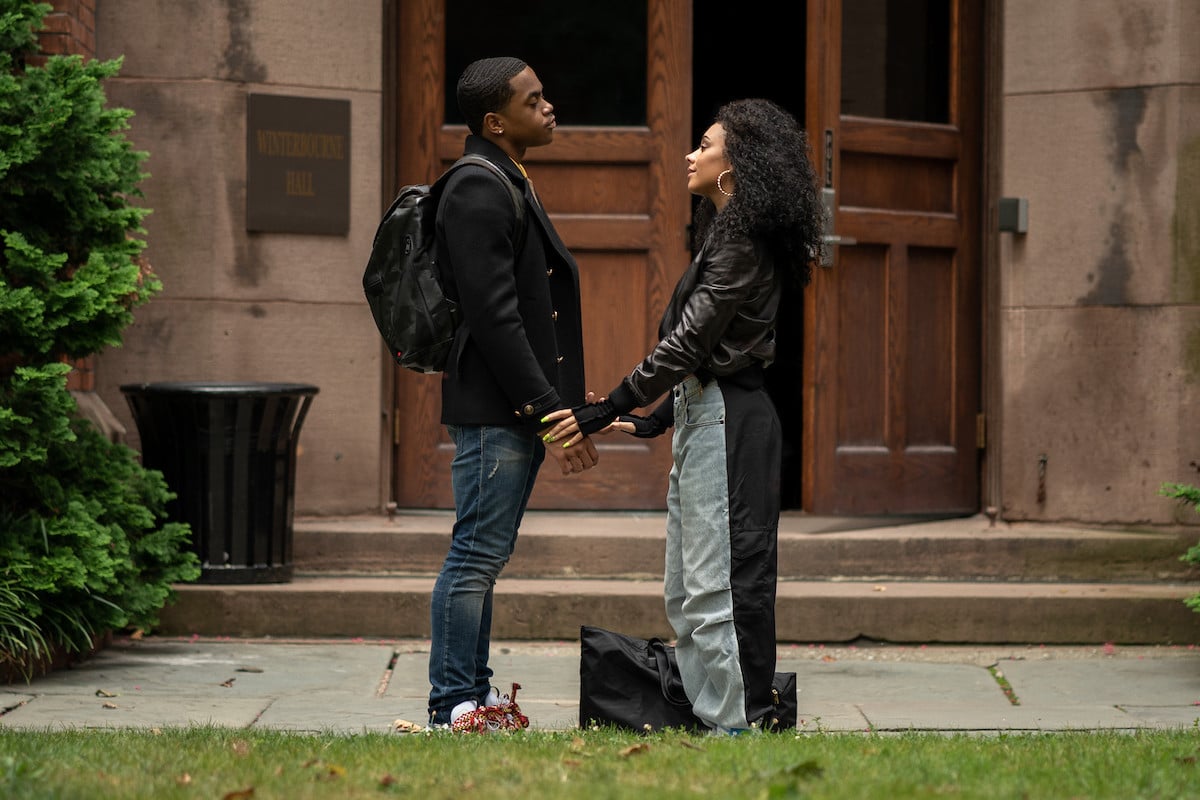 RELATED: 'Power Book II: Ghost': Fans Are Convinced Tariq Will Kill Monet and Lorenzo Tejada to Take Over Their Drug Empire
Effie's backstory will be revealed in 'Power Book II: Ghost' Season 3
As intriguing as Effie is, there is so much about the Yale student that we don't know. This is especially concerning since she's been around since the original Power. During an Instagram Live, Power Universe creator Courtney Kemp explained that Effie's backstory will be revealed in Ghost Season 3.
"Effie's mom is a mess. But I'll tell you about that later," Kemp revealed in a 2020 Instagram Live. "And if you guys remember, close readers of the series, Effie's brother is dead. He was murdered, so keep that in mind."
This proves that though she and Tariq have some shared experiences, Effie is going to look out for herself first.
Tariq could find out the truth about what Effie did to Lauren
As much as Effie's family life is in the background, she's also keeping Tariq in the dark about Lauren's death.
"What I would say is, Effie and Brayden have a huge secret that they have to keep from Tariq," Kemp told Entertainment Weekly. "Cane is also part of that secret, but it's really about Effie and Brayden and what their relationship will be with Tariq, given whatever happened onscreen with Lauren. What has happened to Lauren, as you discover going forward, will have a seismic effect on the relationships of our three musketeers."
Kemp added that Tariq potentially finding out what his friends did — and specifically what Effie has done — will change everything. "There will be fault lines drawn between Tariq and his friends, for various reasons," she continued. "And then those will affect some fault lines that will be drawn within the Tejada family. There will be a series of earthquakes, and then a series of aftershocks that will shake the foundation and remake the series in a really sort of impactful way. That's season 3."
Michael Rainey Jr. shared some insight in 'Power Book II: Ghost' Season 3
Filming for the third season of Ghost is currently underway in New York City. However, none of the plot points for the upcoming season have been revealed. Still, Rainey has given fans some plot points that they can look forward to.
"To be honest with you, I have no clue," he told PopSugar. "I just know that Tariq's going to be making some money and obviously he's going to be fighting a lot, because he's trying to figure out what's going on with Lauren and how her situation went because he doesn't really know what happened. Then, like we said, between Brayden and Effie, they're trying to hold that truth for him. So that's going to be another thing to unfold. It's going to be a lot going on."
RELATED: 'Power Book II: Ghost' Season 3 Will Have a Major Tie to 'Empire'