'Power Book II: Ghost': What Happened to Lauren?
Did Lauren die on 'Power Book II: Ghost'? Here's what we know.
Power Book II: Ghost Season 2 has had a number of jaw-dropping moments. It's also allowed some of the other characters besides Tariq St. Patrick (Michael Rainey Jr.) have come into focus. In season 2, Tariq found himself attempting to have a relationship with Lauren Baldwin (Paige Hurd), a smart but naive student at Stansfield. However, Lauren's lack of knowledge about the streets put Tariq in a tough spot.
Now, Tariq's business partner Effie (Alix Lapri) has had to step up to make things right, but did she do something to Lauren in the process?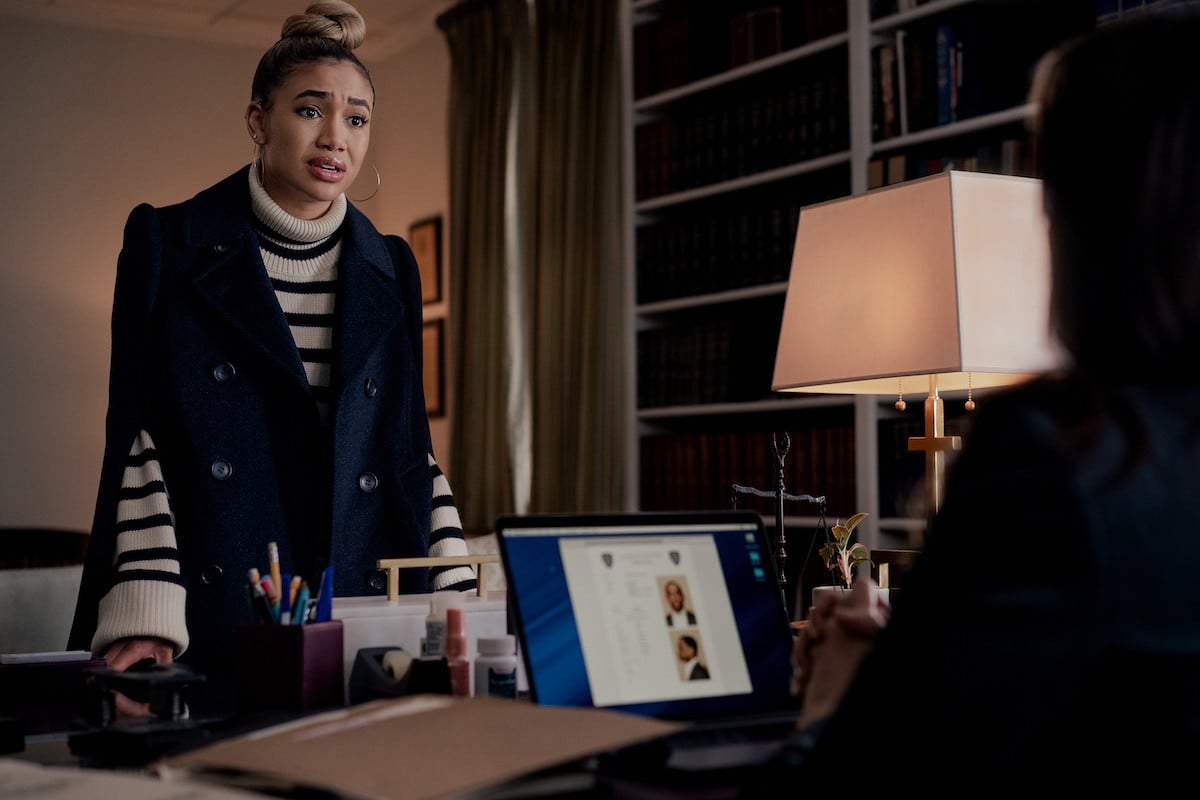 Effie has always been a suspicious character on 'Power Book II: Ghost'
While Lauren was trying to make amends for getting the police to target Tariq, Effie had already determined that the college student had to go. After all, Effie is always going to look out for herself and her best interest. When Tariq and Brayden (Gianni Paolo) were students at Choate, she got the boys expelled and took over their drug business.
Now, years later she's proven once again that she's willing to do whatever it takes to be the last person standing. It looks like Lauren found herself in Effie's path and she may have paid for it with her life.
What just happened to Lauren?
Fans of Ghost have known that the reason Tariq was arrested for the deaths of Jabari Reynolds (Justin McManus) and NYPD officer Ramirez is that Lauren recorded a conversation she had with him on a wire. Unfortunately, she also caught the menacing Cane Tejada (Woody McClain). Though Tariq wanted to protect Lauren, Cane tasked Brayden with getting rid of her.
Ad we all know, Brayden doesn't have that in him. Instead, Effie took it upon herself to eliminate the bougie college student. While it hasn't been explicitly stated on the show that Lauren is dead there have been major hints. In a recent Instagram Live, Power Universe creator Courtney Kemp revealed that there was at least one major death left in the seasons following the death of Carrie Milgram (Melanie Liburd).
Moreover, Lapri has seemingly confirmed Lauren's demise. With fans in an uproar about Effie killing Lauren, the actor tweeted, "She killed a snitch doe 👀👀" Fans should also note that Lauren was in Tariq's dream at the beginning of the episode, which included all of the people he had a hand in killing.
However, Hurd may have hinted that Lauren lives to see another day. She captioned a series on Instagram photos, ".. @ghoststarz | Ep 9 out now! This was a fun one 😏."
We will learn more about Effie in 'Power Book II: Ghost' Season 2
Now that Lauren is seemingly out of the picture, Effie will come into focus in Power Book II: Ghost Season 3. "Effie's mom is a mess. But I'll tell you about that later," Kemp revealed in a 2020 Instagram Live. "And if you guys remember, close readers of the series, Effie's brother is dead. He was murdered, so keep that in mind."
We know that Effie and Tariq bonded back at Choate over the loss of their respective siblings, but there is so much about Effie that is still a mystery. Kemp has promised fans that we will learn a lot more about Effie and her past when the series returns for season 3.
Not only has Starz renewed the series for season 3, but the new episodes have also already begun filming in New York City as of Jan. 25.