'Power Book II: Ghost': Will Brayden Have a Bigger Role in Season 2?
Power Book II: Ghost is the first spinoff in the Power Universe. The series picks up right after the events of the original series. This time, the narrative follows Tariq St. Patrick (Michael Rainey Jr.) as he begins to discover who he is after his father, James "Ghost" St. Patrick's (Omari Hardwick) death.
In season 1 of Ghost, viewers watched Tariq navigate college. He was also getting wrapped up with the Tejada family's drug empire and their matriarch Monet Tejada (Mary J. Blige). Now, Tariq has roped in his friend and roommate, Brayden Westen (Gianni Paolo). It looks like Brayden will have an even bigger role in season 2.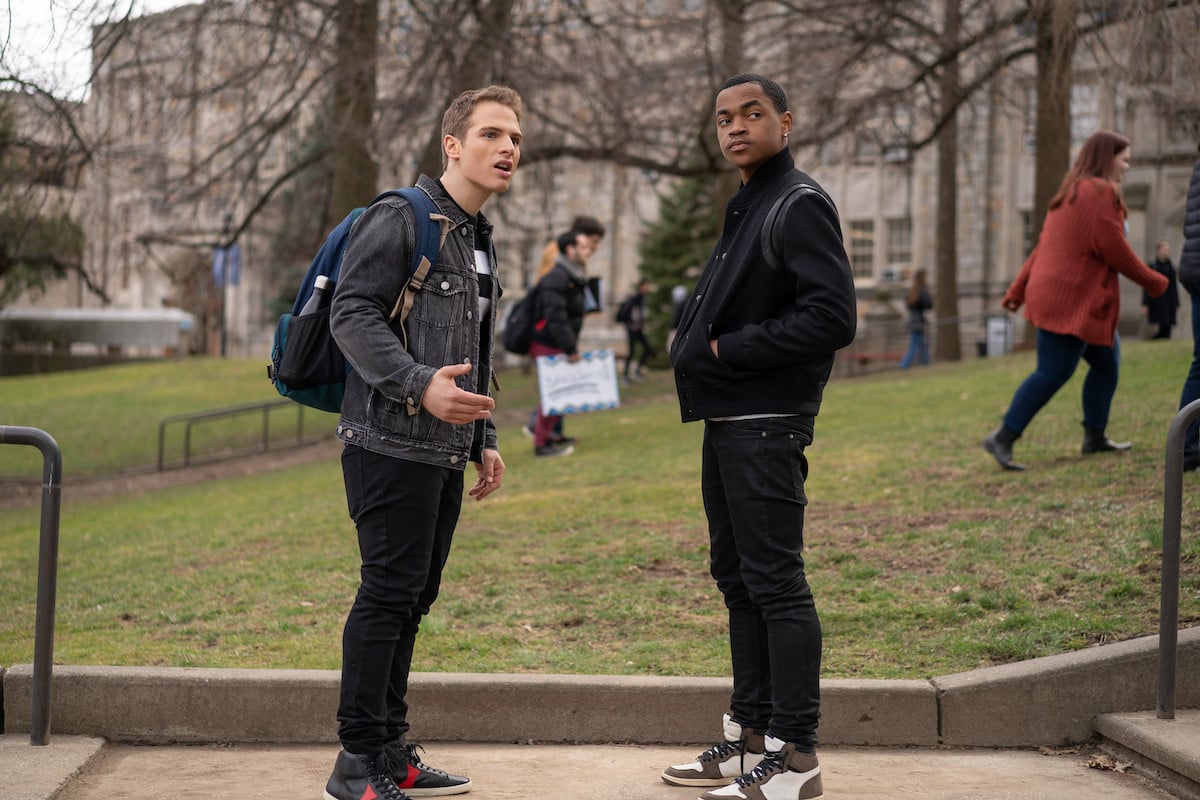 RELATED: 'Power Book II: Ghost': Mary J. Blige Revealed Why Monet Tejada Is so Heartless
'Power Book II: Ghost' Season 2 will premiere Nov. 21 on Starz
The second season of Power Book II: Ghost will debut on Starz, Nov. 21 and it's going to be a wild ride. According to the Starz press release, season 2 is "revealing high stakes challenges and even bigger ethical dilemmas the characters face in the sophomore season."
Power creator Courtney Kemp is also hinting at all of the things Tariq will be facing this season. "Where we had begun an encroachment of his drug life into his school life with the incidents that took place in episode 8 with the attempt on his life and the body in the pool, now his whole drug life is crashed into his campus life in a real way," she told Entertainment Weekly. "And Tariq definitely feels like he's walking around as a ticking time bomb. His relationships are going to get more complicated, and while that's all happening he's still got a love life."
RELATED: 'Power Book II: Ghost': Tariq and Brayden May Have Some Major Competition in Season 2
Brayden will have a bigger role this season
Tariq is a loner in many ways. However, amid the tail end of Power and certainly in Power Book II: Ghost, he's learned that he's needed to confide in someone. That person turned out to be his friend and roommate, Brayden. Though Tariq tried to keep Brayden in the dark about his work as a drug dealer, it put a major strain on their relationship. Now that the wealthy college kid has proven that he can handle the more dangerous side of Tariq's work, the pair have become partners.
In Power Book II: Ghost Season 2, Alix Lapri who stars as Effie Morales is set to return and it looks like she's coming for Tariq and Brayden's business. Initially, the guys met Effie at their boarding school, Choate. They all worked together before she betrayed them turned them in to keep all of the competition for herself. Now a Yale University student, Effie is ready to take her business to the next level. According to Starz's press release this season, "she will be forced to determine where her loyalties lie — with herself and herself only, or with people who have shown their true colors time and time again."
In a recent interview with Men's Health, Paolo has suggested his character will also see a lot more action now that Effie is back. "I just want to feel good on set," he told the magazine. "There's nothing specific I need to really be in shape for—well, except for a sex scene. Spoiler!" He added, "There are scenes where I need to shoot people, or do anything specific like that where there's a lot of action."
RELATED: 'Power Book II: Ghost' Season 2: Release Date, Plot Details, and Everything Else We Know
Tariq and Brayden will have to seek help from some unlikely allies in 'Power Book II: Ghost' Season 2
Since Brayden is his business partner, Tariq is going to have to reveal his hand in Jabari's murder. In order to keep them both safe, it's likely that the young men will need to seek help from some unlikely allies. "He turns to those wielding power and influence: Davis MacLean and his new partner, Cooper Saxe, as well as Rashad Tate," the Starz press release reads via TV Line. "All of these options come with a steep price."
If Monet is continually suspicious of her family and business being exposed amid Jabari's murder and with Effie looking to make a name for herself, the guys are going to need as much help as they can get.
It's probably a good thing that Paolo has been in the gym.