'Power Book III: Raising Kanan': Detective Burke's Past Will Be Uncovered in Season 2
In 'Power Book III: Raising Kanan' Detective Burke is the rookie partner of Detective Howard. Not much is known about the NYPD detective but her past will be uncovered in Season 2.
Power Book III: Raising Kanan is the powerful origin story of Kanan Stark (Mekai Curtis). His cousin Jukebox (Hailey Kilgrove) also plays a pivotal role on the show. Though we met these characters as adults on Power, this series chronicles their coming-of-age. Set in the '90s, Raising Kanan follows Kanan and Jukebox as they grapple with their environment. Their parents' drug organization also deeply affects them.
Season 1 was revelatory for Power fans. It revealed the true identity of Kanan's father– Detective Malcolm Howard (Omar Epps). It also revealed how Howard's partner, Detective Shannon Burke (Shanley Caswell) would be integral in Jukebox's life.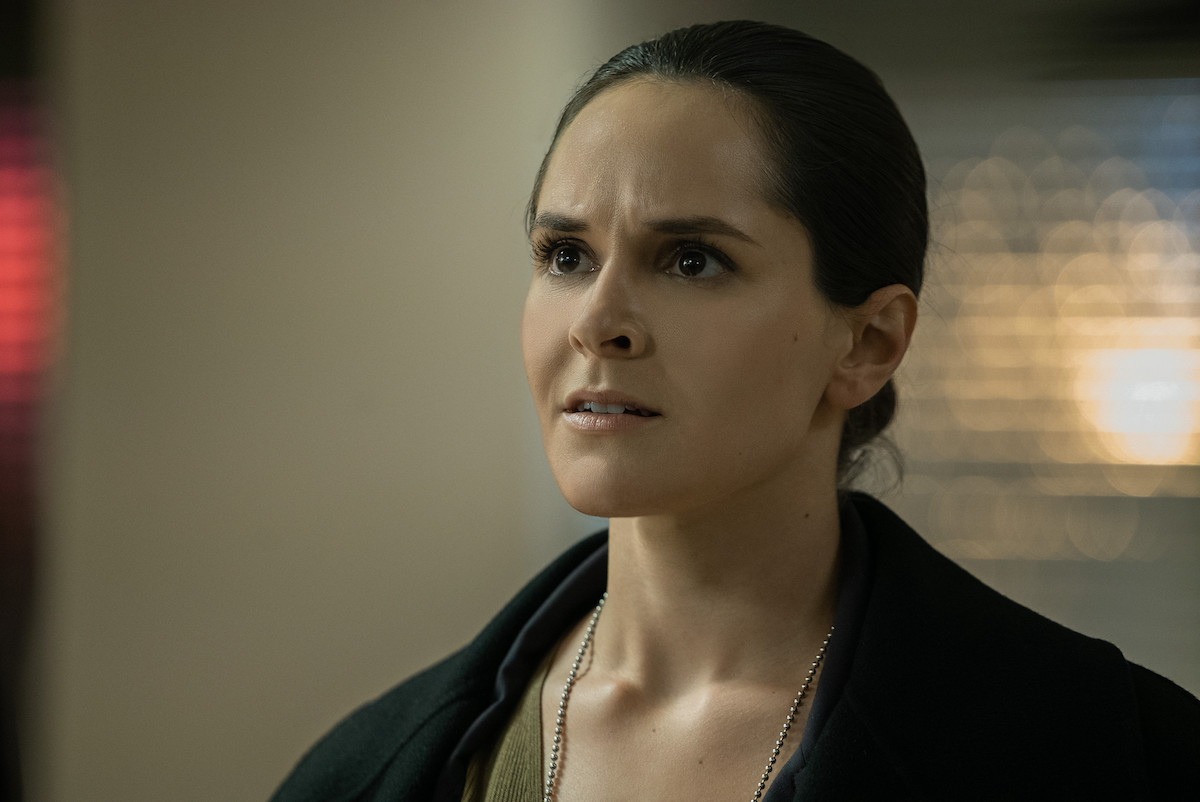 What will happen in 'Power Book III: Raising Kanan' Season 2?
Though the first season of Raising Kanan only recently concluded, filming for the second season is already underway.  "It's just the continuation of actions and consequences," Curtis told Entertainment Weekly. "There's going to be some stuff happening that, again, you're going to see how it molds and shapes Kanan and what it does to his psyche."
He added that Raq's actions in the season 1 finale will change the family dynamic forever. . "The family's in an entirely new space and different dynamic now, so it's them navigating that and figuring out where they can step, where they can't step," he explained. "It's a lot of complicated things going on. It's wild."
Hopefully, fans will also finally get to see a glimpse of Breeze — the man who would become Kanan's mentor.
Detective Burke's past will be uncovered in Season 2
Not much is known about Burke other than she's whip-smart, from a family of cops, and has been dealing with sexism her entire life. However, season 2 of Raising Kanan is set to reveal more about her past.
Deadline is reporting that Animal Kingdom actor Tracy Perez has been cast on the series in a recurring role. Perez will potray Detective Adina Foyle, an ex-girlfriend of Detective Burke's. When fans meet her on the series, she and Burke will have rekindled their romance.
Detective Burke will play an important role in Jukebox's future on 'Power Book III: Raising Kanan'
When we first meet Jukebox (portrayed by Anika Noni Rose) on Power, she's an NYPD officer. She uses and abuses her badge and gun to get what she wants. She robs and murders without remorse and her only real loyalties are with her girlfriend and her cousin Kanan (portrayed by Curtis "50 Cent" Jackson).
However, when we meet her in Power Book III: Raising Kanan she's a completely different person. Jukebox circles around her family's business and she has an estranged relationship with her father, Marvin (London Brown), and mother Kenya (Letoya Luckett) who will appear in Season 2.
With Jukebox being so isolated, Burke approaches Jukebox after seeing her with her girlfriend Nicole (Annabelle Zasowski) and offers to be a listening ear. She hints at her own sexuality and appears to open the door for Jukebox to begin considering life as an NYPD officer.