'Power Book III: Raising Kanan': Did 50 Cent Hint at Raq's Death?
Power Book III: Raising Kanan is the coming-of-age story of Kanan Stark (Mekai Curtis). As fans know, Curtis "50 Cent" Jackson brought the adult version of the character to life in Power. However, this series is set in the '90s and follows 15-year-old Kanan's upbringing in Queens, New York.
Raised by his mother Raquel "Raq" Thomas (Patina Miller), a drug queenpin who runs her business with her brothers Marvin (London Brown) and Lou Lou (Malcolm Mays), Kanan's loss of innocence is swift and vicious. Eventually, we know that Kanan branches out on his own. But did 50 Cent just hint at Raq's death?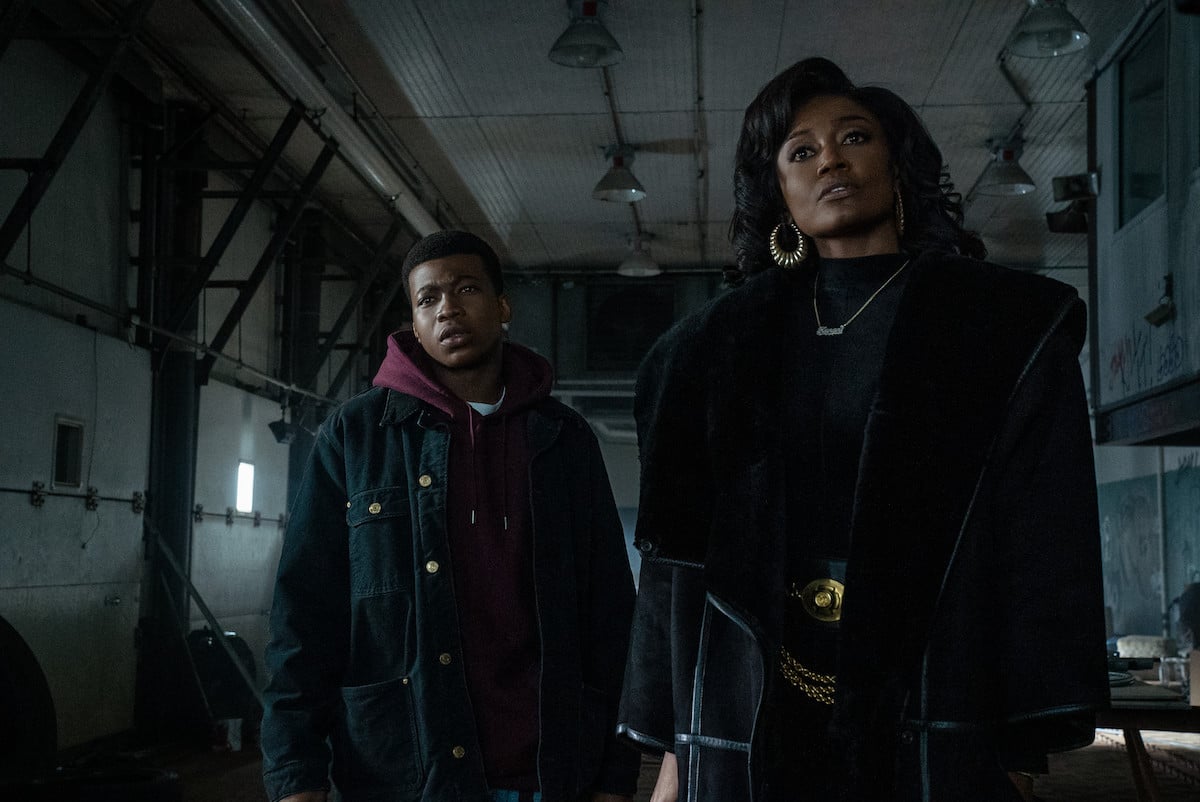 RELATED: 'Power Book III: Raising Kanan': Mekai Curtis Studied 50 Cent to Transform Into Kanan Stark
What will happen in 'Power Book III: Raising Kanan' Season 2?
Before the first season of Raising Kanan even premiered, Starz renewed the drama series for season 2. At the end of the first season, fans watched Raq eliminate her competition Unique (Joey Bada$$) and convince Kanan to unknowingly kill his biological father, Detective Malcolm Howard (Omar Epps).
Though the queenpin is currently on top of the world, we know it won't hold, especially as Lou Lou is increasingly more disturbed by Raq's behavior. "It's just the continuation of actions and consequences," Curtis told Entertainment Weekly. "There's going to be some stuff happening that, again, you're going to see how it molds and shapes Kanan and what it does to his psyche."
He added, "The family's in an entirely new space and different dynamic now, so it's them navigating that and figuring out where they can step, where they can't step," he explained. "It's a lot of complicated things going on. It's wild."
RELATED: 'Power Book III: Raising Kanan': Did Kanan Kill Ghost's Father?
50 Cent may have hinted at Raq's death
Thus far, we know a little bit about how Raq came to be in the position that she's in. Marvin raised both Raq and Lou Lou since their parents were addicts. Therefore, Raq has always understood the way the street works. When she was a teen, Raq was in a relationship with the man Kanan knew as his father, Def Con Stark. However, their relationship was just to keep up appearances.
Therefore, when she was just 15 and Def Con was in jail, Raq fell for someone else, Malcolm Howard, who happened to be an undercover cop. However, she didn't really get into the drug game until 1986, following the death of her boyfriend, High Post, and Marvin's arrest.
Though Raq is currently thriving, we don't see it lasting for long. As we know, Kanan eventually finds himself working with a man named Breeze and not his family. "Fans who love Power should get to know Breeze first and find out how he and Kanan became acquainted and also what ends up happening to Raq and their whole family by the time Kanan becomes a boss," 50 Cent told TV Line.
This could suggest that something happens to Raq, Marvin, and Lou Lou.
RELATED: 'Power Book III: Raising Kanan': Will the Show Crossover With 'Power Book II: Ghost'?
Will Kanan kill Raq in 'Power Book III: Raising Kanan'?
As fans know, Kanan has failed to actually kill Malcolm. Therefore, the truth about his paternity and more of Raq's backstory are bound to come out. When Kanan does learn the truth and pieces together that his mother lied to him, we can't see him forgiving her.
As older Kanan's voiceover says in the Raising Kanan Season 1 finale,  "When it all goes wrong, ain't nobody checking for you but you. You're on your own. See, in this s***, the only thing that you can trust is that you can't trust. Not nobody, not ever. Not even your own momma."