'Power Book III: Raising Kanan': How Did Kanan's Mom Raq Become a Drug Dealer?
Power Book III: Raising Kanan is unlike any other show in the Power Universe. Set in the early '90s, the series serves as the origin story of fan-favorite character Kanan Stark (Curtis "50 Cent" Jackson), who was one of the most vicious and menacing characters in the Power franchise. In Raising Kanan, 15-year-old Kanan is portrayed by Mekai Curtis.
In this "innocence" phase of Kanan's life, we will see his journey and he became the monstrous character that we saw on Power. A large part of Kanan's journey has to do with his mother Raquel "Raq" Thomas (Patina Miller) whom he idolizes.
As much as Raising Kanan is about Kanan, it's also about Raq's journey.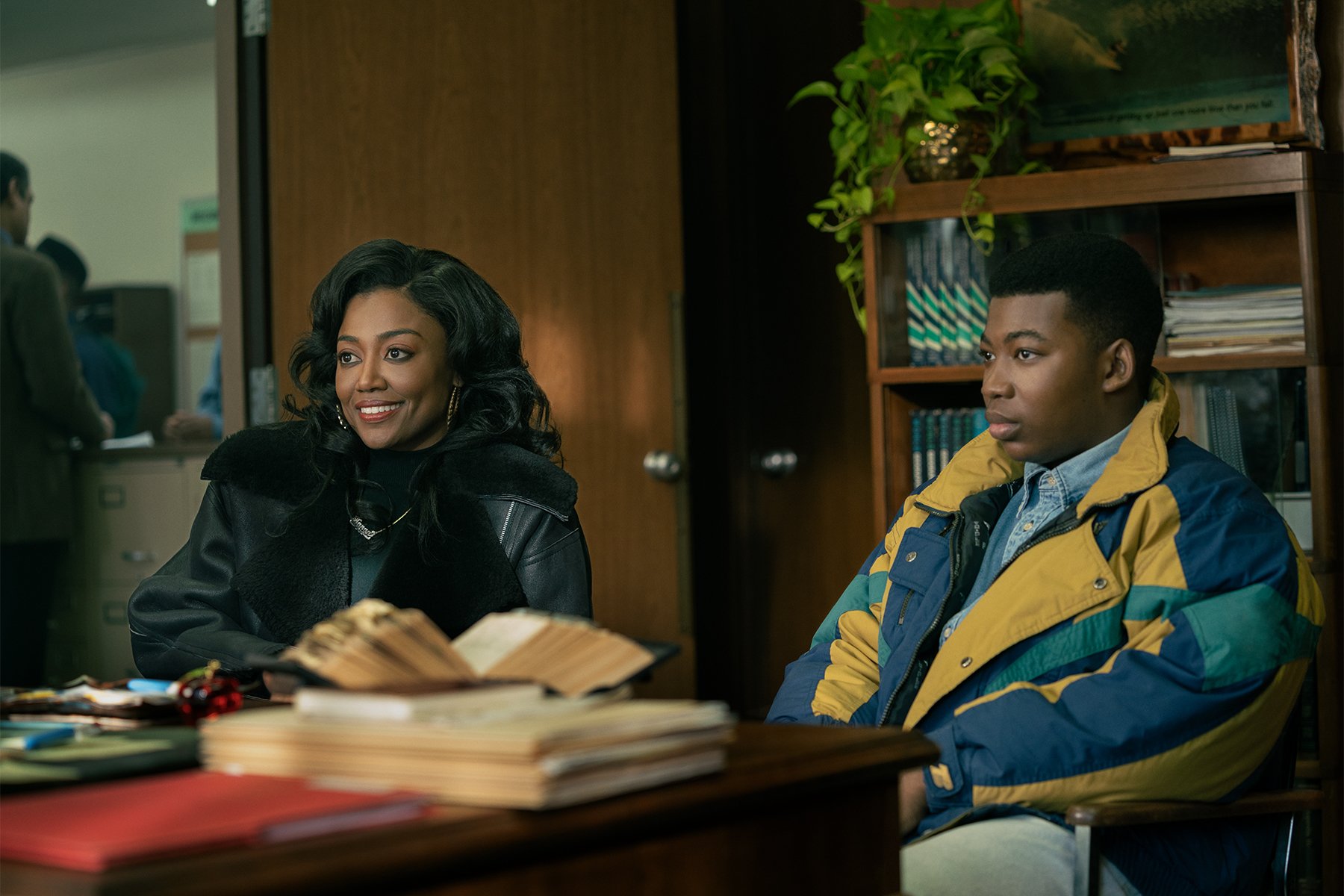 Who is Patina Miller's character Raq Thomas on 'Power Book III: Raising Kanan'?
As we've seen in Miller's portrayal of Raq so far on Raising Kanan, she doesn't play. Stunning and cold, family and business are paramount to her. "You know, what I love about this character is that she's a bit of my mom," Miller told the New York Daily News. "She's a bit of a lot of people's moms… It's a story about a single Black female making the s–t work. And she just happens to be in the crime business. It's a mother-son tale. It's about that unbreakable bond that love between these two people. And I think that's the story that we're telling. Yes, it's a crime drama, but it is a family drama as well."
With Raq as the head of the family business and because of her gender in a male-dominated world, she also has a major target on her back.
RELATED: 'Power Book III: Raising Kanan': Mekai Curtis Studied 50 Cent to Transform Into Kanan Stark
Kanan's mother Raq becomes a drug dealer because of her former boyfriend
Though Raising Kanan is mostly set in 1991, it opens in 1985 when Kanan is just 9-years-old. His mother Raq is learning the ins and outs of the drug game from her then-boyfriend High Post. In the voiceover, done by 50 Cent, Kanan reveals that High Post dies within the year and from there, it appears that Raq takes over the drug game with her brothers,  Marvin (London Brown) and Lou-Lou (Malcolm Mays) amid the height of the crack cocaine epidemic.
Though Raq tries to steer Kanan toward a different life, his love for his mother and his desire to stand tall with his family, form who he is to become.
RELATED: 'Power Book III: Raising Kanan': Mekai Curtis Says He's Nervous for the Show's Premiere
Patina Miller didn't think she could portray Raq in 'Power Book III: Raising Kanan'
Though only one episode of Power Book III: Raising Kanan has debuted, Miller is already getting praise from critics and fans for her portrayal of Raq. Fearsome and calculated in her '90s gold and flair, the drug queenpin is one of the most enticing characters on TV.
However, the Tony Award winner didn't think she could play the character. "I read the script and as soon as I put it down, I was like, 'OK, I can't not do this.' Like, 'this character is me and I have to play this character,'" the 36-year-old told the New York Daily News. "And it just clicked, you know? Something about reading that script, where there's a lot of that stuff that you never get as a Black female actress."
Since Raising Kanan has already been renewed for season two, we're going to be seeing a lot more of Miller's Raq in the future.