'Power Book III: Raising Kanan': Inside Raq's Violent Revenge Against Unique
Power Book III: Raising Kanan is barrelling toward a thunderous end for season 1. The series is set in Queens, New York in the '90s. The Power prequel series centers on the coming-of-age story of Kanan Stark (Mekai Curtis). However, as much as Kanan is the focus of this tale, his family also has a pivotal role. His queenpin mother, Raquel "Raq" Thomas (Patina Miller) runs her own drug empire. Her brothers, Lou Lou (Malcolm Mays) and Marvin (London Brown) are her business partners.
In the final episodes of Power Book III: Raising Kanan, Raq has found herself at war with rival drug dealer Unique (Joey Bada$$). Now, her violent plot of revenge has been revealed.
[Spoiler alert: This article contains spoilers for Power Book III: Raising Kanan Episode 109 "Loyal to the End"]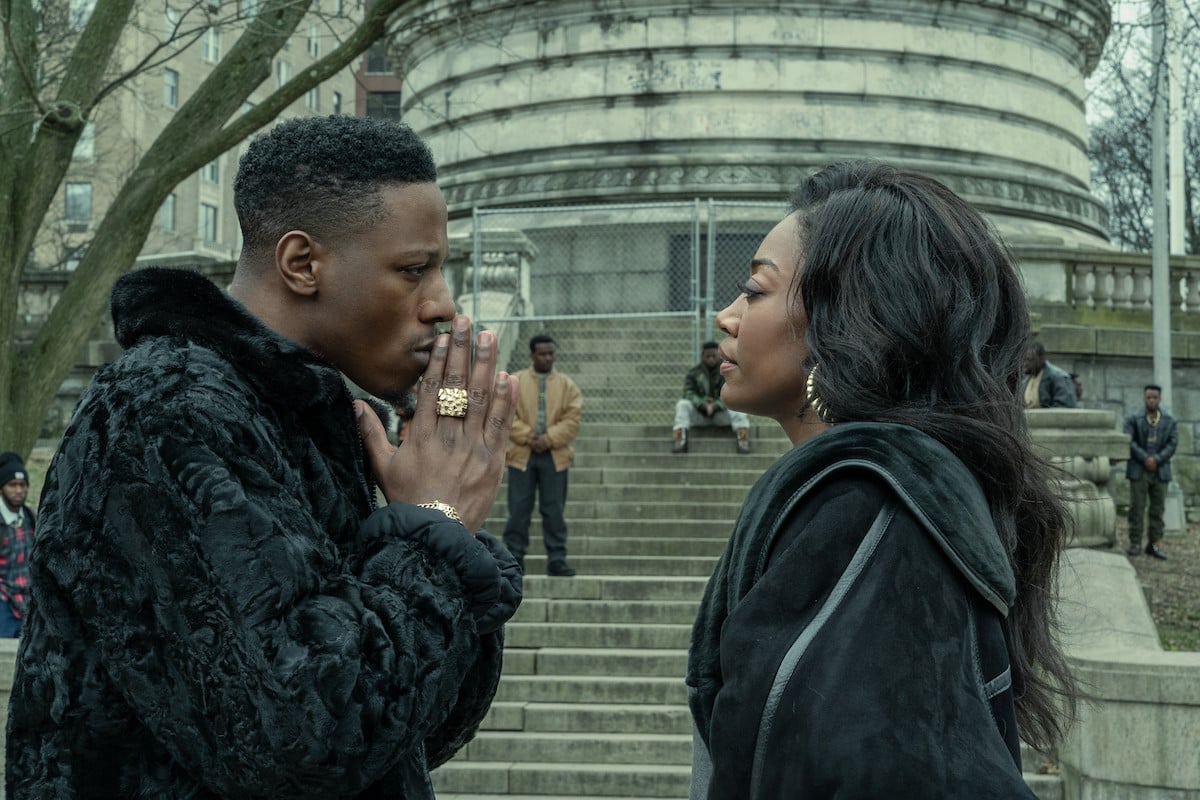 RELATED: 'Power Book III: Raising Kanan': Mekai Curtis Studied 50 Cent to Transform Into Kanan Stark
Lou Lou is not dead in 'Power Book III: Raising Kanan'
After watching Lou Lou get trapped in his firebombed home, fans were uncertain if he would survive. Despite his ambitions in the music business, Lou is Raq's right-hand man. He is the one she wants to turn the business over to when she retires.
Things looked bleak when Marvin carried Lou out of his burned-down home. However, fans are thrilled to know that the youngest Thomas sibling has survived. At the end of the episode, though battered and burned, Lou awoke from his medically induced coma.
RELATED: 'Power Book III: Raising Kanan': Did Kanan Kill Ghost's Father?
Raq has a sinister plot of revenge to take down Unique
In episode 109, "Loyal to the End," when Raq and Marvin first reconnect she is sitting in the hospital chapel. She tells him, "I'm not asking for forgiveness for what I've done, I'm asking for forgiveness for what I'm about to do." Marvin then tells his sister, "You're better at it than me, you see sh*t I don't see, you think sh*t I can't think."
Raq's plot against Unique is taking shape in a major way. Raq and Marvin armed their remaining soldiers with guns. Also, Raq has also mobilized Kanan and her niece Jukebox (Hailey Kilgore) in the scheme. As we know, in a previous episode, Lou Lou stole one of Unique's prize jackets.
Now, Raq has sent Kanan to kill Detective Malcolm Howard (Omar Epps) while wearing the jacket. She's also sent Jukebox to Detective Howard's eager partner Shannon Burke (Shanley Caswell). Jukebox has been sent to "warn" Burke about Unique's "plot" against the police. It looks like Raq's plan is to fire at Unique on all cylinders from the streets to the law.
As Raq tells a comatose Lou Lou, "They forgot who the f*** I am Lou, where the f*** I come from. But they bout to remember me. They bout to know me."
RELATED: 'Power Book III: Raising Kanan': The Character Symphony Bosket Could Be Connected to Ghost
When will the 'Power Book III: Raising Kanan' Season 1 finale air?
Starz is not going to keep its fans in the dark. The season 1 finale, aptly titled, "Paid In Full", will air on Sunday, September 26, 2021 at 8 PM EST. As per usual, the episode will be available to stream on the Starz app at midnight.
As we know, amid Raq and Marvin's plot against Unique after the attack on Lou Lou, the block is hot. The episode description for 110 reads, "As the situation in the neighborhood turns dire, Raq scrambles to get Kanan out of harm's way."