'Power Book III: Raising Kanan': Mekai Curtis Says Everything Just Changed for Kanan and His Family
Power Book III: Raising Kanan Season 1 has come to a thunderous conclusion. In season one of the Power series, we've watched Kanan Stark (Mekai Curtis) infiltrate himself into his mother's drug organization. Raquel "Raq" Thomas (Patina Miller) dominates her industry. She runs her business with her brothers Lou Lou (Malcolm Mays) and Marvin (London Brown). However, her desperate desire to win over rival dealer Unique (Joey Bada$$) might have just gone too far.
Now, Curtis says everything will change for Kanan and his family on Raising Kanan.
[Spoiler alert: This article contains spoilers for Power Book III: Raising Kanan Episode 110 "Paid in Full."]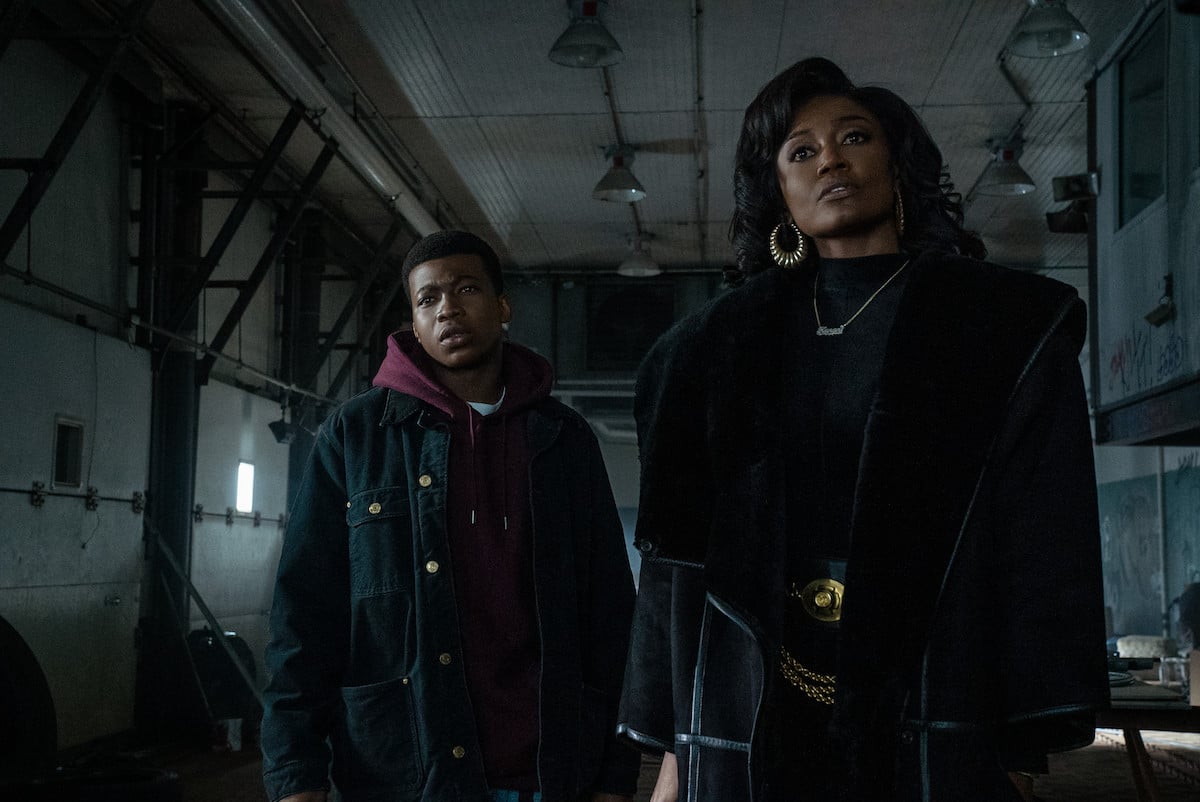 What happened in the 'Power Book III: Raising Kanan' Season 1 finale?
The events of the Power Book III: Raising Kanan finale were stunning. After Raq ordered Kanan to shoot Detective Malcolm Howard (Omar Epps) at the end of episode 109. As a result, the Thomas siblings, Kanan, Jukebox, and everyone else in South Jamaica, Queens was reeling from the fallout.
Kanan didn't finish the job, leaving Detective Howard (who is his biological father) alive. For now, Raq's plan to frame Unique (Joey Bada$$) for the hit job has panned out. But in doing so, Marvin has gotten caught up in the mix and sent to prison.
Jukebox (Hailey Kilgore) and Kanan have had a heart to heart and Lou Lou left the hospital to confront Raq about her actions and wanting out of the game. Finally, at the last minute with Marvin in the wind, Raq has had to call her estranged lover Symphony (Tobey Sanderman) to help her son get out of town.
Mekai Curtis says everything just changed for Kanan and his family
Though Raq is winning, for now, her plan didn't quite turn out as she'd hoped. Though she sent Kanan to kill Detective Howard, her 15-year-old son didn't finish the job. Now, that Howard has woken up, it's likely that he will reveal the truth about his relationship to Kanan.
While Marvin is still in the mix of things, Lou Lou seems ready to plot his way out of his sisters' organization. In his mind, Raq has gone way too far and we're certain he's going to find a way to wash his hands of the entire drug business. Curtis says after the events of "Paid in Full," nothing will be the same for Kanan and his family.
"It's just the continuation of actions and consequences," he told Entertainment Weekly. "There's going to be some stuff happening that, again, you're going to see how it molds and shapes Kanan and what it does to his psyche. The family's in an entirely new space and different dynamic now, so it's them navigating that and figuring out where they can step, where they can't step. It's a lot of complicated things going on. It's wild."
When will 'Power Book III: Raising Kanan' Season 2 premiere?
The second season of Power Book III: Raising Kanan is currently being filmed in New York. Before the series even premiered, Starz greenlit the show for season 2.  "One season isn't enough to tell the coming of age story of Kanan Stark and his mother, Raq, a fierce and successful woman who is a force of nature," Starz president and CEO Jeffrey Hirsch said in a statement via Entertainment Weekly. "The anticipation globally for more of the Power Universe made it clear that the Kanan story needs to continue."
According to Curtis, the cast is currently working on episode four of season 2, but don't expect to see the new season until mid-to-late 2022. As we know, Power Book II: Ghost is set to return for its second season in November 2021. Meanwhile, Power Book IV: Force is set to drop in early 2022. This means that Raising Kanan won't likely premiere until after Force has wrapped its first season in the spring or summer.