'Power Book III: Raising Kanan': Raq Is Losing Her Grip on Kanan in Season 2
Power Book III: Raising Kanan follows Kanan Stark (Curtis "50 Cent" Jackson in Power and Mekai Curtis in Kanan) during his teen years. Growing up in Queens in the '90s, his mother, Raquel "Raq" Thomas (Patina Miller) was a ruthless drug queenpin. However, Kanan has no idea how truly monstrous his mother is. Her brothers, Marvin (London Brown) and Lou Lou (Malcolm Mays) have long ago learned the truth about her.
However, in season 2, Raq may be losing her grip on Kanan.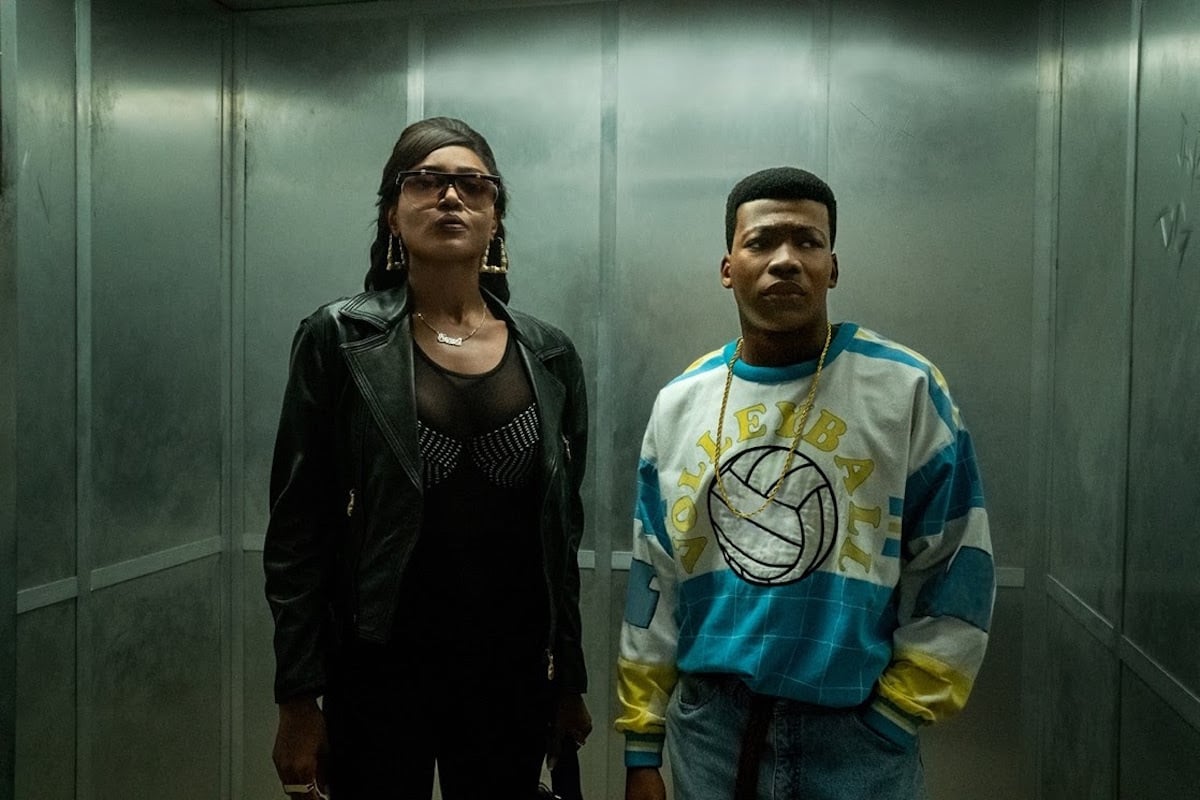 Family ties will be broken in 'Power Book III: Raising Kanan' Season 2
The first season of Raising Kanan ended with Raq determined to hold her family together as she eliminated her rival Unique's (Joey Bada$$) business. However, Lou Lou has begun to see his sister for who she truly is, which will undoubtedly have a ripple effect on everyone.
"Basically family ties, you see how close the Thomas family is," Miller shared on The View. "A lot of those family ties will be broken, it is a family drama. So, the Thomas family is going to start to have a family drama between them and the secrets and lies. We know that there are a lot of secrets, and some of those things will be revealed."
RELATED: 'Power Book III: Raising Kanan': Did Kanan Kill Ghost's Father?
Raq is losing her grip on Kanan
In the teaser trailer for the second season of Raising Kanan, it appears that Kanan has returned home to Queens after a long stint away, following his assassination attempt on Detective Malcolm Howard (Omar Epps). However, as he learns more about his mother and what she's capable of it looks like Raq is beginning to lose her grip on her son.
Starz released a description for the second season of the series. It reads, "As we enter season two, Raquel 'Raq' Thomas has gained control over the city's drug trade, but her son is slipping away. Kanan Stark returns to Queens uncertain of his future with the family business, and because of Detective Howard's lingering secret, he's even more uncertain of his past."
In the trailer, we can also see Kanan telling his mother that he's not sure he's cut out for the drug game.
Raq will be dealing with the mob in 'Power Book III: Raising Kanan' Season 2
In addition to losing her grip on her only son, Raq's business might start to get beyond her control as well. As we move into the second season of Raising Kanan it appears that the series is going to jump ahead a year. The background song in the teaser trailer is "C.R.E.A.M." by the Wu-Tang Clan, which was released in 1993. The first season of the series was set in 1991.
Since it's been a year since Raq framed Unique (Joey Bada$$), effectively shuttering his business, she has only gotten more volatile. In fact, it appears that she is set to go against the mob. The season 2 description reads in part, "Kanan searches for the truth while Raq boldly expands the business into hostile Mafia territory."
Moreover, a new character, Sal Boselli (Sopranos alum Michael Rispoli) will be center stage. The character is described as the powerful, charismatic, Italian mob boss of Newark, New Jersey. 
RELATED: 'Power Book III: Raising Kanan': 50 Cent Teases Ghost, Tommy and Breeze Appearances in Season 2