'Power Book III: Raising Kanan': Raq's Backstory Explained by Patina Miller
Power Book III: Raising Kanan invites viewers back into the world of Kanan Stark, the antagonist played by 50 Cent in the original Power series. Set in the '90s, the show finds him as a teenager living in South Jamaica, Queens, with his mother, Raquel "Raq" Thomas. Raq is a drug dealer running a criminal organization alongside his uncles Marvin and Lou-Lou, but there's still so much that viewers don't know about her.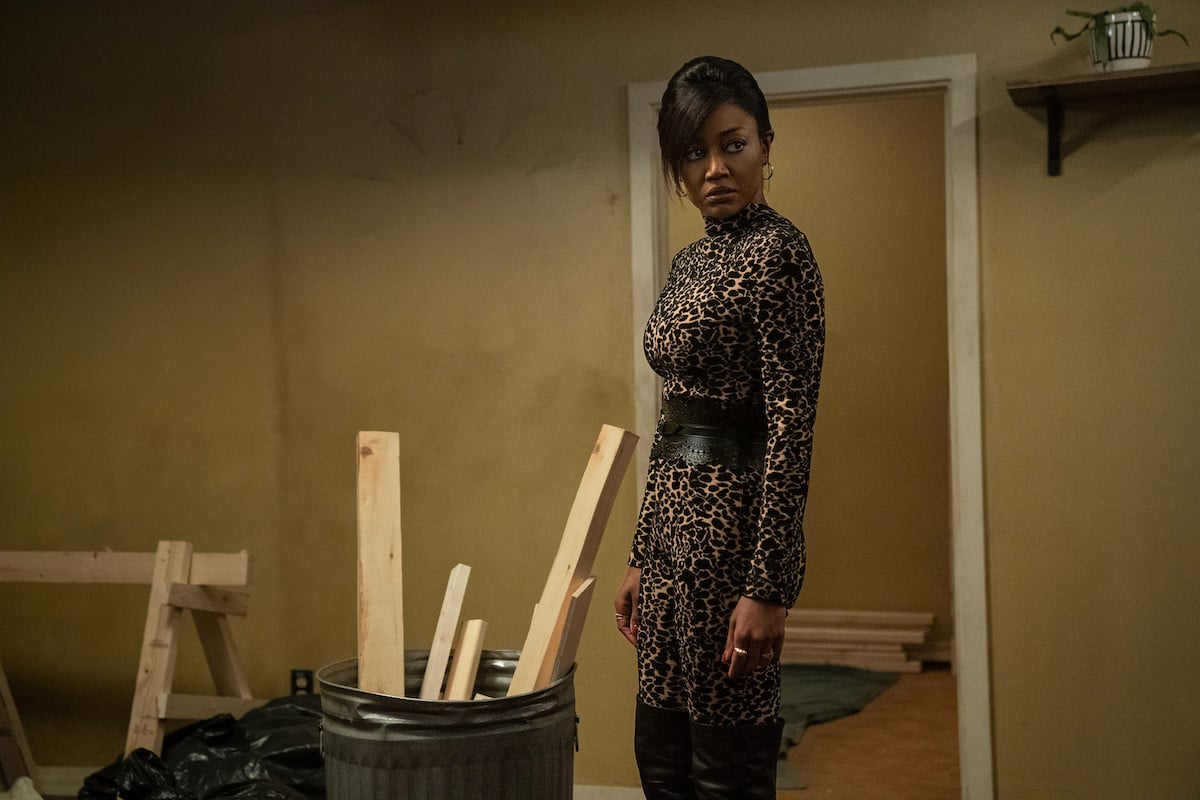 Actor Patina Miller has now opened up about Raq's backstory in 'Power Book III: Raising Kanan'
Patina Miller, who plays the character, shared details about Raq's backstory during a conversation on The Crew Has It, the podcast hosted by Power Book II: Ghost actors Michael Rainey Jr. (Tariq St. Patrick) and Gianni Paolo (Brayden Weston).
The series has already touched on some of those notes, revealing that as a teenager, Raq was involved with a gangster named Def-Con. Soon, she became pregnant with Kanan. She led Kanan to believe Def-Con was his father, but it is secretly Malcolm Howard, who was running an investigation into Def-Con at the time. Her relationship with Def-Con was also a sham to protect his identity as a gay man.
After Def-Con was sent to prison, Raq was left to raise Kanan on her own. In later years, she began dating another notorious gangster High Post, who showed her the ropes of the drug business. But sadly, someone murdered him a short time later for snitching. After that, Raq took control of his business.
Miller told the hosts she would be open to a Raq spinoff because she knows there's "so much to unpack from her running with who she was running with at 15, being caught up with an undercover cop, dealing with two of the top kingpins, being up under them, and then learning all she needs to know from them, and then doing her own thing, being the woman in charge." But for now, viewers will just have to stay tuned to Raising Kanan.
Where 'Power Book III: Raising Kanan' left off
The latest episode aired in September of 2021, and chronicled the aftermath of the attempted hit on Detective Howard. Raq had told Kanan that Howard had been threatening her and asked him to do it. The truth was, Howard wanted to get close to Kanan and to see if Kanan would be his bone marrow donor.
Unaware that Howard is his father, Kanan followed through with the hit, but it was unsuccessful. Howard was seen waking up from a coma just as Kanan crossed over into Maryland.
'Kanan searches for the truth' next season
By the start of Power Book III: Raising Kanan Season 2, it seems that Kanan has returned to New York. A teaser for the show sees him back at home with his family, but there still seems to be a disconnect between them. The official description for Power Book III: Raising Kanan Season 2 reads:
As we enter season two, Raquel 'Raq' Thomas has gained control over the city's drug trade, but her son is slipping away. Kanan Stark returns to Queens uncertain of his future with the family business, and because of Detective Howard's lingering secret, he's even more uncertain of his past. Kanan searches for the truth while Raq boldly expands the business into hostile Mafia territory. Lou-Lou has other plans that revolve around his emerging record label, but Raq isn't about to let his side hustle get in the way of her expansion. Although Marvin remains Raq's loyal soldier, he struggles to earn Jukebox's forgiveness and become the father she deserves. The ties that bind this family are becoming undone, but Raq will stop at nothing to hold them together.
The show will be back for season 2 starting on Aug. 14. Watch it on Sundays on Starz.