'Power Book III: Raising Kanan': The Family Scenes on the Show Are the Most Challenging to Film
Based loosely on Curtis "50 Cent" Jackson's real life and the character that he made notorious in the original Power, Power Book III: Raising Kanan is the origin story of Kanan Stark. Set in 1991 in Jamaica Queen, the series follows 15-year-old Kanan (Curtis Jackson), a seemingly carefree teenager who makes a drastic choice one day, changing the trajectory of his life.
Though Kanan has the opportunity to go to one of the best schools in NYC, he opts instead to stay by his mother, Raquel "Raq" Thomas' (Patina Miller) side. A calm and calculated drug queenpin, Raq runs her empire with her brothers Marvin (London Brown) and Lou Lou (Malcolm Mays) by her side.
However, the scenes between the entire family have been quite a challenge to film on Raising Kanan.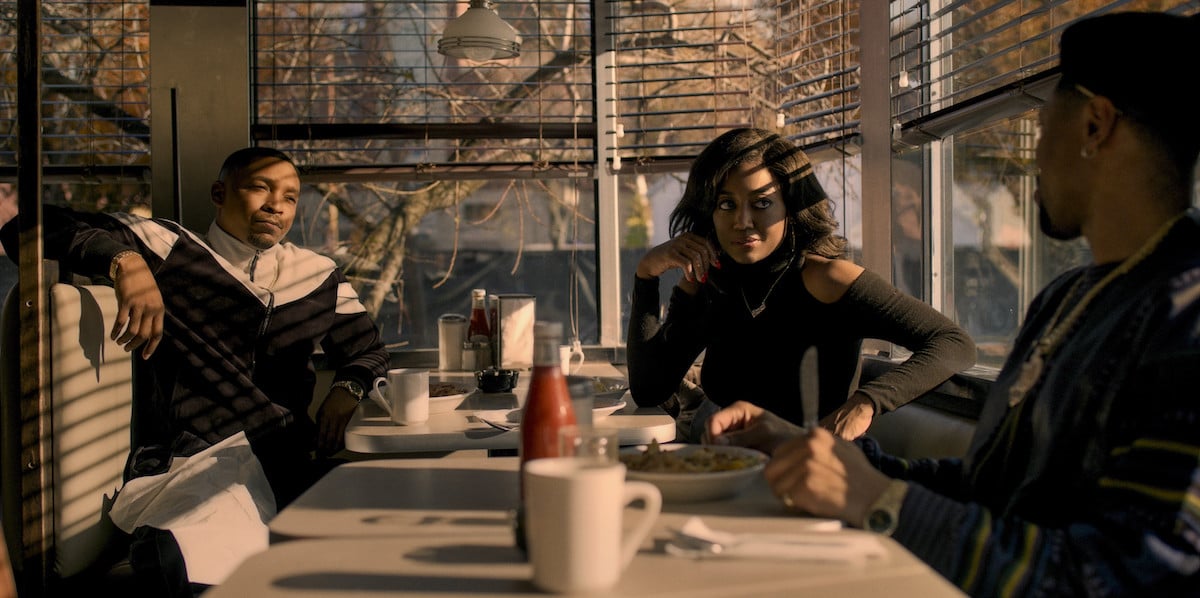 50 Cent says Queens has changed drastically since the 1990s
Since Raising Kanan occurs some 30 years before the events of the original Power, the set designer had to work hard to turn present-day Queens into what the borough looked like in the '90s. According to 50 Cent, there is a major difference, especially because of gentrification and the codes of the streets.
"Well, just the environment the neighborhood was, was a lot harder back then in the '90s," 50 Cent told Digital Spy. "You look at the beautiful buildings in New York City, they just didn't have windows. There just was abandoned buildings at that part. It was like a lot more, see no evil, hear no evil. Then you scarper when the police come, and like 'I don't know what happened. And if you watch like First 48 now you'll see how fast they tell. They're all just telling on everybody. Detective, all you had to do is just come in with a badge."
The family scenes are a major challenge on 'Power Book III: Raising Kanan'
Though the cast and crew certainly nailed down the authenticity of South Jamaica, Queens in 1991, Power Book III: Raising Kanan showrunner and creator Sasha Penn says the scenes with Kanan and his father, his mother, uncles, and cousin Jukebox (Hailey Kilgore) are super challenging.
"When you do something like this and you hire actors to play a family you don't know if they're going to feel like a family, you know?" Penn told UInterview. "You put them together, it may feel like they don't know each other at all, you know? And there's nothing you can do — it's a leap of faith that you take. And so when we had to shoot the family scenes in the first episode I was really, really nervous 'cause I knew all the actors were spectacular, I knew they were spectacular individually, but you don't know if they're gonna feel like a family."
It turns out that Curtis, Miller, Mays, Brown, and Kilgore stepped into their roles as a family seamlessly.
The '90s wardrobe on 'Power Book III: Raising Kanan' was difficult to find
In addition to those griping family scenes on Power Book III: Raising Kanan and making sure modern-day Queens looks as though it did in the '90s, Penn also explained the tall task the wardrobe department had. '90s fashion is extremely unique it was very hard to make sure that the costuming on the characters reflected that.
"This is really the challenge of the series," Penn told Complex. "That wardrobe of that era is not that easy to find. Keep in mind, we have to have doubles and triples of it, because if it gets dirty or if we have to shoot someone… one of the real challenges is getting wardrobe that was authentic to that particular moment. We try to get the real stuff."