'Power Book IV: Force': Tommy and Vic Are Definitely Going to Come to Blows Over Gloria
'Power Book IV: Force' has just begun but Tommy has already found himself in a love triangle with his new lover Gloria and her old love Vic.
Tommy Egan (Joesph Sikora) has left New York in his past and he's already showing his new city, Chicago, exactly who he is. Power Book IV: Force follows the short-tempered gangster in the aftermath of James "Ghost" St. Patrick (Omari Hardwick) and LaKeisha Grant's (La La Anthony) deaths. With nothing to show for his years in the drug game, Tommy is looking to rebuild. However, he doesn't anticipate an intriguing new woman, Gloria (Gabrielle Ryan) catching his attention.
While Tommy has an instant connection with Gloria, he never expected that she would be in an on-again-off-again love triangle with his new nemesis, Victor Flynn (Shane Harper). Now, things are bound to get explosive.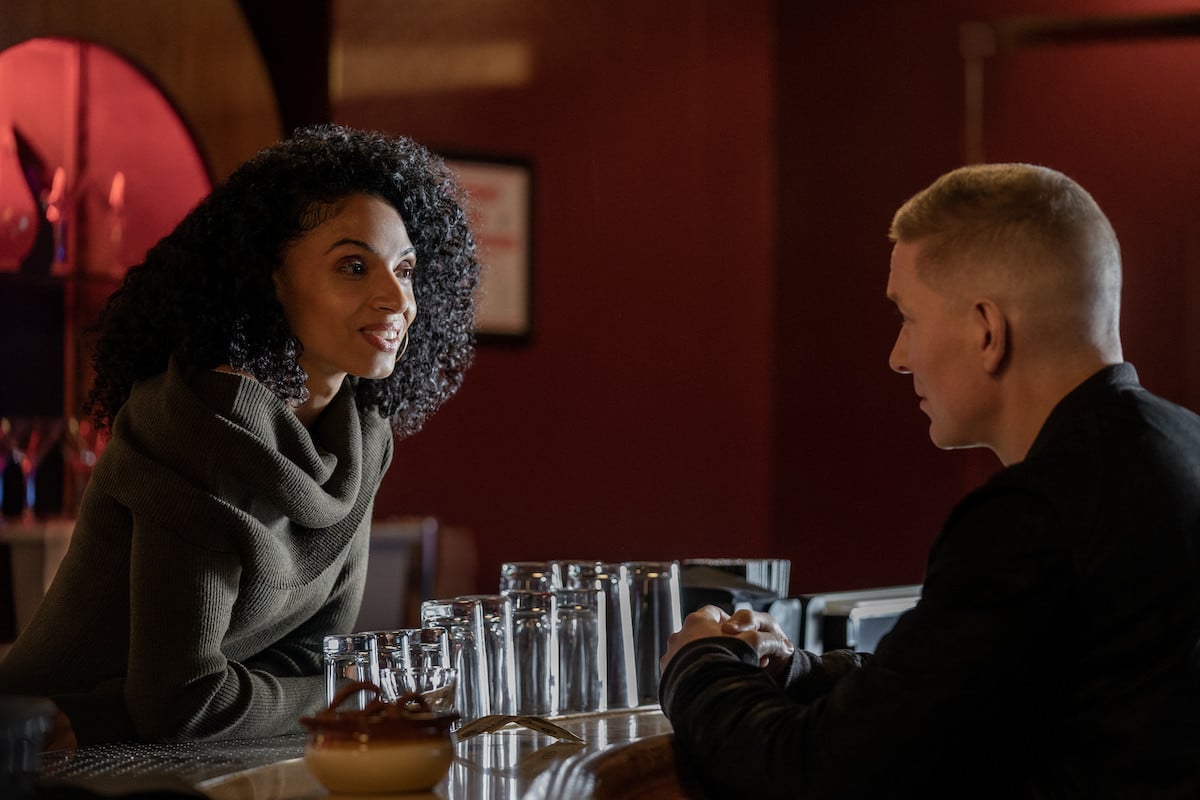 Tommy is settling into Chicago on 'Power Book IV: Force'
Though he initially had intentions of settling in Los Angeles, Tommy is already making a name for himself in Chicago. He's garnered the attention of the Chicago Brothers Incorporated and the Flynn crime family as a result. While Tommy has been able to navigate the city thus far, he never anticipated the fraught race relations that still divide Chicago.
"The racism of Chicago, the dividedness of Chicago, is foreign to Tommy in a lot of ways, and so I think that is going to be a really interesting topic for us to tackle, the separation of Black and white and Latin people in terms of neighborhoods," Sikora told Entertainment Weekly. "We have these real brilliant homegrown actors who are really showing the diversity and quality of the city of Chicago. I'm really proud of that."
Inside the love triangle between Tommy, Gloria, and Vic
Tommy has already been able to charm Gloria. However, he did not know that she has a long history with Vic Flynn. The pair have been kept apart due to Vic's obligations to his family, and because the Flynn family is racist and expects their leader to marry an Irish woman.
However, now that Gloria has caught Tommy's eye, things are certainly going to get intense.
"It's a tricky one because Vic and Gloria are definitely off when Gloria meets Tommy," Ryan told Digital Spy. "It's a very on-off relationship, which is why she's, you know, she's even open and available to being intimate with Tommy. But Tommy is also Tommy, and, you know, the instant attraction is really obvious, they have a connection straight away. And I think that Gloria's intrigued by Tommy and it's something different, you know, it's not the baggage that she has with Vic. They have a long, long, long, long-term relationship, Vic and Gloria. And Tommy is new and exciting, and this new guy in town, who wouldn't be interested in that?"
At the end of episode 102, "King of the Goddamn Hill," Vic sees Tommy and Gloria together, so it's only a matter of time before things come to a head.
Joseph Sikora says Tommy is the most honest character in the 'Power' Universe
We have no idea how this love triangle between Tommy, Gloria, and Vic is set to pan out, but we do hope that Gloria is able to emerge unscathed. We expect Tommy to be fine because he always has a way of emerging from the chaos.
Sikora says Tommy's honesty is the reason why he's been able to survive in the Power Universe as long as he has. "Tommy fully embraces who he was, and says so on Power: "I'm a hustler. These streets raised me. I owe my life to the game," the actor told EW. "Tommy was the most honest character on Power, so I think this comes back to the roots of Tommy. Now that he's an empty shell, what are the qualities of Tommy that keep him going? Well, he's kind of already told us on Power, and now we get to watch that. It's almost like watching a flashback in the future, in some ways. Because what we're doing is we're seeing how Tommy became Tommy — but after he lost everything."
With the rest of the season remaining, it should be a wild ride, to say the least.