'Power': Courtney A. Kemp Had 1 Question for 50 Cent When They Created the Show
Courtney A. Kemp and 50 Cent created a massive 'Power' Universe. When they first created the show, Kemp had one important question for 50 Cent.
Starz's Power Universe is slated to be one of the biggest franchises on television. Power first premiered in 2014. The drama series followed notorious drug kingpin, James "Ghost" St. Patrick (Omari Hardwick), who was trying to step away from the drug game and go legit. However, things got complicated as the married businessman started being pulled in various directions.
Ghost begins an affair with his high school sweetheart, Angela Valdez (Lela Loren) who also happens to be an FBI Attorney. Meanwhile, Ghost's best friend and business partner, Tommy Egan (Joseph Sikora), couldn't see why Ghost would want out of their thriving empire. Power came to a thunderous end with Ghost's death. But the Power Universe is just getting started.
Power Book II: Ghost has already debuted. It follows Ghost's teen son, Tariq (Michael Rainey Jr.) in the aftermath of his father's death. Up next, Starz is set to premiere the Power prequel series, Power Book III: Raisin Kanan as well as the forthcoming, Power Book IV: Force, and Power Book V: Influence. However, when this all began, creator and showrunner, Courtney A. Kemp had one question for her executive producer, Curtis "50 Cent" Jackson.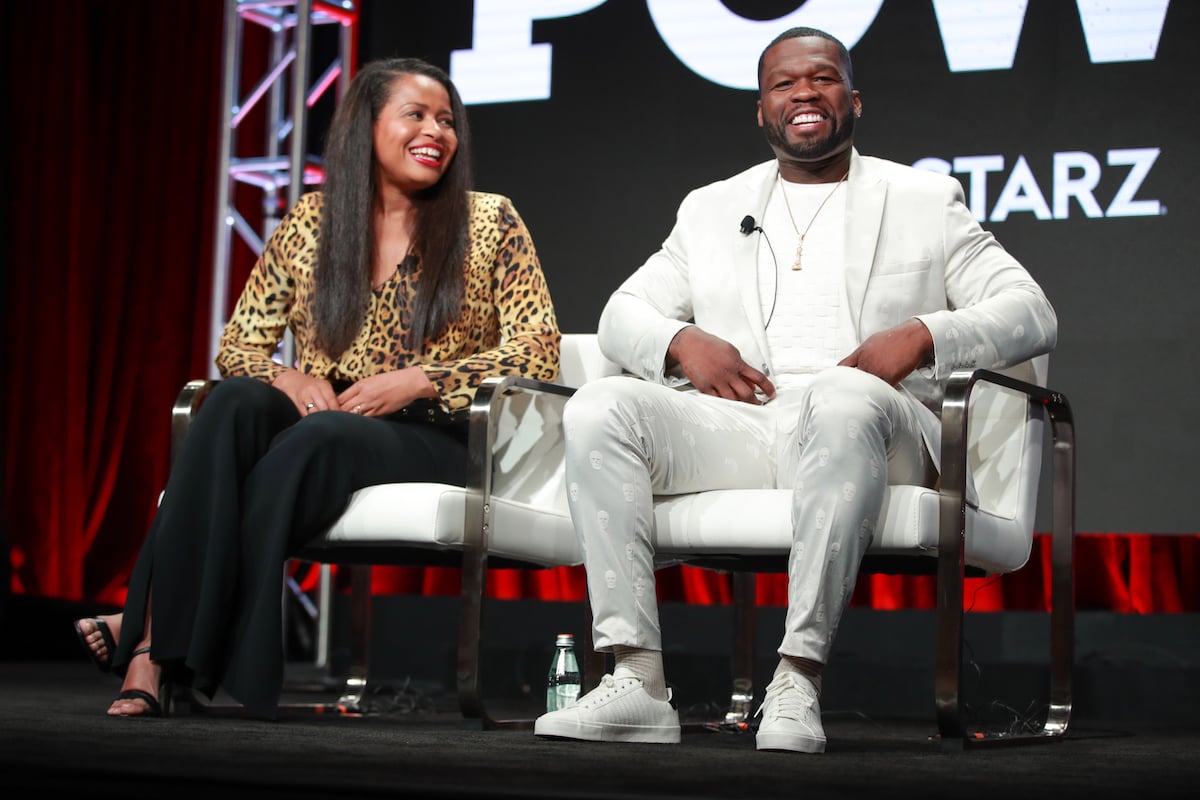 Did 50 Cent create 'Power'?
50 Cent has been an essential part of the Power Universe from the start. Though the series is the brainchild of Kemp it would not be the franchise that it is without the Queens-born rapper. Kemp sat down at a lunch meeting with 50 Cent and executive producer, Mark Canton to pitch the show.
The Good Wife writer had an idea to write a series about a man who wanted to leave the drug game behind to become a successful businessman. Together, she and 50 Cent wrote the script for the pilot episode. Kemp told Variety, "There's no version of Power working without our partnership. [50 Cent] has always been a great producer."  
However, when they sat down to flesh out the world of Power, Kemp had one question for 50 Cent.
Courtney A. Kemp had one question for 50 Cent when they created the 'Power' Universe
When it came time to put Ghost on paper, Kemp knew a lot about the character she had created, but she had one question for 50 Cent about the kingpin's world. "How does one sell drugs?" she asked the executive producer via Entertainment Weekly. "50 had full knowledge of this world," Kemp says.
Born and raised in South Jamaica Queens, Kemp was talking to the right person. 50 Cent began selling drugs when he was just 12 amid the height of the crack cocaine epidemic. He sold drugs as a way to provide for himself and his grandmother, who raised him following his mother's death when he was just eight.
In fact, 50 Cent initially wanted another role on the show.
50 Cent originally wanted to play Ghost on 'Power'
When 50 Cent first came on board, he actually wanted to play Ghost. "There was a point when I had to keep [Courtney] on this project," 50 Cent told ESSENCE in 2017. "I said, 'I'm going to play Ghost, I'm going to play the lead and you can just go make the show.' She was like, 'OK.' Then when we got the show got picked up, she was like, 'Listen, this means, you don't do this, you don't do this and you don't do this.' Then I was like, 'So, can I do something else?'"
We think it all turned out well.