'Power': Courtney Kemp Responds to Criticism of Tariq's 'Unbelievable' Storyline
Out of all the unlikable people in Power, many fans hated Tariq St. Patrick the most. They classified him as a "rich spoiled kid" who deserved a "butt whooping" and didn't understand why he would kill his father. Some went as far as to call his storyline "unbelievable" because they don't think wealthy kids have any desire to sell drugs or become "gangsters."
Showrunner and creator Courtney Kemp refuted those critics in an Instagram Live as she explained why Tariq's storyline was believable.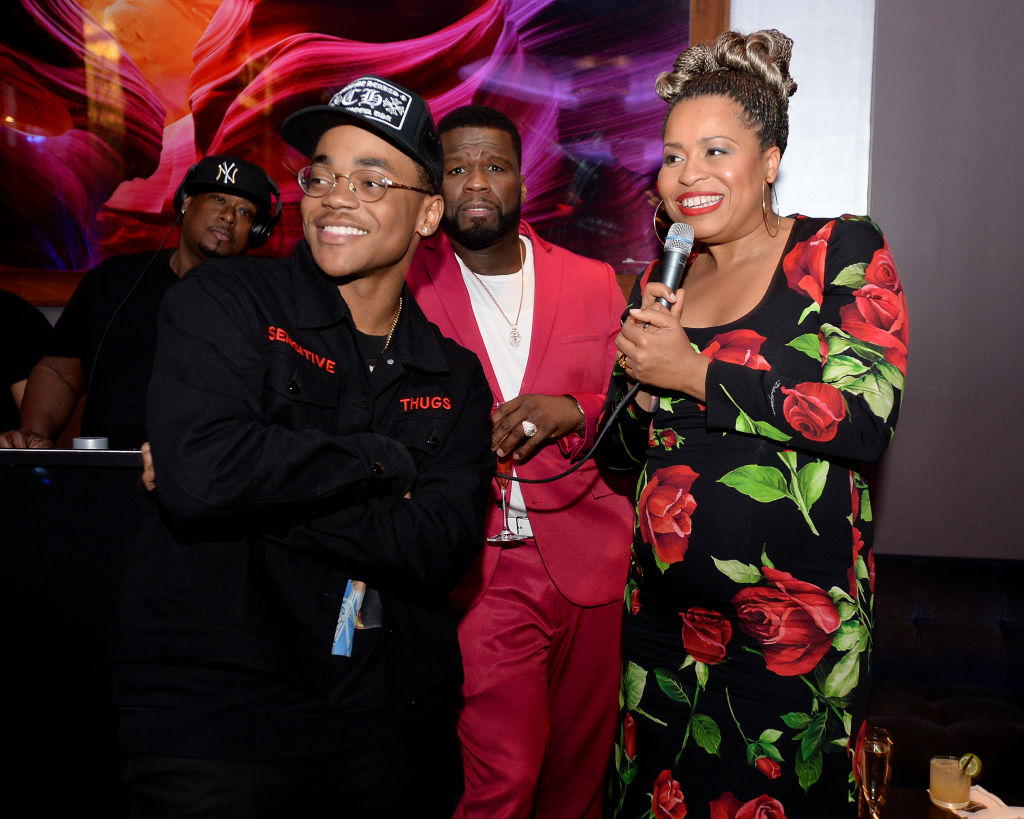 Tariq St. Patrick in 'Power'
The oldest St. Patrick child, and only son, was introduced to viewers as a smart teenager asking his father for help with his Spanish homework. However, in the third season, he unknowingly became involved with his father's former drug mentor, Kanan Stark (Curtis "50 Cent" Jackson), who Ghost (Omari Hardwick) sent to prison.
Kanan initially planned on killing his now-rival's son but spared him after Tariq claimed he also hated his father. Instead, Kanan used Tariq to rob his affluent classmates and later kidnapped the teenager for ransom under Jukebox's (Anika Noni Rose) orders.
After attempting to stop an assault at another robbery Tariq participated in, he fled and attended a school dance where corrupt cop Raymond Jones (Marcus Callender) came looking for him.
RELATED: 'Power': Omari Hardwick Still Thinks Ghost Was a Better Parent to Tariq
Instead, Raina (Donshea Hopkins), his twin sister, confronted him, and the officer murdered her, with Tariq watching from behind a building. The teenager then found Ray Ray and killed him before following his parents' commands to turn on Kanan.
Set on becoming a drug dealer, the teenager began selling at his boarding school, resulting in his expulsion. Tariq then helped his godfather Tommy Egan (Joseph Sikora) kill their lawyer who was hiding out at their penthouse and faked his kidnapping to extort $2 million from his dad.
After Ghost announced his bid as the next lieutenant governor of New York, he wanted his son to confess to the murder of Ray Ray. However, Tariq refused. Therefore, Ghost threatened that he would turn his son in as well as his mother, so Tariq shot and killed his father.
Fans criticized Tariq St. Patrick
Throughout the series, many fans didn't appreciate how Tariq behaved and didn't think his actions made sense as a "rich spoiled kid." Raina, his twin sister, was a fan-favorite on the show, and viewers hated Tariq for watching his sister take a bullet meant for him and then lie to his parents about what happened.
Additionally, Tariq lied about hanging out with Kanan, helped Dre Coleman (Rotimi) when he was plotting against their family, and extorted his dad and Tommy only to get played himself, leaving empty-handed.
RELATED: Why 'Power' Fans Are Tired Of Tariq St. Patrick and Do Not Want Him Leading a Spin-Off Series
Many viewers thought he deserved a "butt whooping" and didn't understand how he went from a seemingly innocent kid to murdering his father in cold blood.
Fans began sending Michael Rainey Jr., the actor who portrays Tariq, hate mail, and still flood his Instagram comments with rude remarks for his character's actions. Therefore, they were not happy to hear Tariq would return for the upcoming spinoff, Power Book II: Ghost.
Courtney Kemp addresses Tariq St. Patrick storyline criticism
In an Instagram Live, a follower criticized Tariq's storyline as they felt it was "unbelievable" because "rich kids don't want to be thugs." Showrunner and creator Courtney Kemp explained she knew several wealthy kids growing up, and they "all wanted to be thugs" who "listened to the hardest rap music."
She defended Tariq's storyline, explaining, "trying to feel down" when one feels "displaced is a huge thing." Additionally, Kemp noted that Tariq desired to rebel against his parents, and he knew his father wanted him to be a perfect straight-A student.
RELATED: 'Power': Creator Courtney Kemp Explains Why Ghost Didn't Go to Jail in the End
Therefore, he "didn't have to know what Ghost was" to act out the way he did. The teenager also "didn't do it by himself" as he ended up going down that path due to Kanan's influence. Kemp ended by saying she understands if viewers "hate" Tariq, but thinks it's "bulls**t" for people to call the character's storyline "unbelievable."