'Power': How Larenz Tate Really Feels About Councilman Rashad Tate
Larenz Tate tells us what he thinks about his character Rashad Tate on 'Power.'
Power fans know that each season creates a new list of most reviled characters. In Power Book II: Ghost, Tariq is probably the main target of fan ire, but there are a few others who get honorable mentions because of their shady ways.
Saxe is the poster child in the nuisance gallery, and as far as living characters in the Power universe, Rashad Tate's picture may be on the wall next to him.  He's ridiculously dishonest, shady, lucky, and slick, but what does Larenz Tate think about his character?
Tate recently chatted with Showbiz Cheat Sheet about his career, upcoming projects, and his role on Power, and shared his insightful perspective on the councilman.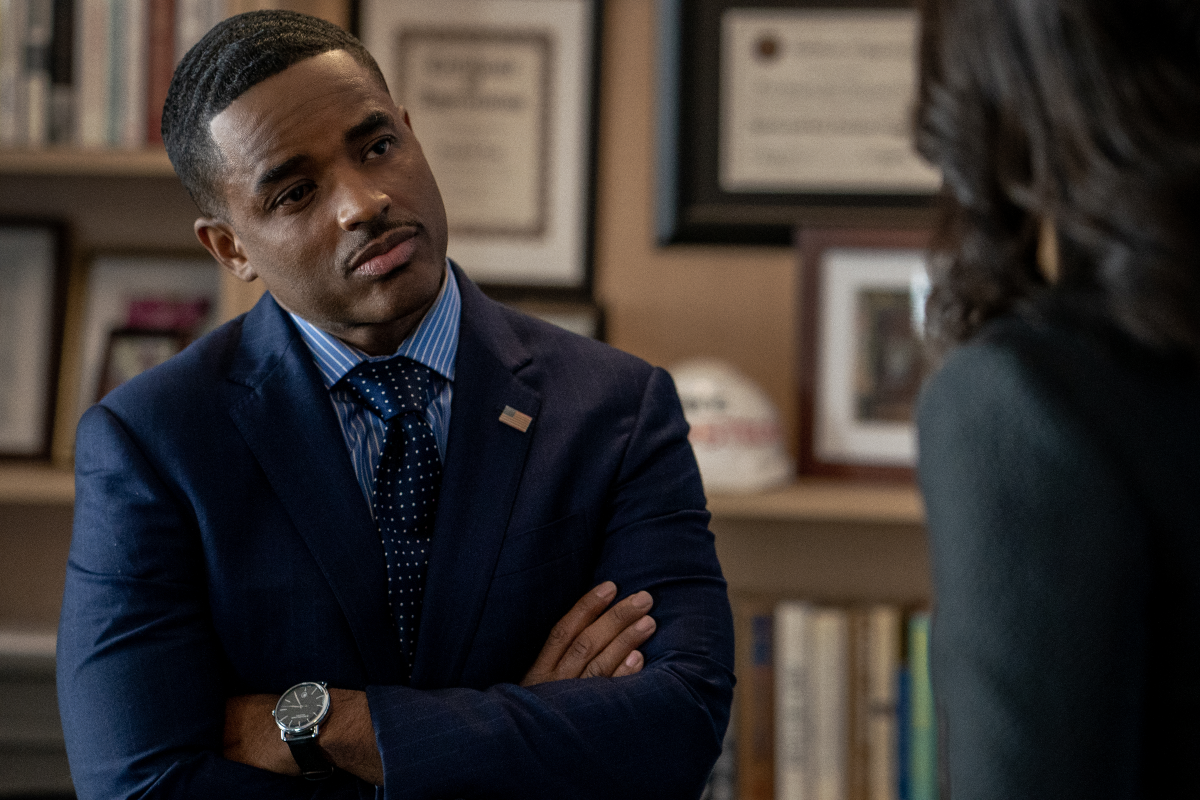 First, a recap of Councilman Tate's finest moments
Introduced in season 4 of Power as someone who could give James a run for his money, Rashad Tate is a former police officer and present-day crooked politician. His track record includes bringing Dre into the "optics" for the Queens Child Project, helping James fix his contract with Stern, putting multiple street dudes on the payroll (like Alphonse, Croop, and Carter), and arranging hits.
Let's not forget how he turned Raina's funeral into a publicity stunt, embezzled money from QCP, and created a media blitz around Ramona Garrity that was based on lies.
Councilman Tate's scenes with Ghost were some of the best in the show and fans either love him or hate him.
Larenz Tate enjoys the role and has his own opinion of Rashad Tate
When asked about the best aspects of playing the villainous councilman, Tate explained he likes his unpredictability.
"You can expect the unexpected from Rashad. I like the fact that he can turn on a dime at any moment," he said. "One minute he's walking in with a nice smile and he's happy, high-fiving everybody. 'My good brother' to — what?"
He added that Tate can go from sweet and "buttoned up" to someone "who's ready to kill your family if he had to." Tate loves Tate's extremes.
Noting his character's personality and penchant for dirty deeds, Tate pointed out the councilman's ability to avoid getting caught red-handed. While Rashad knows how to move and manipulate in politics, in the streets, in the community, and with the ladies, he's humanized when it comes to his family.
Tate acknowledged Rashad's multiple sides but family is the one area that shows he has a soul. "There's meaning. Who does he care about? Who does he genuinely, unconditionally care about? He cares about his family. He'll protect his family at any cost. He would never sell his family out," he said.
Going into the role, Tate wanted to ensure the character was multidimensional and more than just a generic villain. It's the reason Councilman Tate has style, spice, and grit. Tate said Rashad gets on his nerves too but he loves playing the part.
What about Rashad's future in the 'Power' universe?
Tate understandably wouldn't reveal any spoilers about Rashad's storyline or the upcoming Influence spinoff, but he did share that viewers will learn more about what molded the councilman. He stated that we'll get to understand Rashad more through a new lens.
Between him being mixed up in Ghost's world and his backstory, fans should expect to see the good, the bad, and the brilliance of Rashad Tate.