'Power' Season 6 Episode 3 Recap: 'Forgot About Dre'
Here's a recap of 'Power' season 6 episode 3, directed by 50 Cent.
First off, let's address the fact that 50 Cent delivered on his promise to put the original Power theme song back in the opening credits. Fans asked to hear Joe's voice, he listened, and apparently the world is right again.
Last week's episode played out like a Shakespearean comedy of errors with Ghost the only one not in the know that Tommy was still alive. Though the episode was meant to be heavy with the guilt-ridden Ghost mulling over Angela and Tommy's deaths, him learning that he was being played was hilarious.
That leads us to tonight's episode which was directed by 50 Cent himself. Things did not go according to Ghost's plan–again.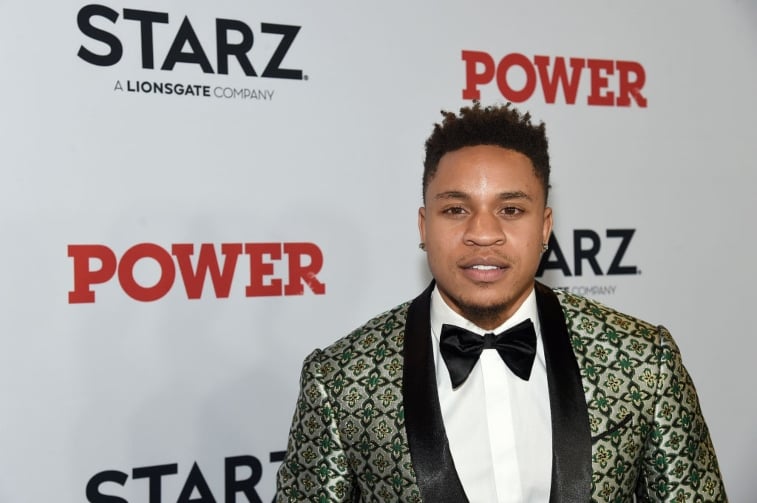 Sudden death, Dre thinks he's on the run
The episode opens with the feds trying to relocate Dre and his baby from the safe house. Dre is still cantankerous as they're discussing how to get him to court safely and his family into witness protection.
 Donovan is leading the operation which quickly goes left when hitters for the Jimenez cartel show up. It's a bloodbath that seemingly will end with everyone–including Dre and his daughter–dead. Surrounded by dead agents and dead hitmen, Donovan, protecting Dre, goes to take out one last shooter and gets hit in the shoulder.
He and Dre are worried that more men are on the way, and Donovan tells Dre to take cover in the bathroom with the baby. Instead of following the advice, he pulls a gun on Donovan, who says, "Come on man, I just took a bullet to save your life."
Dre, being the conniving, cowardly rat that he is, replied "Man, I ain't ask you to do that s***." Donovan continued to plead with him, but he shot him in the head.
Dre then tried to make a run for it by heading to the train station but was nabbed by the feds. They took him and his baby into custody.
Saxe continues to fumble all his investigations, Tommy initiates Keisha into the drug game
In a different scene, Saxe meets with Proctor's ex to retrieve what's on the bug. As a lawyer, she knows what they're doing is illegal, but he tells her everything will be fine. The scene then flips to Tate and a DNC fixer from Washington, D.C. named Ramona rolling into his office to turn his campaign around.
She fires half his staff and tells Tate she needs to know everyone and everything if he wants to win, and that includes the background on James St. Patrick. The plot thickens.
Saxe learns about Donovan's death, and of course, he is trying to connect everything back to Ghost, including the hit at the safe house. We're not sure if he'll ever put the puzzle together by the time Power's finale comes around, but he lets Dre know he still has to testify against Alicia Jimenez.
Cut to Tommy and Keisha with her upgraded wardrobe. Tommy brings her to the workplace where he teaches her how the pill game goes. His team, uneasy about her presence there, reminds him there's a load of cash that needs to be cleaned to pay Jason.
Alicia Jimenez tries to make a deal, Ghost confronts Tate, and Tariq is not that savvy
Saxe pays a visit to Alicia in lockup and shows her and her attorney photos from the safe house crime scene. She denies any involvement but at the same time implicates herself with a veiled threat against Dre. They want a deal where she's extradited to Mexico for what amounts to a free ride. Saxe says no.
Elsewhere, Ghost confronts Tate at his campaign about construction for the Queens' Child Project. Tate the slickster tells Ghost he needs more money.He also n otices Ramona and presses the councilman for information. Ghost learns she used to be married to a senator who was caught cheating with escorts and she's in town to handle Tate's gubernatorial run.
Meanwhile, Tasha and Tommy are trying to figure out a way to clean his money and he suggests that Tasha do it out of Keisha's salon. Tasha needs a job but that's not an option since Keisha is done with her. Tommy has to leave because Jason texts him.
The scene flips to Tariq in his room at Choate talking to Effie and his roommate. They're counting stacks of money and discussing a product re-up. Tariq is cagey about his connect, but we know it's because his stash has run out.
Jason manipulates once again, Tasha tries to figure out her financial situation
Give Jason credit, because he's really good at playing games. He tells Tommy he wants him to break Alicia out of prison and bring her to him alive. In a separate but simultaneous scene, he tells Ghost the same thing. Dangling a debt punishment/reward over their heads, it's now a game of who does it first. Bravo.
Later that night, Tasha, Tariq, and Yaz are having dinner and after unpleasantly discussing their change in living arrangements, Tariq offers his mom some drug money. Tasha goes off and then the bell rings; it's Ghost. He too complains about her apartment and she tells them they can both bounce back to the penthouse.
The next day, Ghost and Tariq are in the kitchen at the penthouse and Ghost attempts to give fatherly advice. He soon finds out that Tariq knew Tommy was alive all along and gets upset, asking "How long have you fu***** known, Tariq?" He then proceeds to tell his son that he's got to be on his side and he needs to be able to trust him. Sigh.
Ghost tries to rope Proctor in, Tommy tries to rope Proctor in, Ramona maneuvers
Separately, each of them tries to convince Proctor to help them kidnap Alicia Jimenez from the courthouse and both threaten him. Who will he help?
Ramona visits "James" at Truth and they talked about his criminal past. She accepts him and his explanation. We sense a future seduction being set up.
Back at Tommy's warehouse, he and his team plan their Jimenez snatch. They decide to take her when she's in the lady's restroom, and Keisha walks in on the chat at just the right time. She's now part of the heist.
Ghost spoils Tate's day, Tommy spoils his
Ghost stops by Tate's campaign strategy meeting at the request of Ramona, and Tate didn't know he was coming. He's informed that James St. Patrick will now be integrated into the fold, and Ramona invites him and Tasha to appear at events. Ghost announces they're getting divorced.
That night, Tate and Ramona meet with Tasha at a restaurant. Ramona wants Tasha to make nice with James/Ghost for the campaign, but she can't stand Tate and wants something in return. Ramona agrees to help Tasha secure a building and permits so she can open a daycare.
The next day, it's time for "Operation Grab Alicia" and an inside guy spikes her courthouse water with a stomach irritant. Before being rushed to the bathroom, she and Dre spot in each other in the courtroom. He's quickly escorted away.
While Alicia is puking in the bathroom, Keisha texts from the stall she was hiding in that it was time to get Alicia. How Keisha snuck past those guards is questionable, but anyway, Tommy's guys went in the restroom in EMT gear with a stretcher and rolled Alicia outside to an ambulance.
Ghost, who was at the courthouse dressed as an electrician, decides to abort his mission. In the parking deck, he spots Tommy and his crew in the EMT getups. One of Tommy's guys blocks the feds from following the ambulance. Ghost was foiled again!
Tommy takes Alicia to Jason where the two drug bosses exchange some sassy cartel banter, and Jason shoots her dead. Tommy is upset that Jason made him jump through hoops only to kill her, but he earned points with Jason for his efforts.
Defeated, Ghost goes off on Proctor for helping Tommy, blaming him for messing things up with Jason. In need of money to pay the Serbian boss off, he hits up Stern to ask for a loan. Stern then makes the terms of their deal tilted so that he has a bigger stake in the QCP legacy than Ghost.
Saxe informs Dre that Alicia is dead but he's no longer under their protection. He adds that he won't be getting his daughter back either unless he helps take down Ghost. Dre is under their thumb again.
In the end, Ghost calls Tommy in an attempt to team up with him to kill Jason. Tommy realizes that Jason is playing both of them but would rather keep playing that game than join forces with Ghost. Tommy tells him to go eff himself, and the next time he sees Ghost, he's "canceling Christmas" on him. Click.