The Preorder Package for 'Map of the Soul: 7' Is Huge and We're Here for It
The wait is almost over, BTS fans. The K-pop group announced their upcoming album, Map of the Soul: 7, and already, the pre-order broke a few records. What comes with the package for this upcoming album? Here's what we know about BTS' music and how fans are preparing for this comeback.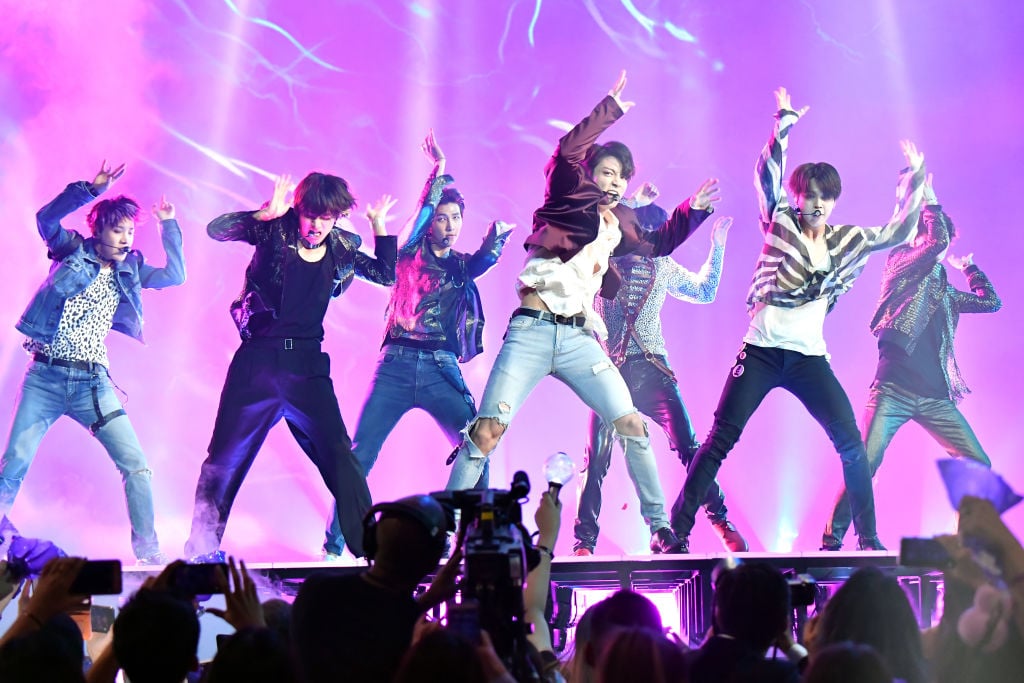 BTS announced their upcoming album, 'Map of the Soul: 7,' debuting during February 2020
Seven is a pretty important number for BTS fans. There are seven members in this boy band and they've been together for seven years. On Jan. 7, BTS announced they're releasing a new album, entitled Map of the Soul: 7. While the music will be released on Feb. 21, 2020, the group gave a peek into the upcoming themes with their comeback trailer.
Their first comeback trailer, "Interlude: Shadow" already earned 40 million YouTube views. The group is expected the drop another comeback trailer, entitled "Interlude: Ego" ahead of Map of the Soul: 7's release. In the meantime, fans are already purchasing the K-pop group's preorder package.
The pre-order package for BTS' 'Map of the Soul: 7' is available for purchase
Not only is Map of the Soul: 7 physically bigger than Map of the Soul: Persona, but it comes with a handful of goodies for fans. Pre-orders began on Jan. 9 and since then, this sky blue package broke records for the group, selling over 3 million packages.
Fans can do more than just listen to music with this new pre-ordered album. Each package comes with a lyric book, one of four mini-books, one of eight possible photo cards, a postcard, a sticker, coloring paper, and a poster (first-run only.) Plus, this package is physically bigger than previously released packages by this K-pop group, including Map of the Soul: Persona.
'Map of the Soul: 7' became BTS' most-preordered package to date
Although the pre-order for Map of the Soul: 7 has only been available for a week, it quickly became one of the top-selling albums for BTS. Forbes reports that the boy band sold 3.42 million albums within a week, topping the record-breaking sales of its last album, Map of the Soul: Persona, which sold 2.685 million preorders in its first five days.
Some fans shared their excitement for this album on social media. One Twitter user said, "Over 3.42 [million] pre-orders (Korea + International) so far!! I know many K-ARMYs are planning to order albums after Seollal (Korean New Year) since they'll get new year pocket money or bonus from work. How exciting!! 5M pre-orders let's get it."
"I just wanted to have coffee & work today. And then this happens. This powerful song made me feel almost guilty, b/c as much as they enjoy performing, being a public figure has to be rough. I can't imagine anyone but Suga rapping this. Wow," another Twitter user wrote of "Interlude: Shadow."
Some fans are heading to cities like London, Seoul, and New York, for the BTS-funded art installations, named "Connect, BTS." Other fans are streaming music by BTS, including their most recently released album Map of the Soul: Persona.
Map of the Soul: 7 premieres on Feb. 21, 2020.