'Pretty Little Liars': The Cast Was Allowed to Pitch Ideas to The Writers
When it comes to Pretty Little Liars, there's no shortage of ideas or plotlines. Spanning seven seasons, the hit show had plenty of mystery and drama to keep fans and the cast entertained. In fact, oftentimes, there were far too many things happening for the audience to keep up with. With so many characters introduced and so many different stories happening simultaneously, sometimes questions went unanswered.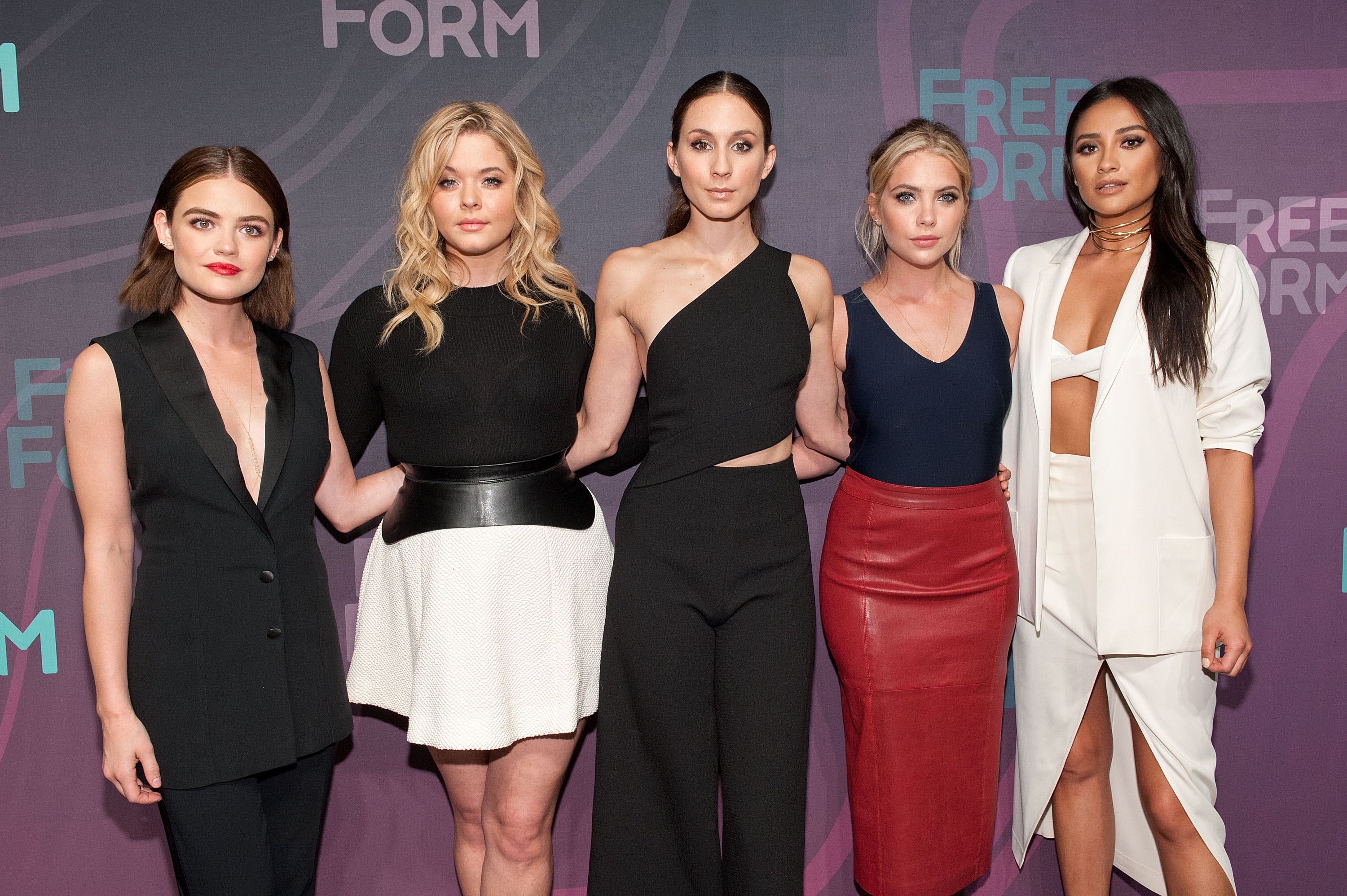 But despite the fact that there was always a lot going on in Rosewood, the writers for Pretty Little Liars were always open to new ideas. After years of playing their characters, the main cast definitely got a feel for who their characters were and all the ways that they fit into the sinister world. In an interview with Vulture, the main cast (Troian Bellisario, Lucy Hale, Ashley Benson, Shay Mitchell, and Sasha Pieterse) opened up about the influence they had on the show.
The 'Pretty Little Liars' cast was allowed to pitch ideas to the writers
"Our writers and producers made it very clear to us that we could come to them, pitch ideas, or if we hated a line we could change it," Hale shared about her Pretty Little Liars experience. But, even though the cast had an open invitation to contribute their ideas, not everyone took advantage of the opportunity right away. In fact, Hale waited until the very last season until she gave any suggestions for where the writers could take her character, Aria.
Lucy Hale didn't speak up about Aria until season 7
"I really didn't speak up about my character and things I wanted to do until these last 10 episodes," Hale shared back in 2017 in a Pretty Little Liars roundtable discussion. "I was like, 'Can I just do something that I haven't done before?' And they were like, 'Yeah, sure!' I was like, 'What, it's that easy?! Cool!' Before then, I knew my role on the show was the romantic relief. I knew that was Aria's part. I was like, 'Man, maybe she can just do something outside of the box for the last 10 episodes.' And they let me do it."
Troian Bellisario was always pitching her ideas to the writers of 'Pretty Little Liars'
Of course, not everyone shared Hale's reservations about sharing her ideas with the Pretty Little Liars writers. Bellisario, who primarily played Spencer Hastings on the show, revealed that she wasn't at all shy about throwing her ideas into the mix. "I'm very much up in the writers' business," she shared. "There wasn't a lot of room for improvising per se, because the studio and the network were so involved with every draft and every script."
"By the time it got down to you, you were like, 'Can I just not say the two names 'Noel Kahn' ever again? Don't we know who Noel Kahn is? Can't we just say 'him' or 'Noel?' They were always very involved," Bellisario continued on. "And as Lucy was saying, it was more getting in at the ideas level with the writers room. They were always very welcoming of me coming in and sitting down and saying, 'Have we thought about this? What if this happened, how would it feel?'"
A pretty little collaboration
It's great that the cast of Pretty Little Liars was able to contribute their ideas to the hit show, no matter how small. We're sure that the collaboration between the writers and the actors made for a more dynamic Rosewood for fans to enjoy.