'Pretty Little Liars': How Much Is the Cast Worth Today?
Gone are the days of theorizing about the identity of "A" on the Freeform teen drama, Pretty Little Liars (PLL). But that doesn't mean we don't have lingering questions about the show or the cast. We answered one of those questions — "How much is the cast worth today?" — ahead and we're not keeping it a secret like Alison, Hanna, Emily, or Aria would.
Background on 'PLL'

PLL ran for seven seasons on Freeform, making it the network's longest running show, according to AOL.
The show centered around five friends in a wealthy Pennsylvania suburb who all had secrets. The series began when Alison DiLaurentis (Sasha Pieterse), the leader of the group, went missing during a sleepover. She's later found dead.
Then, a mysterious character known only as "A" started tormenting the surviving girls with threatening text messages after Alison's funeral.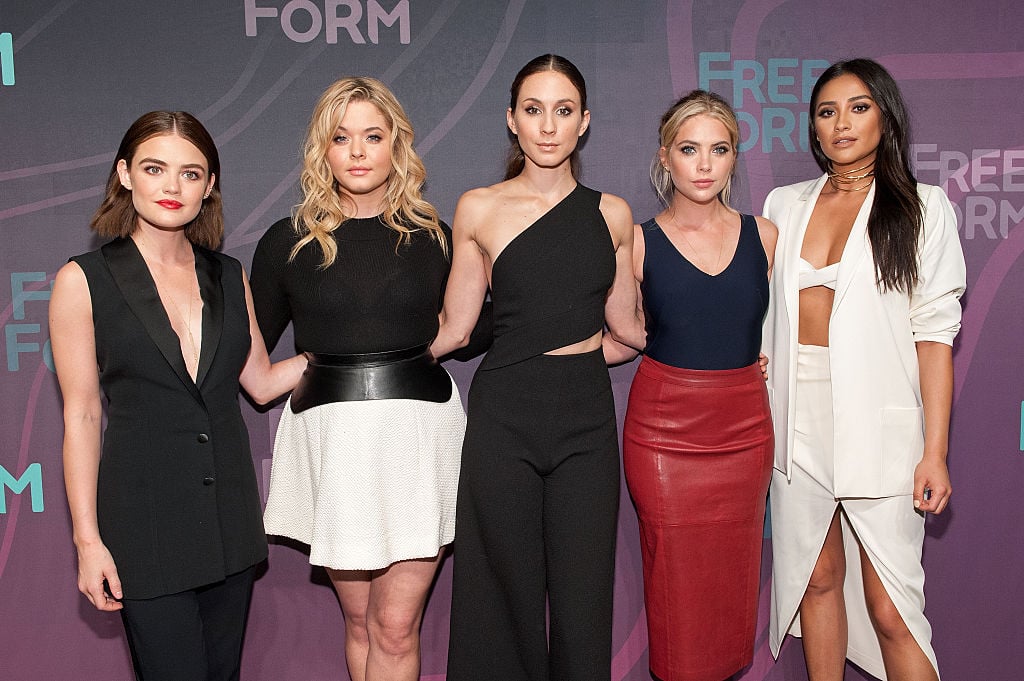 PLL is based on the book series of the same name written by Sara Shephard. Each book is as hard to put down as the last just like the episodes of the show.

Shay Mitchell (Emily Fields)

Shay Mitchell played Emily Fields, the sporty girl never without sneakers or a ponytail. Mitchell is a Canadian actress who landed her role on PLL in 2010. Today, she's the founder of Béis, a travel bags, and accessories brand she started after the success of her YouTube channel and "Shaycations" featuring her travels. Most recently she appeared in the Netflix hit series, You, opposite Gossip Girl alum Penn Badgley.

Mitchell's net worth was estimated by AOL to be $2 million in 2016. Today, her net worth is likely a bit higher. Another site, NaiBuzz estimated her net worth to be closer to the $3 million mark as of April 2018. Celebrity Net Worth estimated Mitchell's net worth to be near $6 million, likely accounting for her acting roles, YouTube channel, business, and endorsement deals.

Ashley Benson (Hanna Marin)

Ashley Benson played Hanna Marin, the fashion-obsessed friend with quippy remarks who hated school.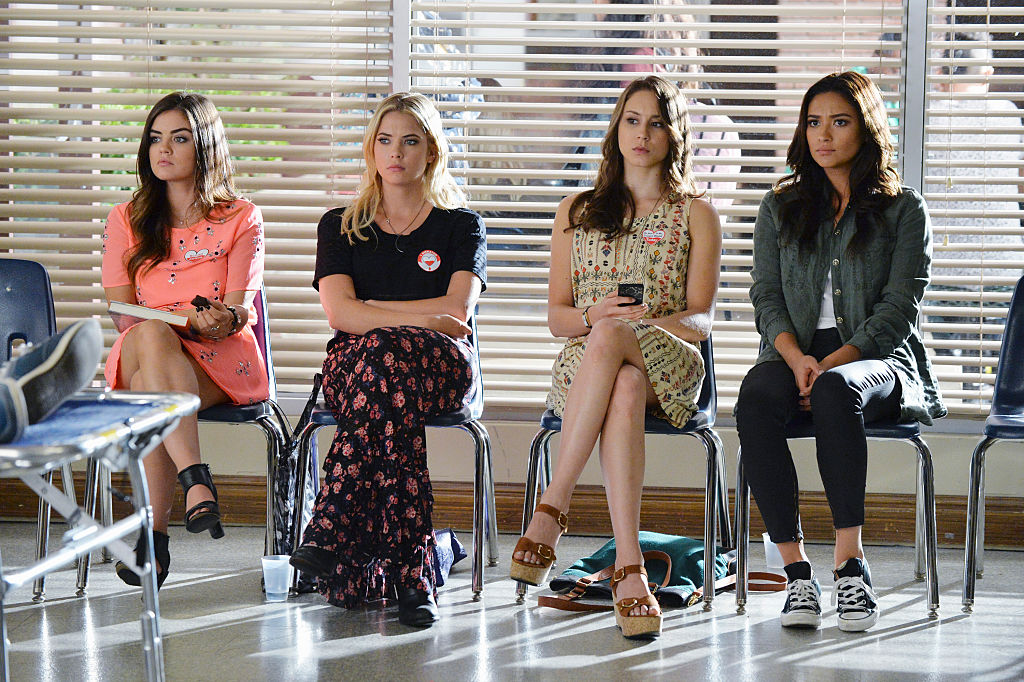 Benson had a number of roles prior to playing Hanna. She played one of the mean girls from school in 13 Going on 30 but blink and you might miss her. And she starred in the ABC series, Eastwick, before it was canceled after 13 episodes. Between shooting seasons of PLL, Benson starred in the movie Spring Breakers alongside Selena Gomez and James Franco.

In 2018, following the end of PLL, Benson appeared in Her Smell with Elisabeth Moss and Cara Delevingne. Her net worth is reportedly $6 million.

Sasha Pieterse (Alison DiLaurentis)
Pieterse was the only main cast member who was actually a teenager when she was playing a character in her teens on PLL. She played Alison DiLaurentis, who was a master at manipulating people to get what she wanted.
Now Pieterse is starring in a PLL spinoff series, Pretty Little Liars: The Perfectionists, opposite fellow PLL alum Janel Parrish, who played Mona Vanderwaal.
Pieterse's net worth is an estimated $2 million according to three different sites, Go Banking Rates, Celebrity Net Worth, and AOL.
Since PLL ended, Pieterse starred in the Netflix original film, Coin Heist, and got married.

Lucy Hale (Aria Montgomery)

Lucy Hale played Aria Montgomery, a teenager who marched to the beat of her own drum. She always dressed differently from her high school classmates and had other interests. A mainstay of Aria's journey on PLL was her illicit relationship with her English teacher, Ezra Fitz, played by actor Ian Harding.
Hale was reportedly making $42,000 per episode of PLL. Her net worth is estimated to be $6 million. Since PLL wrapped, Hale starred in the CW series, Life Sentence, where she played a young woman who had found out her terminal cancer was cured. The show was canceled after one season. Next, she's set to appear in a film reboot of Fantasy Island.

Troian Bellisario (Spencer Hastings)

Troian Bellisario played the straight-laced, straight-A student, Spencer Hastings. She was competitive and extremely smart, bound for an Ivy League school. Spencer was resourceful and always tried to get one up on "A."

Bellisario is the daughter of producers Donald P. Bellisario and Deborah Pratt. She started acting at the age of three and later appeared in the Mary-Kate and Ashley movie, Billboard Dad.
She made multiple appearances on the USA legal drama, Suits, opposite her now-husband, actor Patrick J. Adams who played Mike. The two have a child together and are extremely private about their personal lives, not revealing they were expecting until after the baby was born.

Bellisario's net worth estimate fluctuates between $3 million, according to AOL, and goes as high as $10 million, according to Celebrity Net Worth.