'Pretty Little Liars' Movie: Why the Cast Says 'We Should Do It' And Why 'It Has to Be Pretty Extreme'
Ever since Pretty Little Liars came to end, the fandom has been eager for a reunion special or film to bring the characters back together. Here's a look at why the cast is on board, and what they'd like to see happen if there's more PLL.
'Pretty Little Liars' ran for seven seasons on ABC Family/Freeform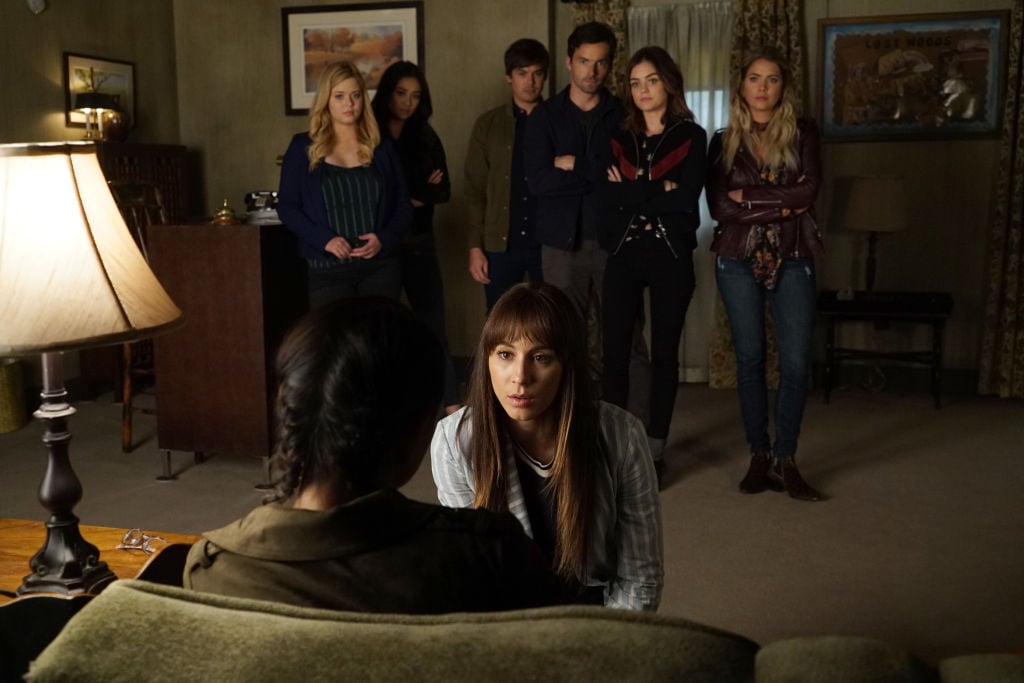 The series is still, to this day, one of the biggest hits for the network formerly known as ABC Family (now Freeform). Based on a young adult book series of the same name, it follows a group of teenage girls who fight back against a host of mystery cyberstalkers over the course of many years.
PLL ran for a whopping seven seasons on the network. It came to an end in 2017, after they finally discovered the identity of AD, the latest and greatest "big bad." It was followed by a spinoff series, The Perfectionists, which lasted one season.
The cast reunited for a cause
RELATED: Exclusive: Janel Parrish Would 'Absolutely' Do a Virtual 'Pretty Little Liars' Reunion (And Her Dreams for Mona After 'The Perfectionists')
Almost three years after PLL came to an end, much of the cast, along with creator Marlene King, reunited virtually. In support of Feeding America, they participated in a Cast4Good live stream, hosted by TVInsider's Damian Holbrook, via Looped Live.
In attendance were Troian Bellisario (Spencer Hastings), Lucy Hale (Aria Montgomery), Ashley Benson (Hanna Marin), Shay Mitchell (Emily Fields), Sasha Pieterse (Alison DiLaurentis), Janel Parrish (Mona Vanderwaal), Tyler Blackburn (Caleb Rivers), and Ian Harding (Ezra Fitz).
What they miss the most about the show
When asked what they miss about the show, Pieterse expressed missing the cast, crew, and even the times they filmed late into the night. King added, "I think that's how we bonded was those Fraturdays," their name for shoots that began on Friday night and into Saturday morning. "I think that's part of why this cast came together so quickly."
Truly, this is a cast that cares about one another. King said that when casting, she asked each of them about their families, in order to make sure they had a strong connection. She added, "We always call each other 'PLL family.' But it's real…I'm just so proud of the people," calling them "great and soulful and kind."
Ian Harding on what a 'PLL' movie should be
RELATED: Does the Cast of 'Pretty Little Liars' Hang Out Still?
The conversation continued, and Hale spoke about what's it's like to continually be recognized for this role. "I always get asked when are we doing the movie," she said. "People still think we're making a [PLL] movie. I think we just need to do it."
Harding jumped in "I think if it does happen, it has to be pretty extreme," he said. "I want, in the first 10 minutes, one of the people on this Zoom call right now dies." When they asked him who, he continued, "I will be the person that offers myself up right after Shay [Mitchell]."
The cast agrees with him
At the end of the chat, Holbrook brought the conversation back to a reunion of some kind. And everyone raised their hands or gave an affirmative answer of some kind when asked if they would be interested. But Harding wanted to clarify that his stipulation still stands.
"I'm telling you, as long as my idea holds. Somebody's gotta die!" After Holbrook called him "messed up," Pieterse added, "It wouldn't be PLL without [death]." So there it is fans — a potentially dark reunion special or film could be on the way someday soon. Be prepared to see Ezra bite the dust.