'Pretty Little Liars' Reboot: Everything We Know About 'Original Sin'
No other students have ever had as many secrets as the ones in Pretty Little Liars — and, no, Riverdale doesn't come close. Pretty Little Liars became an instant hit when it premiered in 2010. It appealed to audiences for its fashion, storytelling, and character development. Although the series ended after seven seasons, it remains highly revered and even spawned a reboot. Here's everything we know about the Pretty Little Liars reboot, Original Sin.
Rosewood has plenty of secrets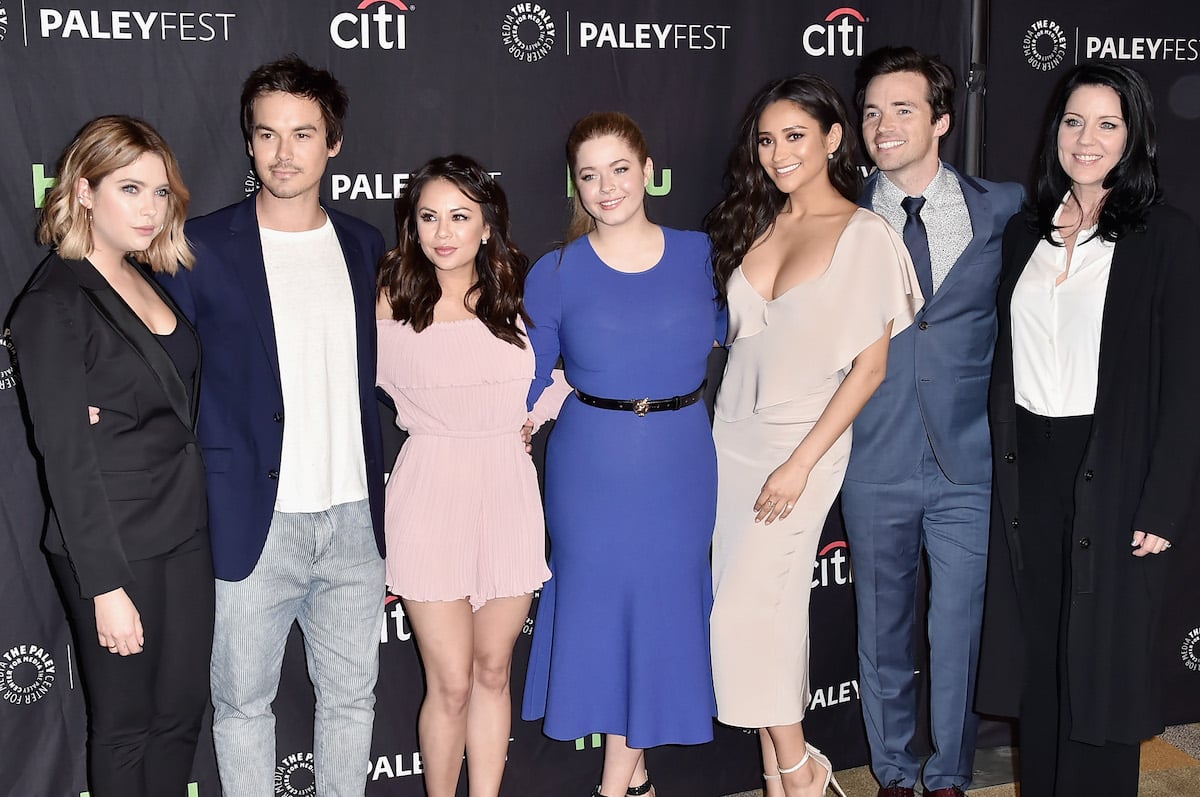 Pretty Little Liars tells the tale of the residents in the fictional town of Rosewood, Pennsylvania, specifically five high school girls with secrets that could fill a lake. The show follows Spencer Hastings, Hanna Marin, Alison DiLaurentis, Emily Fields, and Aria Montgomery — once-close friends who stop talking after another friend goes missing.
Later, the group begins receiving text messages and threatening letters saying they're being watched and their secrets are out. The estranged friends reunite as they try to find out the identity of the person sending them the ominous letters signed with an "A."
At first, the young women think the letter writer is Alison. But after her body turns up, the trail goes cold, and they begin looking for the person who wants revenge for the teens' past transgressions.
Although the show's central plot involves the group's secrets, each member has an individual storyline, the most prominent between Aria and her teacher Ezra.
The two began dating after denying their feelings for each other for a long time. They met at a bar and hooked up after Aria lied about her age, only to walk into class the next day to learn that Ezra was her teacher.
The two divide viewers because their will-they-won't-they situation torments fans who ship the pair.
Pretty Little Liars ended in 2017 with the girls discovering that Alison is alive and A's true identity.
Is 'Original Sin' actually happening?
It's been five years since viewers last caught up with the five core characters in Pretty Little Liars. But a new crop of students is set to grace the screen.
According to Seventeen, the Pretty Little Liars reboot will happen. The official announcement came in a mysterious video posted on the show's social media accounts.
The video appeared on September 24, announcing the show wouldn't return to Rosewood but would happen somewhere else.
HBO Max says Original Sin will take place 20 years after the events at Millwood High.
"In the present day, a group of disparate teen girls find themselves tormented by an unknown assailant and made to pay for the secret sin their parents committed two decades ago, as well as their own," the show's caption reads.
Who's in the cast? The original actors from 'Pretty Little Liars' might not return
Because of its new location, the darker iteration of Pretty Little Liars will introduce new characters. Chandler Kinney of Lethal Weapon and Maia Reficco of Kally's Mashup will play the leads — Tabby and Noa — in Original Sin.
Zaria, Malia Pyles, and Bailee Madison will also join the cast. Madison will play Imogen, Pyles will portray Minni, and Zaria will bring Faran to life.
HBO Max hasn't announced a release date as of this writing, but various sources claim production on Original Sin began this past August. Roberto Aguirre-Sacasa (Riverdale, Chilling Adventures of Sabrina) and Lindsay Calhoon Bring (Chilling Adventures of Sabrina) are the writers and executive producers.
However, fans should not anticipate seeing the original Pretty Little Liars cast return for the reboot.
RELATED: Ashley Benson and Lucy Hale Met On MySpace Long Before' Pretty Little Liars'