Inside Prince Andrew and Sarah Ferguson's Relationship
Following Princess Eugenie's royal wedding, some had questions about her parents, Prince Andrew and Sarah Ferguson's relationship. The Duke and Duchess of York divorced in 1996 (aka, the same year that Prince Charles and Princess Diana split). However, over 20-years later, they still keep a close relationship. And, rumor has it, they even still live in the same house.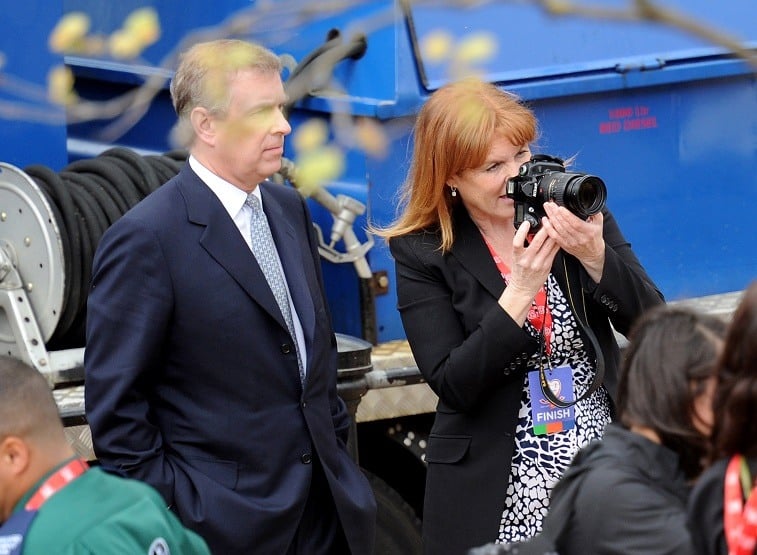 Prince Andrew and Sarah Ferguson's relationship
Prince Andrew and Sarah Ferguson's relationship is a bit complicated, to say the least. But, they somehow make it work (after all, they might live under the same roof). From how they met to why they divorced, find out more about the Duke and Duchess of York's relationship, ahead.
Princess Diana set them up
Prior to Sarah Ferguson becoming a royal, she was close friends with Princess Diana, as her father was Prince Charles' polo manager. In 1985, Princess Diana invited Sarah to a Royal Ascot event at Windsor Castle, where she made a connection with Prince Andrew. Following the event, Princess Diana was very encouraging towards their budding relationship.
They were childhood friends
As it turns out, Prince Andrew and Sarah Ferguson knew each other when they were kids (though they lost touch and reconnected as adults at the infamous Windsor Castle event). And, they allegedly used to play tag together!
They had a whirlwind romance
Prince Andrew and Sarah Ferguson's relationship happened fast. They met in 1985, were engaged in February 1986, and married in July of that same year.
Prince Andrew proposed on his birthday
Talk about a reason to celebrate! According to reports, Prince Andrew asks Sarah Ferguson to be his royal bride on February 19, 1986 — aka, his 26th birthday. The prince reportedly popped the question at Floors Castle in Scotland, which was where the couple shared their first kiss.
Their royal wedding
Just a few months after their engagement, on July 23, 1986, Prince Andrew and Sarah Ferguson said "I do" at Westminster Abbey. The bride wore a stunning ivory silk wedding dress with intricate embroidery, designed by Lindka Cierach. And, as a special touch, her 17-foot train featured a hand-beaded letter "A" and "S" to symbolize the couple's union.
Duke and Duchess of York
At the time of their wedding, Queen Elizabeth II — who was reportedly very fond of Sarah — named the royal couple the Duke and Duchess of York. She even had a tiara (known as the York Tiara), necklace, bracelet, and earrings specially designed for her as a wedding gift. Following the couple's divorce, Sarah kept her wedding day jewels and they are reportedly still in her possession.
They have two daughters
Following their nuptials, Andrew and Sarah welcomed their first daughter, Princess Beatrice in 1988. Then, in 1990, their youngest, Princess Eugenie, was born. The two raised their daughters at their home (the Royal Lodge) near Windsor Castle.
They spent a lot of time apart
According to several reports, Prince Andrew and Sarah Ferguson had marriage struggles early on. And, much of it had to do with spending so much time apart. Because of Prince Andrew's royal duties, Sarah was left to raise her daughters on her own most of the time and it weighed heavy on their relationship.
They separated in 1992
Two years after Princess Eugenie was born, Prince Andrew and Sarah Ferguson filed for legal separation. Around that time, intimate photos of the duchess and businessman John Bryan leaked while she was on vacation at Balmoral Castle with the queen, Prince Philip, and Prince Andrew. Prince Philip reportedly took the news the worst and the two have a rocky relationship to this day.
Their divorced finalized in 1996
Four years after filing for separation, Prince Andrew and Sarah Ferguson divorced in 1996. But, despite not being married to a royal anymore — and her estrangement from the family, due to the photo scandal — Sarah was allowed to keep her duchess status and to this day is still known as Sarah, Duchess of York. At the time of their divorce, Sarah reportedly asked for the queen's friendship instead of a settlement. "I left my marriage knowing I'd have to work," she later told Harper's Bazaar.
They still live together
According to several reports, Prince Andrew and Sarah Ferguson still share a home together — the same one Princess Beatrice and Princess Eugenie grew up in! The two are said to reside at the Royal Lodge near Windsor Castle. And, despite their marital status are quite fond of each other. "He's still my handsome prince, he'll always be my handsome prince," she once said while making an appearance at a Children's Literature Festival.
Check out The Cheat Sheet on Facebook!