Princess Beatrice's Wedding Guest List Might Tell the World All They Need to Know About the Royal Family Dynamics
Princess Beatrice is getting married, or, at the very least, she is planning to get married. The Princess announced her engagement back in September 2019, shortly before a flurry of crises befell the royal family. She has reportedly pushed back announcing her wedding plans twice already, and while she hasn't made an official announcement just yet, palace insiders insist all systems are finally go for a spring 2020 ceremony. While the world likely won't see Princess Beatrice's wedding televised, everyone will be pouring over the guest list, and with good reason. Who does and does not show up will likely tell royal family followers all they need to know about the tightly-guarded dynamics of the royal family.
When is Princess Beatrice getting married?
Princess Beatrice took to social media in September 2019 to announce her engagement to Eduardo Mapelli Mozzi, her boyfriend of less than a year. Mozzi is the CEO of Banda, a luxury real estate group. The lead up to her wedding has been exceptionally quiet for a royal wedding, most likely because her announcement came just as the royal family began to unravel. Rumor has it that the Princess and Mozzi were forced to push back their plans at least twice because of family drama.
According to Town & Country, the wedding plans are finally coming together. It is believed she'll marry in May and that the reception will be held at Buckingham Palace. Prince William and Kate Middleton also held their reception at the palace. Where the princess and Mozzi will actually tie the knot, however, seems to be up in the air. It is safe to assume that if the pair do have their reception at Buckingham Palace, the ceremony will also be held somewhere in London. Middleton and Prince William opted for Westminster Abbey for their service, but experts suggest Princess Beatrice will utilize a different landmark in London.
Will Prince Harry and Meghan Markle be in attendance?
It's hard to say who will attend the princess' wedding, considering all of the drama going on within the family. Sources allege that Prince Andrew, who is currently in hot water with the FBI, will still walk his daughter down the aisle. The disgraced prince opted to avoid his daughter's engagement party because of the negative press associated with his ties to Jeffery Epstein. Her mother, who still enjoys a strangely close relationship to Prince Andrew, years after their divorce, will undoubtedly be in attendance as will her sister, Princess Eugenie, and other members of the royal family.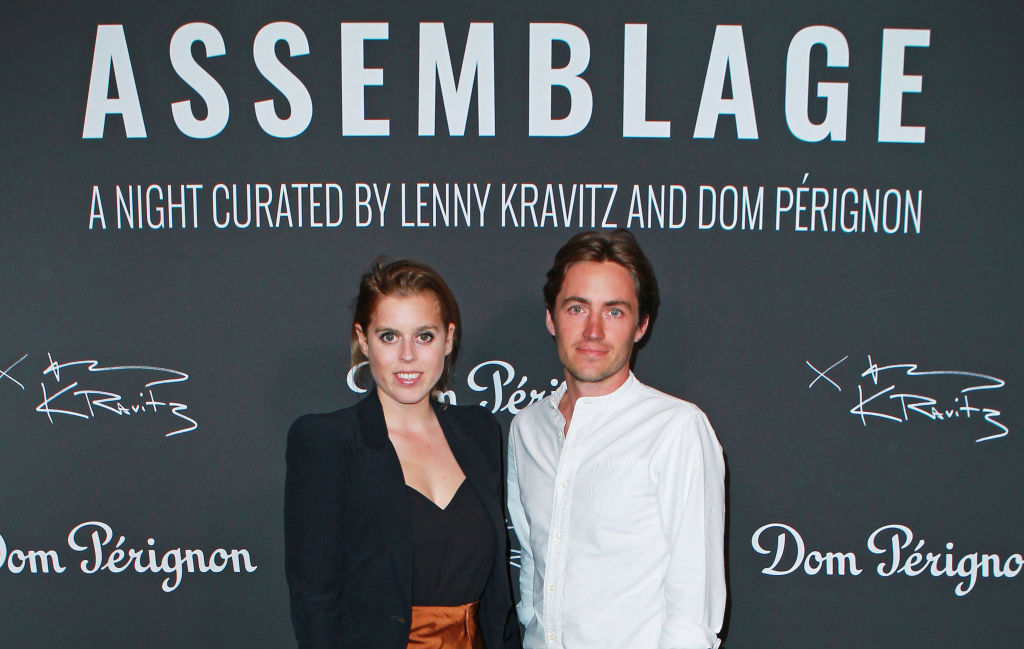 According to Vanity Fair, it's far too soon to tell if Prince Harry and Markle will attend the wedding or if they'll even get an invite. "Megxit," as the press has dubbed Prince Harry and Meghan Markle's decision to step down from royal life, has turned the royal family upside down. The prince and Markle are currently setting up their new home base, and they may actively avoid Princess Beatrice's nuptials. It's been rumored that Markle is not a massive fan of Prince Andrew, and is slightly embarrassed by his ties to Epstein.
Whether or not they attend is kind of a big deal
While royal family followers will need to wait until May to find out if the couple does show up at the ceremony, it's safe to say their presence or lack thereof will tell the world all they need to know about the dynamic within the royal family. The queen has suggested she's perfectly fine with the Duke and Duchess of Sussex's decision to step down from royal life, but insiders claim that might not be the case. There are a few critical pieces of evidence to suggest the royal family is actually royally pissed.
Shortly after the announcement, Prince Harry and Markle's images were scrubbed from the family's online gift shop. Their wedding china mysteriously disappeared from the website, and while the family would love fans to believe it was removed because it is sold out, other sold-out pieces are still on display. A royal insider told the Express, that stripping the young prince of his military titles also sent a message. The insider claims that while the queen and Prince Charles are presenting a united front with Prince Harry and Markle, the couple has essentially been exiled.
If they make it to the wedding, it could prove that the family will mend ties eventually. If they either don't make the guest list or choose not to attend, they are setting the foundation for further estrangement, hypothesize experts. It will be a while until experts get a chance to dissect the guest list, though. Princess Beatrice is continuing to keep a tight lid on her upcoming plans.