Prince Charles and Camilla Parker Bowles' Defiant Relationship Made an Impact on Prince William, Source Says
When Prince Charles and Camilla, Duchess of Cornwall's affair came to light in the early '90s, it was scandalous even by today's standards. At the time, Prince Charles' then-wife Princess Diana, had always suspected something was going on between her husband and Camilla. However, she had been unable to prove it.
However, in 1992, a kinky leaked phone call between the duchess and the prince hit the media and from then on, the future Crowned King and the Duchess of Cornwall were villainized by the press and public. Though the pair continued to see one another following the Prince and Princess of Wales' divorce in 1996, they did not get married until 2005.
Despite all of the drama, Prince William noted how his father and step-mother fought for their love and remained devoted to one another in the face of outsiders and traditions. In fact, it made a lasting impact on him.
Prince William knew the truth about his father's affair with Camilla Parker Bowles
Prince William was just 10 years old when his parents separated in 1992. When he asked his mother, Princess Diana why they were going their separate ways, she was honest with him.
"I went to the school and put it to William, particularly, that if you find someone you love in life you must hang on to it and look after it, and if you were lucky enough to find someone who loved you then one must protect it," Princess Diana said in a 1995 interview with BBC. "William asked me what had been going on, and could I answer his questions, which I did. He said, was that the reason why our marriage had broken up? And I said, well, there were three of us in this marriage, and the pressure of the media was another factor, so the two together were very difficult. But although I still loved Papa I couldn't live under the same roof as him, and likewise with him."
Prince Harry didn't know about his father's affair until it was splashed across the tabloids.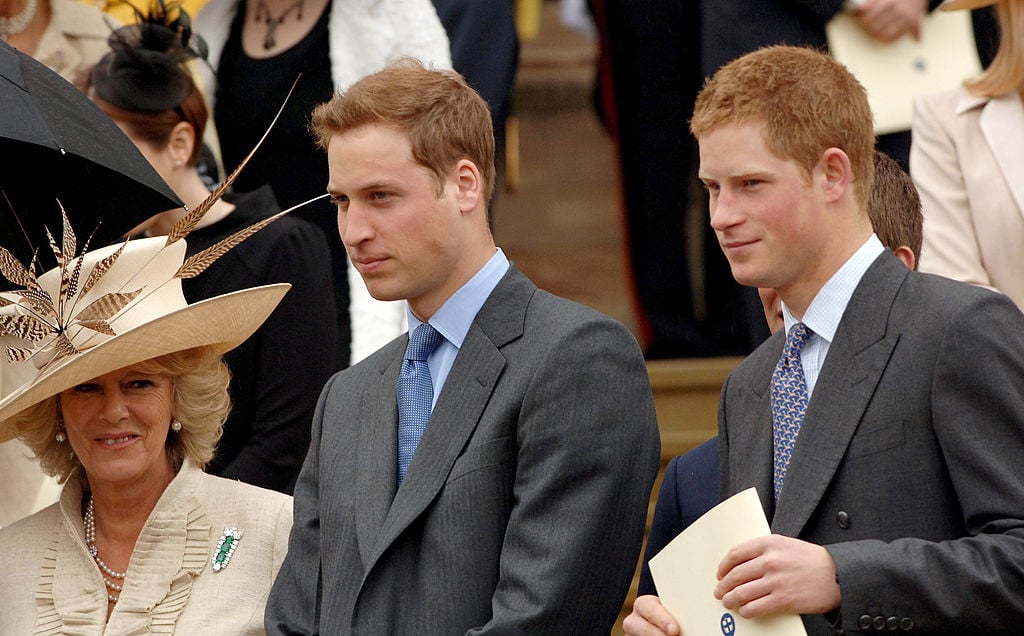 Prince William is close with Camilla Parker Bowles
Prince William first met Camilla, Duchess of Cornwall in 1998 when he was 16-years-old. Since then, the pair have become very close. He, along with Prince Harry attended the duchess wedding to their father in 2005. At time, 21-year-old Prince Harry only had great things to say about his stepmother. He called her, "a wonderful woman, and she's made our father very, very happy, which is the most important thing," BBC reported. "William and I love her to bits. To be honest with you, she's always been very close to me and William … but no, she's not the wicked stepmother. I'll say that right now."
However, over the years, the Duke of Cambridge and the Duchess of Cornwall have formed their own close bond. The Cambridges often make appearances with Prince Charles and Camilla and photographs of the pair together showcase a mutually respectful and light-hearted relationship.
Prince Charles and Camilla Parker Bowles' relationship made an impact on Prince William
With a full understanding of his father's affair with the Duchess of Cornwall and getting to know her himself, the relationship made a huge impact on Prince William. "Charles' apparent need for there to be a public acceptance of Camilla placed the identity of the Prince of Wales' consort firmly in the public spotlight, inviting the press to take notes but strictly on Palace terms," royal author Robert Jobson wrote in William's Princess. "Breaking the mold when it comes to matters of the heart, and struggling to find a comfortable co-existence with the press are traits Charles would pass on to his son. After all, Prince William is an impressionable and intuitive young man who has always taken a keen interest in the press coverage of his parents' divorce and affairs. would make a lasting impression on the young prince, as witnessed later on in his own attempts to lead the press a merry dance when it came to his private life – particularly in his blossoming and deepening relationship with Kate."
Not only did Prince William often dismiss questions relating to Kate early on in their relationship, but the pair also went at their own pace when it came to dating, getting engaged and eventually tying the knot.