Prince Charles Denied Prince Harry's Final Request for Princess Diana
Prince Harry had 1 final request when his mother, Princess Diana, died, but Prince Charles thought it best to deny it.
Prince Charles, Prince Harry, and Prince William – along with the rest of the royal family and UK citizens – marked the 23rd anniversary of Princess Diana's tragic death on Monday, August 31. Life changed in the blink of an eye for the royal siblings, and Charles, Prince of Wales, made the difficult decision at the time to deny Prince Harry's final request for his mother.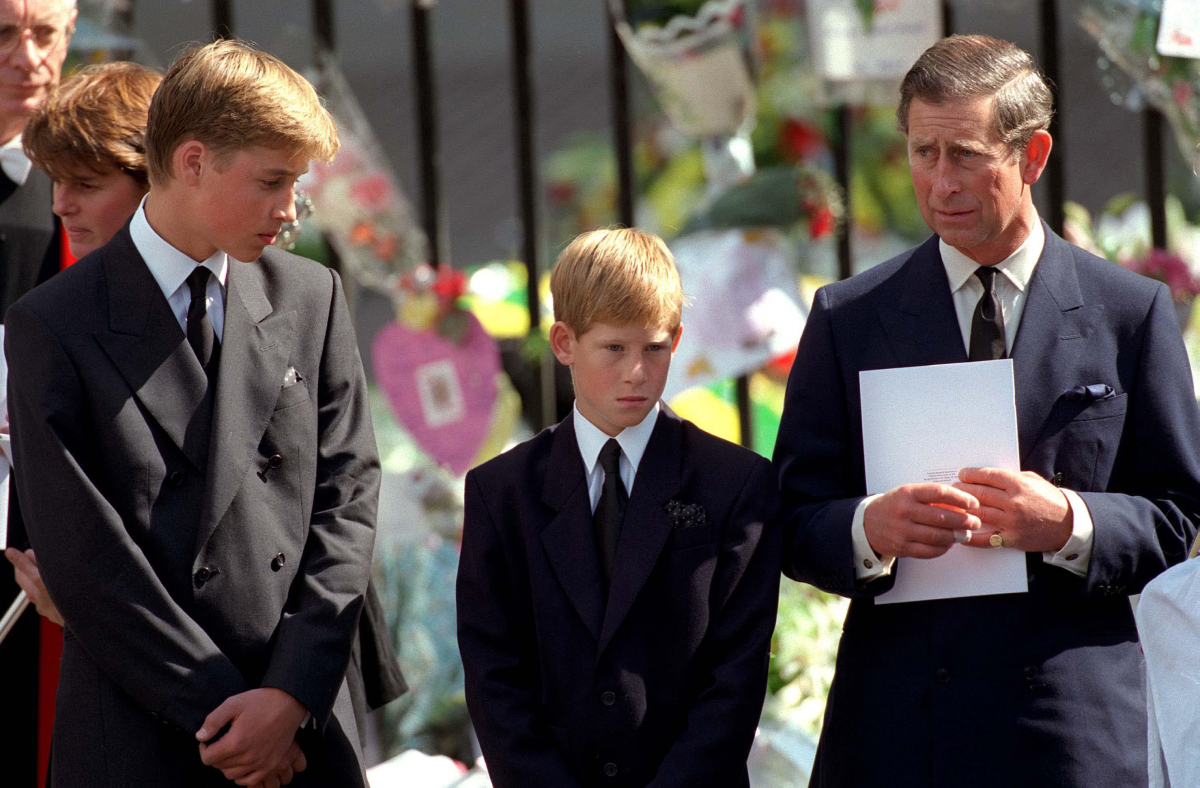 Princess Diana's sons regret their last phone call with their mother
William and Harry have both made it extremely clear that they are not comfortable with talking publicly about their mother. The last time they shared intimate details about Princess Diana and their relationship with her was in the 2017 documentary Our Mother Diana: Her Life and Legacy.
According to Express, the princes said at the time that they would never speak at length about their mother in public ever again. At the time of her death in 1997, William was 15 and Harry was 12.
"The very last memory that I have is a phone call [at] Balmoral. At the time Harry and I were running around minding our own business, playing with our cousins, and having a very good time. I think Harry and I were just in a desperate rush to say goodbye. You know, see you later and we're going to go off," William said.
Harry added that if he would have known it was the last time he was going to speak to his mother, he would have said so many things to her.
Prince Charles denied Harry's request to fly to Paris
According to The Mirror, William and Harry were on holiday with Prince Charles at the Queen's estate in Scotland when their world fell apart. Prince Charles heard the news of Diana's death first in a phone call. A shocked Charles then told his mother, Queen Elizabeth.
Upon finding out about his mother's death, Harry told his father his final request for Princess Diana. Harry told Charles that he wanted to travel to Paris with his dad to collect his mother's body. But Charles was worried about protecting his youngest son and he refused.
Despite the Prince Charles' denial, Harry is still grateful for how his father was there for him and William after Princess Diana died.
"One of the hardest things for a parent to have to do is to tell your children that your other parent has died," said Harry. "How you deal with that I don't know. But, you know, he was there for us. He was the one out of two left and he tried to do his best and to make sure that we were protected and looked after."
The brothers did not celebrate their mother's memory together this year. There are rumors of a rift, but they are also currently living on separate continents. Harry and Meghan found a way to honor his mother in their new homeland. While William and Kate were more private while on holiday at Balmoral in Scotland.
Prince Harry and Meghan Markle plant flowers in Diana's memory
With Megxit creating a rift between William and Harry, the brothers marked the anniversary of their mother's death on different continents. Harry and his wife, Meghan Markle, volunteered at the Preschool Learning Center in Los Angeles on August 31.
According to Harper's Bazaar, the Duke and Duchess of Sussex spent the morning working in the center's garden with the children. They planted flowers and healthy foods, which is an activity the school does every year.
To honor Diana on the anniversary of her death, Harry and Meghan planted forget-me-nots, the Princess of Wales' favorite flower. They also planted a mix of petunias, California wildflowers, sweet peas, squash, and tomatoes. After the gardening, Harry and Meghan read the students a few books, including the classic Jack and the Beanstalk.
Meanwhile, Prince William and Kate Middleton were at Balmoral Castle with their three children. The Cambridges enjoyed a final summer weekend getaway at Queen Elizabeth's royal estate in the Scottish Highlands.