Does Prince Charles Like Meghan Markle? Inside Their Relationship
Meeting the parents is always a little nerve-wracking — especially when your significant other's father is the future King of England. It's been a minute since Meghan Markle first met her now father-in-law, Prince Charles, but now that she is fully part of the royal family, the Duchess of Sussex likely spends a lot more time with him.
Does Prince Charles like Meghan Markle? We take a closer look at Prince Charles and Meghan Markle's relationship, including how the Prince of Wales really feels about his daughter-in-law, ahead.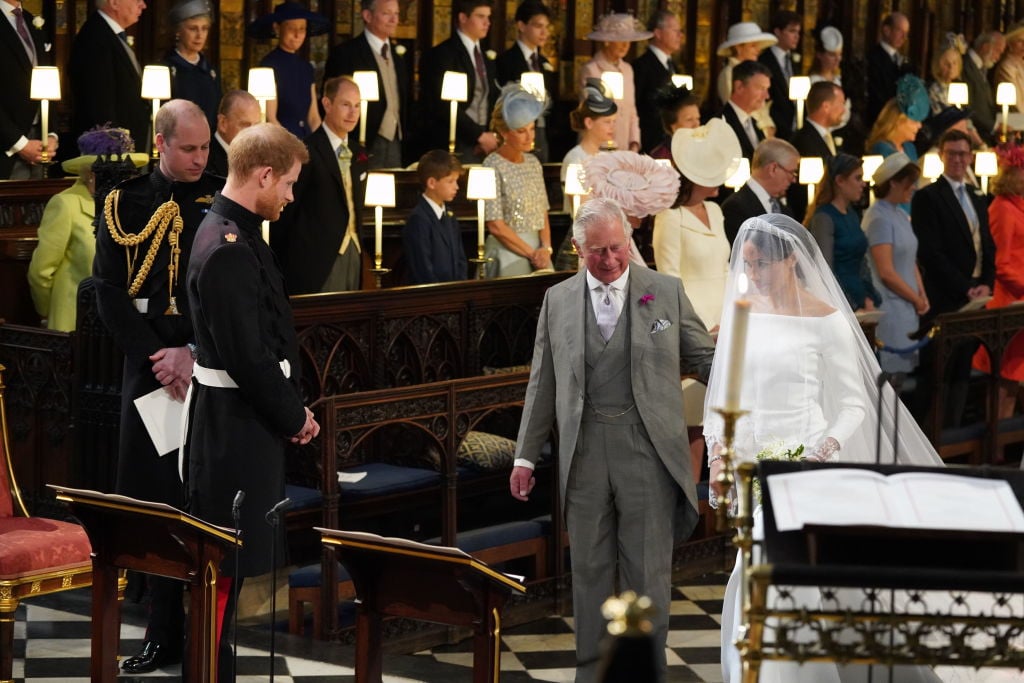 Does Prince Charles like Meghan Markle?
According to reports, Meghan Markle lucked out in the father-in-law department with Prince Charles. The two allegedly get along fabulously and some even claim they are thick as thieves. Much like the rest of the royal family — the Duchess of Sussex is reportedly very close with Kate Middleton, Prince William, and even Queen Elizabeth — Prince Charles welcomed the love of Prince Harry's life with open arms and made her feel part of the family since day one. They even gave her some royal responsibilities ahead of her royal wedding in Spring 2018 (something very out of the ordinary for the rule-following monarchy).
Prince Charles and Meghan Markle's relationship
Prince Charles and Meghan Markle's relationship is surely something to admire. The father- and daughter-in-law not only work together as part of the royal family but also have a significant bond that has caught the public's attention in a big way. Below, find details about Prince Charles and Meghan Markle's relationship that prove the duchess is not only a perfect match for Prince Harry but the royal family, too.
Prince Charles walked Meghan Markle down the aisle
After her father could not fulfill his royal wedding duties days before the festivities, Prince Charles stepped up and happily agreed to offer his arm down the aisle of St. George's Chapel at Windsor Castle. The Prince of Wales's brought tears to our eyes as he welcomed Meghan Markle into the family in a big way. "Prince Charles was very touched to be asked by Meghan to walk her down the aisle, and he is very much looking forward to welcoming her into the family," a source told US Weekly.
He has also welcomed Meghan Markle's mother into the family
In addition to walking Meghan Markle down the aisle, the Prince of Wales has also been warm and welcoming to her mother, Doria Ragland. Along with his wife, he escorted Doria from the chapel on the royal wedding day and allegedly gets along well with her.
Meghan Markle and her mother are very close, so it doesn't surprise us that Prince Charles has opened up his heart to her as well. After all, the two will soon share a grandbaby together!
They enjoy a good laugh together
Prince Charles and Meghan Markle's relationship involves a lot of laughter. The two have been caught smiling and giggling together on numerous occasions, including the one time Prince Harry was stalked by a bee at Prince Charles's 70th birthday party.
He makes Meghan feel at ease during royal ceremonies
As a new royal, Meghan Markle has experienced many changes. Prince Charles has helped Meghan feel more at ease during royal festivities, including her first-ever Trooping the Color, where the two talked and laughed together. And, whenever they have a shared engagement, Prince Charles catches her eyes frequently, silently cheering her on.
They share similar interests in food
Prince Charles is a big foodie, but he is also all about sustainability. Meghan Markle also has a love for food — specifically organic, clean foods — and likely appreciates her father-in-law's sustainability efforts.
They share a love of the countryside
In addition to food, Prince Charles and Meghan Markle both love the countryside and all the beauty it has to offer. Prince Charles likely appreciates that and bonds with his daughter-in-law during their time in Scotland, Windsor, and other areas frequented by the royals.
Prince Charles pays Meghan Markle a salary
Since Meghan Markle is now part of his immediate family, Prince Charles is responsible for Prince Harry and Meghan Markle's income — aka salary for their work in the family.
Check out The Cheat Sheet on Facebook!