Prince Charles Once Revealed How Much Prince Harry Admires Rihanna
Prince Harry has met Rihanna a few times, and his father, Prince Charles, once shared some kind words Harry said about the pop star.
As a member of the royal family, Prince Harry has met many celebrities over the years. One person he has connected with is singer Rihanna.
Harry and Rihanna have only appeared at a couple of events together, but Harry's admiration for the Barbados native seems to run deep. His father, Prince Charles, once shared some kind words Harry had said about Rihanna.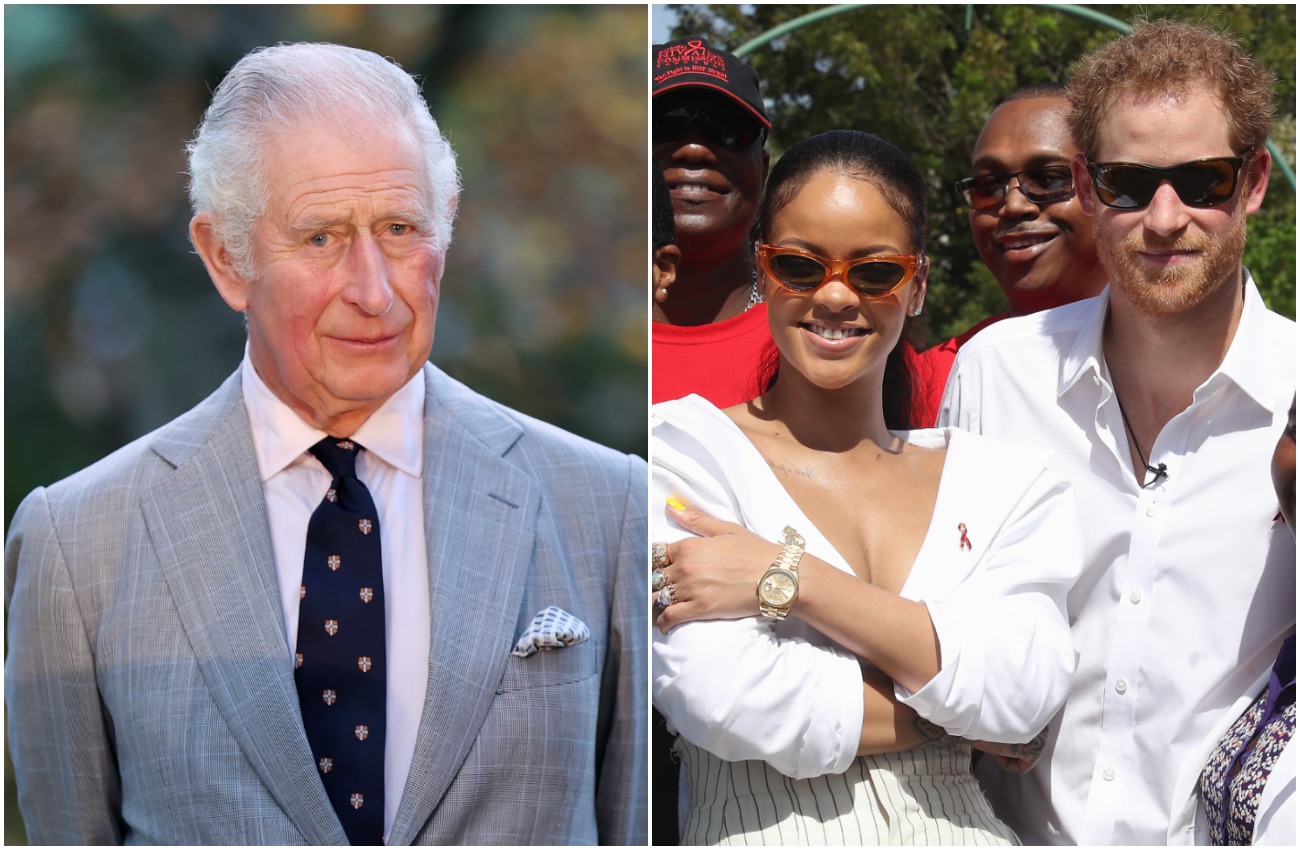 Prince Harry and Rihanna first met in 2016
Harry and Rihanna became acquainted in late 2016 when the prince was on a tour of the Caribbean. He stopped by Barbados and attended several events—some of which Rihanna was also at.
The two of them first met during an event in the capital city of Bridgetown celebrating Barbados' 50 years of independence. According to BBC, Harry greeted Rihanna with a simple "Hello, it's very nice to meet you."
Later on, Harry and Rihanna sat next to each other to watch a concert with 20,000 people in attendance. There are photographs of the two celebrities talking to each other and smiling.
The next day, Harry and Rihanna celebrated World AIDS Day by getting tested for HIV together. The event raised awareness for HIV/AIDS and encouraged others to get tested as well.
Prince Charles revealed how much Prince Harry admires Rihanna
In 2019, Charles traveled to Barbados on his royal tour of the Caribbean. There, Charles gave a speech that highlighted some influential women from the island nation, such as the prime minister, Mia Mottley.
"Barbados offers an inspirational example through the remarkable number of women in positions of national leadership," Charles said (via Express). "Not only the Governor-General and the Prime Minister, but also the Leader of the other main political party, as well as the Director of Public Prosecutions."
He also mentioned Rihanna and revealed what Harry had said about her. Charles continued, "And then, of course, there is arguably the most famous living Bajan of all. From her childhood in Bridgetown, Rihanna has gone on to be one of the most influential recording artists of her generation and a global style icon. Or so my son, Harry, tells me, anyway."
Was Rihanna invited to Prince Harry's wedding?
In 2018, Harry married Meghan Markle in a huge wedding that was widely watched around the world. Thanks to Meghan's background as a Hollywood actor, the event also included many famous faces, such as George Clooney, Serena Williams, Oprah Winfrey, and Priyanka Chopra.
Before the wedding, Rihanna was interviewed by a reporter for Access Hollywood, who asked if she had received an invitation.
"Why would you even think I'm invited?" Rihanna asked.
The reporter responded, "I don't know. You've met him [Harry]."
"Okay, you met me," Rihanna said. "You think you're coming to my wedding? Am I coming to yours?"
True to her word, Rihanna did not end up going to Harry and Meghan's wedding. However, around that time, she was launching and promoting her lingerie collection, Savage X Fenty. She also shared with Entertainment Tonight what she would gift to Harry and Meghan from her collection.
"I think you have to go to the extreme when you're gifting both for a man and a woman, because both people benefit from the gift," Rihanna said. "We have a bridal vibe going on, we definitely do have a little skirt and top situation. But I mean, really, on your wedding night, you could do whatever you want. It depends on how savage you wanna be."