Prince Charles' Relationship With Prince Philip Has Always Been 'Complicated'
Prince Charles has faced his share of scandals over the years, but his relationship with his father, Prince Philip, is often overlooked. While Philip and Charles eventually grew to understand each other, their relationship has always been a bit complicated. From Charles' childhood to his affair with Camilla Parker Bowles, here are all the ways Charles has leaned on Philip through the years.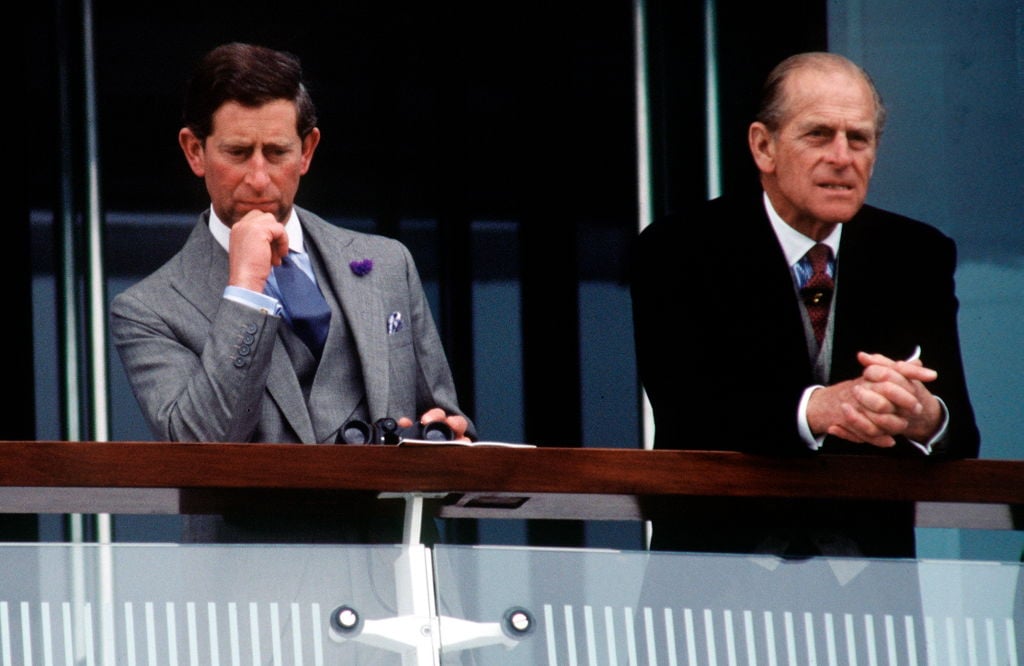 Inside Prince Charles' early days
Growing up, Charles was an introvert and gravitated more towards the arts than sports. This reportedly disappointed Philip, who pushed Charles to be less sensitive and cerebral about things.
Although Philip was a loving father who cared deeply for his children, Prince Charles developed a closer bond with his grandmother, Elizabeth, who was also known as Queen Mother.
In the 2001 book, Diana: Story of a Princess, Penny Junor told author Tim Clayton that Philip was sometimes too tough on Charles and came across as a bully. This led to some self-esteem issues for Prince Charles, who always felt like he was disappointing his father.
"Prince Philip is bluff, outspoken, hearty, tough and something of a bully," Junor shared, "and he has no patience with his eldest son's soul-searching. Sensitivity is not one of the qualities he expects in a man, and although he undoubtedly has great affection for Prince Charles, he has spent a lifetime criticizing him and quietly undermining his self-esteem."
That said, Philip's cousin, Patricia, claims that he was very good around his kids. While there is no denying that Philip was sometimes tough on Prince Charles, Patricia says that he only wanted to help his oldest son develop traits that would help him deal with the pressures of being a member of the royal family.
Prince Philip gives Prince Charles advice on marriage
According to E Online, when Charles was getting ready to tie the knot with Princess Diana in 1981, he allegedly asked Philip for advice when he started having doubts about the union.
At the time, Prince Charles knew that he still had feelings for Camilla Parker Bowles, and Philip reportedly told him that if things don't work out with Diana, he could always go back to Camilla in a few years.
"My father-in-law said to my husband, 'If your marriage doesn't work out, you can always go back to her after five years,'" Diana recalled. "Which is exactly—I mean, for real I knew that it had happened after five—I knew something was happening before that but the fifth year I had confirmation."
Paul Burrell, who used to be a butler for the royal family, revealed in his 2003 tell-all, A Royal Duty, that Charles and Diana were told that they needed to compromise to make their marriage work.
Although Diana knew what was going on behind-the-scenes, she was urged to stay with Prince Charles for the sake of her children and the monarchy. Diana, of course, remained with Charles until 1992 when the pair split for good.
Charles and Diana finalized their divorce in 1996, a year before her tragic death in Paris. The Prince of Wales would go on to exchange vows with Camilla in 2005.
Prince Philip skips Charles and Camilla's wedding
Considering how Charles' affair is what ruined his first marriage, he waited a long time before tying the knot with Camilla. Leading up to their wedding in 2005, it took a bit for Camilla to gain the trust of Queen Elizabeth and Prince Philip, not to mention repair her public image.
When Prince Charles and Camilla finally exchanged vows in 2005, it was quite scandalous when Queen Elizabeth and Philip skipped out on the ceremony.
In the 2018 book, Rebel Prince: The Power, Passion and Defiance of Prince Charles, author Tom Bower wrote that Charles was heartbroken when his parents did not attend his second wedding.
It was eventually revealed that Queen Elizabeth and Philip did not attend the wedding because it was not a religious ceremony. When the couple held a Service of Prayer and Dedication ceremony inside St. George's Chapel, Charles' parents were in attendance.
Camilla Parker Bowles gets close with Queen Elizabeth
Although things have not always been easy for Prince Charles and Camilla, they have come a long way since the mid-1990s. In fact, Queen Elizabeth and Camilla have grown very close over the years, and Her Majesty seems perfectly content with Camilla sitting beside Charles when he takes the throne.
In 2007, for example, Prince Charles held a 60th birthday party for Camilla. Queen Elizabeth and Philip proudly attended the bash, a clear signal that things had changed between Camilla and the royals.
When Camilla married Charles, it was widely believed that she will accept the title of Princess Consort when he takes the throne. In recent years, however, that has changed and Camilla is fully expected to become Queen Consort once Prince Charles is at the head of the monarchy.