Prince Charles Warned Kate Middleton That This Could Be Her Royal Downfall
Catherine, Duchess of Cambridge has embraced her role as the future Queen Consort wonderfully. Following Prince Harry and Meghan, Duchess of Sussex's exit from the British royal family, Kate, and Prince William have stepped up to the plate. Amid the coronavirus pandemic which has left the older royals in isolation, the Cambridges have become the faces of the royal family.
Having dated Prince William for a decade before tying the knot and following their ninth wedding anniversary, Kate has been preparing for her royal role for years. She has embraced her focuses on mental health and early childhood education and development.
However, now that Kate is center stage, she is increasingly visible to tabloids, critics of the royal family, and everything in between. Prince Charles warned her years ago that being on a pedestal could be her downfall.
Kate Middleton is wildly popular right now
Amid Megxit and the coronavirus pandemic, Kate's workload has increased exponentially. The duchess has taken on more charity work and her schedule is jam-packed even while isolating at her country home, Amner Hall. In addition to homeschooling her three children Prince Charles, Princess Charlotte, and Prince Louis, the duchess is carrying on with her royal duties via Zoom.
At the beginning of her marriage, royal experts and Queen Elizabeth were reportedly concerned about Kate's lack of work ethic. However, she has slowly come into her royal role full force so that is no longer a concern.
Unfortunately, being the center of attention leaves more room for people to pick you apart.
The British press is already attacking Kate Middleton
The royals have always had a fraught relationship with the media. In a leaked phone call earlier this year, Prince Harry addressed the issues between the media and his family. "For most, all of my life, I've always been part of a family and part of a country that is scared of the tabloid media because they have so much power and influence and no morals (laughs)," he explained. 
Unfortunately, now that the Sussexes have relocated to Los Angeles, the tabloids have decided to set their sights on the Duchess of Cambridge. Tatler Magazine just released a scathing expose on the duchess titled, "Catherine the Great."
In the piece, they rip Kate apart. The piece claims that Kate is overwhelmed with work, that she is furious with the Sussexes for leaving, that Prince William is obsessed with her mother, Carole Middleton, that she has lost weight due to stress and so much more.  "[Journalist Anna Pasternak] manages to slag off [harshly criticize] her mother, makes William look weak and makes Kate look so dull," royal expert Ingrid Seward told Newsweek. 
Things are so bad that the Cambridges have taken legal action against Tatler, which is an unprecedented move for them.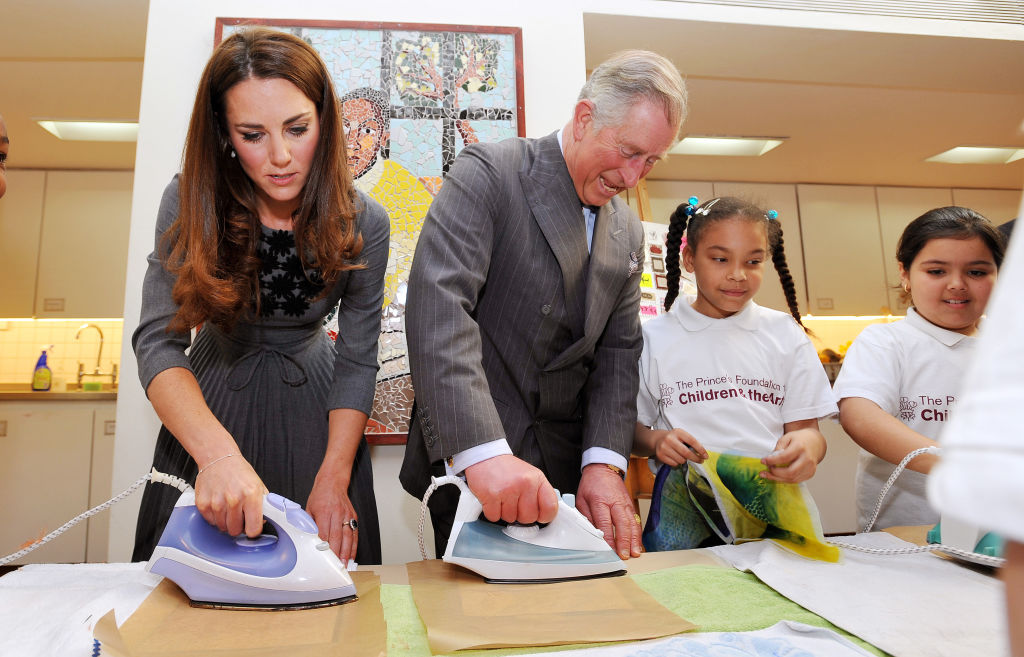 Prince Charles warned Kate Middleton about the downfall of being a beloved royal
When Kate entered into the royal family, Prince Charles warned her about what it meant to be placed on a pedestal in the royal family.
"The problem for Kate is, as her father in law said, she's been put on a pedestal and it's impossible to stay on a pedestal," Seward told Newsweek.  "There's only one way and that's down. She's a goddess at the moment and everyone is saying how great she is and how hard she works but she can't really keep up with that. She's not a goddess, she's a mom of three children and is probably absolutely exhausted."