Prince Edward Was Once Prince Philip's 'Greatest Disappointment', Insider Says
Prince Edward, the youngest of Prince Philip and Queen Elizabeth II's children, has always been the most low-key. He has remained mostly scandal-free and out of the spotlight, and now he is poised to take on a major role in the British royal family on behalf of his father.
However, at one point, Prince Edward was reportedly Prince Philip's greatest disappointment.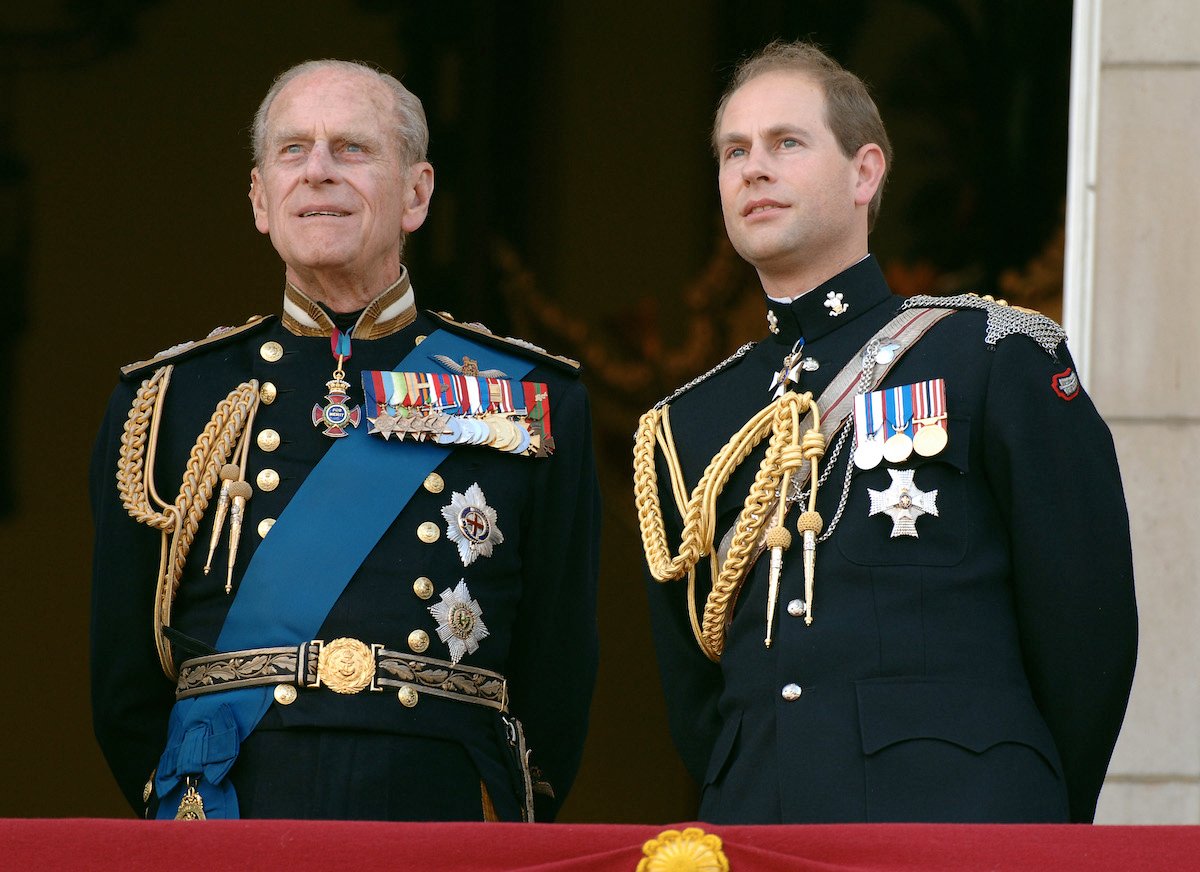 Prince Edward will eventually become the Duke of Edinburgh
Though Prince Philip has always been very close to Princess Anne, it is well known that he also considers Prince Edward to be one of his favorite children.
According to Express, the sole portrait of any of his children in his office for years was a photo of Prince Edward. Since Prince Philip is never one to complain or explained, he's been thrilled that Prince Edward and his wife, Sophie, Countess of Wessex have also adhered to that royal tradition.
"Edward has molded into a quiet and efficient figure who does not seek attention or acquire headlines," a palace insider explained. "He and Sophie are liked for being dutiful and uncomplaining."
In fact, when Prince Philip dies, his title will pass to Prince Edward. In 1999 at his wedding, Prince Edward was made an earl, not a duke like his brothers. However, it has been said that the queen purposely wanted her youngest child to become the Duke of Edinburgh one day.
RELATED: Sophie, Countess of Wessex Just Revealed Why Meghan Markle Had So Many Issues Adjusting to the Royal Family
Why did Prince Edward leave the marines?
Following in his brothers' and father's footsteps to serve in the military, Prince Edward shocked everyone when he quit the Royal Marines shortly after just four months in 1987. At the time, the LA Times reported, "Edward, 21, cried for three hours after making up his mind to resign last Friday, just four months after he began full-time training as an acting lieutenant."
Several sources said that Prince Philip was furious at his son, berating him and shouting at him for his decision. However, the Earl of Wessex's former private secretary, Adam Wise says that never happened.
"The first person [Edward] went to when he'd really had enough of the marines was Prince Philip and he was extremely understanding about the whole thing," Wise told Express. "He was very reasonable and gave very sensible advice. Prince Philip did not get on his high horse at all and did not get cross about the fact that his son was rejecting the Royal Marines, of which he was captain-general."
However, the Duke of Edinburgh reportedly did take a major issue with his youngest son's attempt to start a media company.
Prince Edward was one Prince Philip's greatest disappointment
After leaving the Marines, Prince Edward launched a media company that Prince Philip greatly disapproved of. "Of all his four children, Edward was always the one assumed to be Philip's greatest disappointment: the one who fled the Marines training for a career in the theatre, apparently making his father apoplectic with rage, and the one who brought further criticism for trying to compromise his family's privacy via his TV shows," royal author Judi James told Express.
However, Prince Edward's status in the royal family and in his father's eyes have changed drastically since then. James added,
Following a few twists of royal fate it is now Edward emerging as the safe pair of hands in terms of the royal legacy, with his happy, long-term marriage to his very popular wife Sophie and his low-key, more accessible demeanor that might be all the more successful in modern life than the more old-school, military approach of his siblings and his father.