Prince George Has a New Musical Hobby Playing a String Instrument
Prince George may still be very young, but he has a pretty extraordinary life that the rest of us couldn't even begin to imagine. As the future king, Prince George has never known anything different than living in extravagant residences. However, his interests are just like that of other kids his age.
Over the past few years, we have seen photographs of the young prince taking walks in the park with his mother, Kate, Duchess of Cambridge, and enjoying games with his sister, Princess Charlotte. Prince George even goes to school, where he is said to invite other students over to the palace for playdates. 
In the past, the heir to the British throne has shown us that he has typical interests, such as playing with dinosaurs, as well as his toy trucks and police cars. However, Kate revealed during a recent trip that her oldest son has taken on something new, and it is actually quite adorable.
Prince George's life as a future king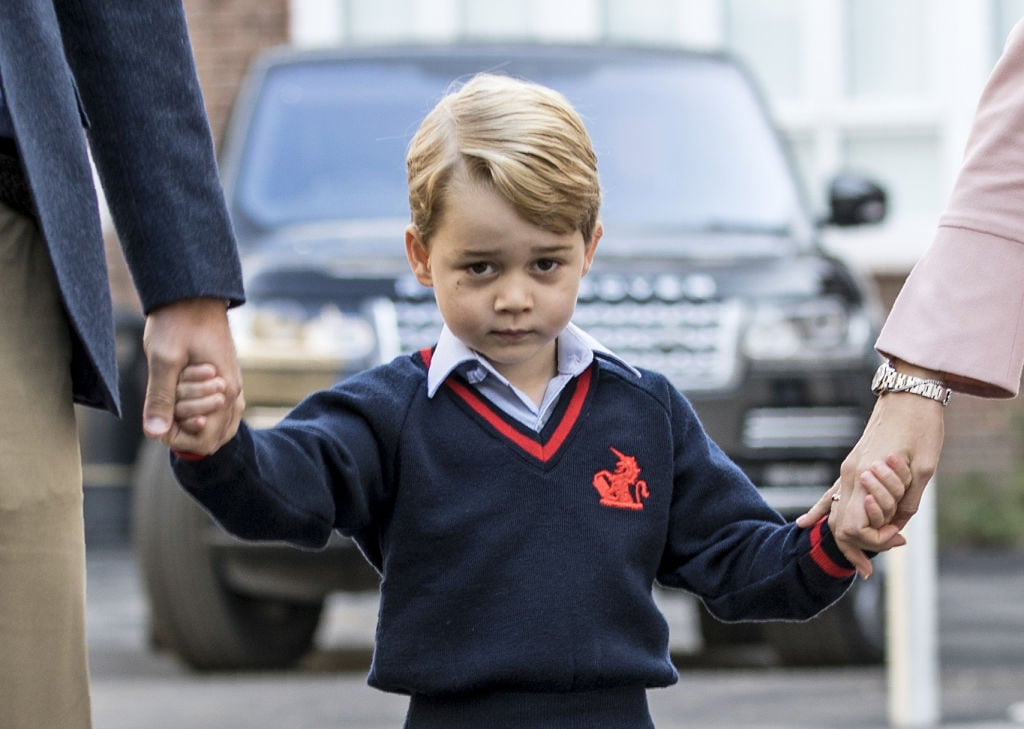 Six-year-old Prince George made his debut into the world on July 22, 2013, while millions of people were glued to their televisions and thousands of others were camped outside the hospital to welcome the newest addition to the royal family. While it is easy to assume that someone who is born into the direct line of succession would instantly have a life of privilege, that wasn't exactly the case for Prince George.
Prince William and Kate were adamant about giving him a pretty normal upbringing. According to Hello!, he doesn't even know yet that he will someday be king. Fans have seen photographs of Prince George and his siblings doing normal, everyday things, and it is wonderful that they are able to enjoy life to the fullest without having to worry about the pressures of being in the royal spotlight.
Prince George has a new musical hobby playing a string instrument
It seems like just yesterday he was a tiny baby sleeping in Kate's arms, and it is hard to believe that Prince George is growing up so quickly. Being around other children and navigating the world is surely introducing the prince to new and exciting things, and not surprisingly, he has picked up a new interest that he can't seem to get enough of.
So, what is it that Prince George is doing? Us Magazine reports that Kate, while on a recent trip to Ireland, has said that her oldest son is beginning to learn to play the guitar. The duchess also said that she wished her children were able to make the trip to Ireland along with her and Prince William, however, it wasn't possible.
Why did it occur to Kate to mention that Prince George has a new musical hobby? She and Prince William just so happened to have been visiting a venue in Galway, enjoying the acts included in the 2020 Galway European Capital of Culture events.  
Do any other royals have musical talents?
Is Prince George the first royal to become interested in playing an instrument, or are there any other family members who enjoy doing so? It turns out that his mom, Kate is a talented flute player. According to E! News, she learned the instrument as a young child, and that is actually not all.
While away at school, Kate also became interested in playing the piano and took lessons while she was living away from home. It is great that Prince George is following in Kate's musical footsteps and learning to play the instrument at such a young age. We hope that we can soon hear even more about how he is coming along.