Prince Harry and Meghan Markle's Relationship With William and Kate Is Still 'So Broken' Despite Peace Talks
Prince Harry recently returned to the UK for the funeral of his grandfather, Prince Philip. While he was back in his home country, Harry reportedly had a private chat with his father, Prince Charles, and his brother, Prince William.
But according to one royal insider, those talks were "very strained." It appears that there is still a long way to go before the rift is healed.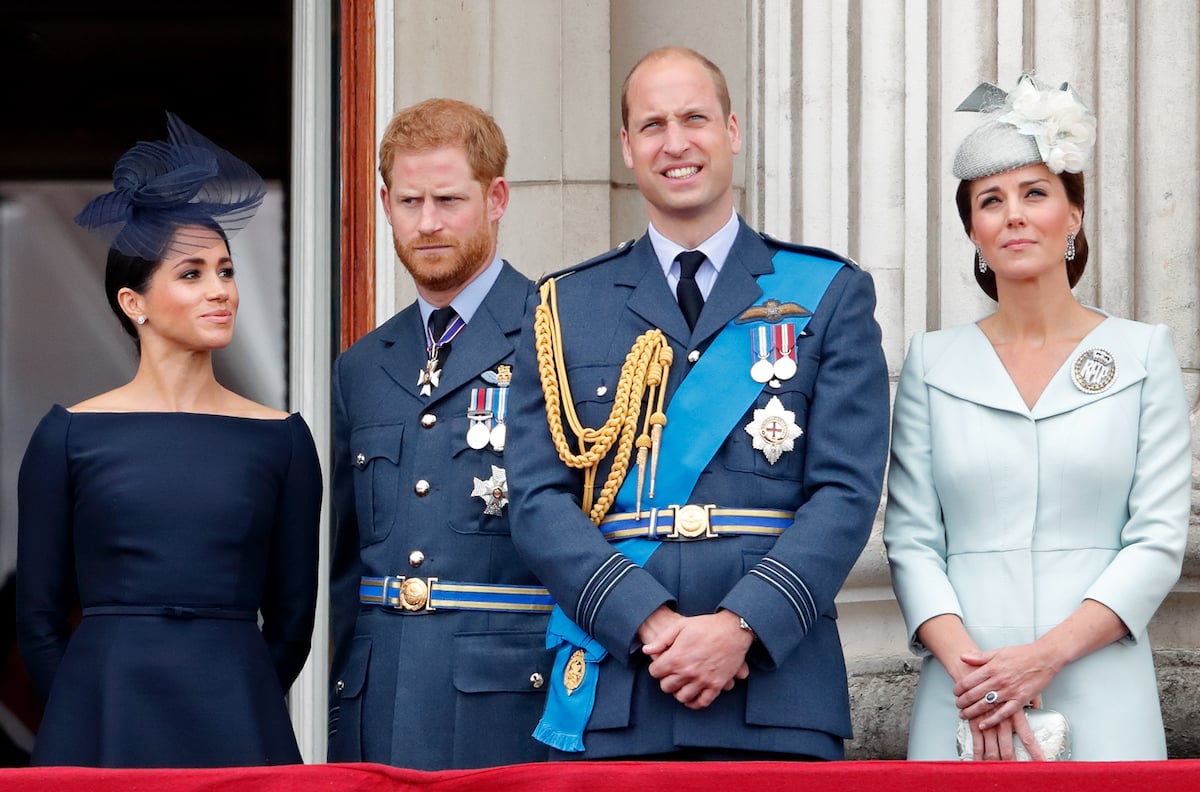 Prince Harry was spotted with his brother for the first time in a year
In early April, Harry returned to the UK for the first time since he and Meghan, Duchess of Sussex stepped down as senior royals. The Duke of Sussex was back home with his family for his grandfather's funeral.
It was the first time Harry had come face-to-face with his family members since that bombshell interview he and Meghan gave to Oprah Winfrey.
According to Express, Harry wrote his father a "deeply personal" note before he flew to England. Cameras spotted Harry talking with William and Kate, Duchess of Cambridge after Prince Philip's funeral. It was the first time in a year that William and Harry had been seen together.
The talks were just the 'opening move'
It's no secret that since Harry moved to America with Meghan and their son, Archie Harrison, the Prince's relationship with his family has become quite strained.
In an effort to clear the air, Harry visited privately with his father and brother after Prince Philip's funeral.
But according to royal author Phil Dampier, that's just the "opening move" in healing the rift between Harry and his family.
"The relationship between the so-called former 'Fab Four' — Harry, Meghan, William and Kate — is now so broken and delicate that everyone is looking for the slightest signs it is getting better…or worse," Dampier said. "The discussions after Prince Philip's funeral were a start but were clearly very strained and only an opening move."
The royal expert slams Prince Harry and Meghan Markle
Dampier went on to slam Harry and Meghan for their "war" with the royal family, calling it "unnecessary and counterproductive."
The royal expert believes the Duke and Duchess of Sussex should "stop playing the victim and stop playing on their royal connections by leaking stories while pleading for privacy."
"Harry and Meghan now have all they want to make them happy if they are going to be," Dampier said. "A son, a daughter on the way, their freedom from the royal family and the means to make money and get involved in cases which interest them. To carry on a war with Harry's blood family is unnecessary and counterproductive, and the sooner they realize that the better."
A Conservative Party MP says the British public has 'written off' the Duke and Duchess of Sussex
The shocking claims Harry and Meghan made have resulted in the couple being "written off" by the British public, according to Conservative Party MP Andrew Rosindell. He says that what happened with Harry is "a great sadness to the queen" and it's also "very sad for the country."
"It was only three years ago when he had that wonderful wedding. But then in less than two years have effectively resigned from the Royal Family is a great shame," Rosindell said.
"Maybe him coming back for Prince Philip's funeral will have reminded him what he has given up. But the country has moved on now. They do think of him as part of the Royal Family, but they don't think of him as having a role anymore."
Prince Harry 'crossed the line'
Another royal expert, Charlie Rae, agrees that the UK has moved on from Harry and Meghan. He says that the rift between the Duke of Sussex and his family "will not be solved."
He also claims that Charles and William will never open their arms to Harry again because he "crossed the line" when he accused his family of racism.
"Out in the US, Harry looks like a startled rabbit caught in the headlights," Rae told The Mirror. "I believe that this is a problem that will never go away, it will not be solved. I do not believe that William and Charles will be extending their open arms again to Harry in the light of what he said."