Prince Harry and Meghan Markle Were Offered Freedom From the Royal Family Before They Married and Turned it Down
Insode sources claim Prince Harry and Meghan Markle were offered to live outside the royal family before their wedding but chose to turn it down.
Prince Harry and Meghan Markle reportedly had a way out of the royal family before they tied the knot. When they were engaged, Queen Elizabeth allegedly pushed for a longer transition period for Meghan that would have kept her out of the royal spotlight. But Meghan and Harry turned down the offer and became working members of the monarchy shortly after their $25 million wedding.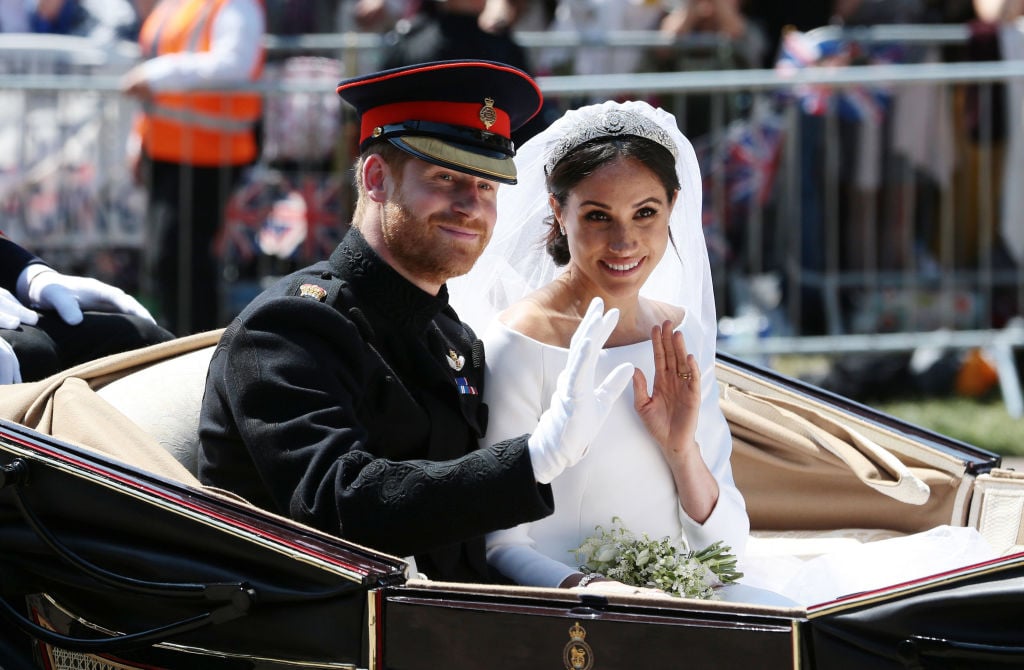 Meghan Markle gives up acting for Prince Harry
Before she met Prince Harry, Meghan had a promising career in Hollywood. The future Duchess of Sussex had made a name for herself in the popular legal drama, Suits, and seemed poised for a successful career in the entertainment industry.
That all changed when she started dating Harry. When he proposed to Meghan, she decided to give up acting altogether and become a full-time royal.
After the couple tied the knot in 2018, Meghan took on a full schedule as a senior member of the royal family. But the scrutiny Meghan and Prince Harry faced over the past two years proved too difficult for them to handle.
At the beginning of 2020, the Duke and Duchess of Sussex announced that they were stepping away from their royal duties in favor of a quieter life. They plan on splitting their time between the UK and Canada and will no longer accept public funding.
Queen Elizabeth announces royal split
In the days following the stunning announcement, Prince Harry met with other senior royals about leaving The Firm. This includes several meetings with Queen Elizabeth, Prince Charles, and Prince William at Her Majesty's estate in Sandringham.
Following the intense discussions, Queen Elizabeth released a statement confirming that Harry and Meghan will be leaving the royal family to lead a more private life. The transition is likely to be finalized sometime this spring.
"I recognize the challenges they have experienced as a result of intense scrutiny over the last two years and support their wish for a more independent life," Queen Elizabeth shared.
Prince Harry and Meghan Markle are currently living on Vancouver Island and are reportedly looking to purchase a second home somewhere in Canada. They are also expected to pay back the money that was used to renovate their house, Frogmore Cottage.
While the couple's departure shocked royal watchers around the world, inside sources claim that they were offered a way out of the royal spotlight days before their lavish wedding.
Prince Harry and Meghan Markle offered freedom
Before Meghan and Harry tied the knot, Queen Elizabeth reportedly approached them with an offer that would make her transition into the royal family a lot smoother. According to The Sun, Queen Elizabeth wanted Meghan to take on a lesser role in the family that would allow her to continue acting.
"From the early days, the Queen really wanted to agree a smooth transition for Meghan," a source claims. "The offer would have allowed her to carry on her career but she was happy to stop acting to become a working member of the royal family."
At the time of her wedding, Meghan discussed leaving her acting career behind and said that she was excited to begin a new chapter in her life. She also stated that she had put everything she had in her career and felt like it was a good time to step away.
Fast forward two years and palace officials are reportedly frustrated by Megxit because they believe it could have been prevented if Meghan and Prince Harry had accepted Queen Elizabeth's offer.
They are also disappointed because it seems like Meghan and Harry were pressured into quitting, which could not be further from the truth. The royal family has not confirmed the rumors about Queen Elizabeth's offer.
Was Meghan Markle planning Megxit this whole time?
Apart from Her Majesty's alleged offer, there are rumors that suggest Meghan had been planning an early exit from the royal family since day one.
Once Meghan and Prince Harry exchanged vows, it was presumed that she would be living permanently in the UK. But prior to moving her things from Canada, Meghan put a bunch of her clothing in a storage unit in Toronto.
A few weeks ago, Meghan had the clothes shipped from the storage facility to her temporary home on Vancouver Island.
The move has sparked a lot of speculation that Meghan never intended to remain in the UK for the rest of her life and always had plans to return to Canada. After all, why else would she keep some of her personal items in Canada if she didn't plan on returning?
Meghan Markle has not commented on the rumors surrounding her exit. Prince Harry has spoken out and said that he felt he "had no other choice."