Prince Harry and Meghan Markle Will Have Another Baby 'Very Soon,' Royal Expert Predicts
Prince Harry and Meghan, Duchess of Sussex may have exited the royal family to escape the constant negative media attention, but that doesn't mean fans won't still hear rumors about them from time to time. Naturally, that means the occasional speculation that Meghan is pregnant with a second child. One royal expert is convinced that they'll have another baby "very soon," in fact.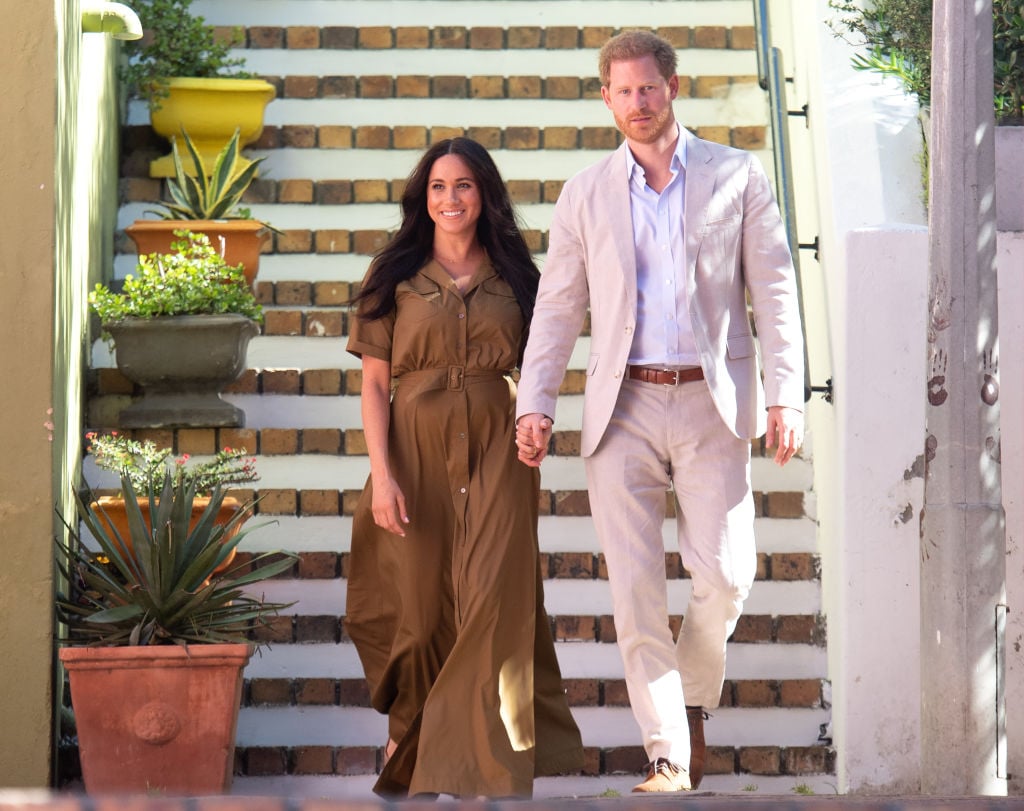 Fans thought Meghan was pregnant in February
When Prince Harry and Meghan stepped off a commercial flight that landed in Canada after a trip to the U.S. in February, Meghan was spotted carrying a bag in one hand while clutching a black leather laptop case.
Some eagle-eyed fans thought the way she covered her stomach with the laptop case might have been a clue that she was pregnant. It reminded many of the time that Meghan carried two purple folders that strategically obstructed her stomach when she and Prince Harry landed in Australia for a royal tour. The couple announced she was pregnant with their first child that same day.
The placement of the laptop case drummed up some rumors as people discussed it on Twitter. "Pregnant again? Does the folder say it all?," one fan tweeted, while another tweeted, "… remember the last time she got off a plane carrying a folder she was pregnant with Archie she got off the plane yesterday carrying a folder or computer almost the same way…"
Will they have a second baby soon?
Since that time, Meghan has been seen on multiple occasions and the pregnancy buzz has faded. One royal expert believes that a second baby will be in the plans for the Sussexes soon though.
Royal expert Myka Meier chatted on the Royally Obsessed podcast about what's next for Prince Harry and Meghan and she thinks the couple will want to have a child soon so that Archie has a sibling like Prince Harry grew up with.
"I think we'll see another royal baby very soon," Meier said during the podcast. "I know that Harry loved growing up with his brother very close in age and I think he wants the same [for Archie]."
She added, "I think it will be an American-born baby which will be very different…"
Meier's comments come on the heels of a report that one of Meghan's friends told the Daily Mail that the duchess shared she wants another baby. According to the friend, "She joked that he needs a pint-size little buddy other than the dogs. Meghan lit up when she spoke about Archie. She said he is a bundle of energy and prefers playing over sleeping."
Archie's first birthday is fast approaching
While fans are awaiting a pregnancy announcement from the Sussexes, there's some exciting news about Archie on the horizon. For Archie's first birthday on May 6, Prince Harry and Meghan will release a new photo of their son.
The Sunday Times' royal correspondent Roya Nikkhah shared the news in a tweet, writing: "The Duke and Duchess of Sussex will give the world a rare glimpse of their son Archie Mountbatten-Windsor next month when they publicly mark his first birthday on May 6th. 'You can expect to see him,' confirms a spokesman to @thesundaytimes."