Prince Harry and Meghan Markle's Quiet Life In Canada Is Made Up Of Long Walks and Yoga
Prince Harry and Meghan Markle are reportedly getting exactly what they wanted, a quiet life in Canada full of long walks with Archie and plenty of yoga.
Prince Harry and Meghan Markle are enjoying their time away from the royal spotlight. The Duke and Duchess of Sussex announced their exit from the royal family last month and have been living in Canada for several weeks now. While the rest of the royal family has returned to their normal duties, Prince Harry and Meghan's quiet life consists of long walks and yoga sessions.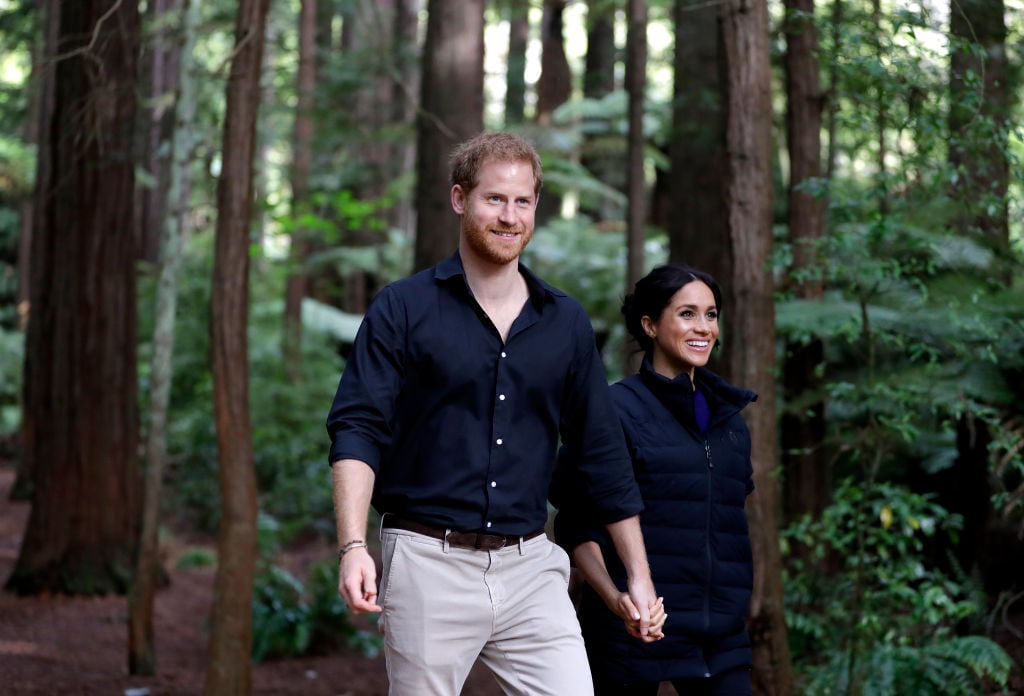 Prince Harry and Meghan Markle love Canada
Before marrying Prince Harry in 2018, Meghan lived in Toronto while working on the popular legal drama, Suits. Harry also has ties to the country and hosted his Invictus Games in Toronto in 2017.
In their stunning exit statement, Harry and Meghan mentioned living in North America for part of the year. Queen Elizabeth later clarified that the couple is thinking about setting up a second home in Canada, though they have yet to make any official moves.
In fact, an inside source claims that the Sussexes are also thinking about buying a home in Los Angeles. Meghan's mother, Doria Ragland, is from California, so it makes sense that she wants to live closer to her.
"They love being in Canada, but they are looking at houses in LA too," a source claimed. "They'll likely have houses in both places."
We do not know what Harry and Meghan have planned in the coming months, but we do know that they are enjoying their time of relaxation in Canada.
A day in the life of Prince Harry and Meghan Markle
Harry and Meghan spent the holidays in Canada with their son, Archie Harrison, and her mother, Doria Ragland.
Following their exit announcement, the couple flew back to the UK. Meghan visited a few places in England before returning to Canada. Harry, meanwhile, met with senior members of the royal family about his departure before reuniting with Meghan a few weeks ago.
According to Page Six, an inside source claims that Prince Harry and Meghan Markle are really enjoying their time in Canada. The most famous couple in the world have not been going out in public much, which has been a nice change of pace for them.
"They are enjoying living a quiet life," a source revealed. "They go for long walks, they do yoga, and Meghan cooks. [Harry and Meghan] are real homebodies who love to chill out with Archie and the dogs."
Harry and Meghan are living in a lavish home on Vancouver Island. It is unclear how long they will remain in Canada before heading back to the UK.
Meghan Markle is relieved to be out of the royal family
At the beginning of January, Harry and Meghan announced their departure from the royal family on social media. The couple revealed that they will be stepping down as senior members of the monarchy in a move that stunned royal watchers around the world.
As part of their exit strategy, the Duke and Duchess of Sussex will become financially independent from the crown. They will also be splitting their time between the UK and North America, which means purchasing a second home.
The announcement was met with a lot of criticism, yet Prince Harry and Meghan are reportedly relieved about stepping back from the royal spotlight.
"A weight has been lifted off their shoulders," an insider stated.
The source noted that Meghan feels a lot less stressed, though the decision to leave the royal family has been "weighing on them for a long time." At the end of the day, Harry and Meghan just want to live a normal life with their son, who has become their number one priority.
Will Prince Harry and Meghan Markle keep their privacy?
Although Harry and Meghan have been loving their time in Canada, some royal experts believe they both want to buy a second home in Los Angeles. Not only is this closer to Meghan's mother, but it also gives them more money-making opportunities.
The only problem with moving to Los Angeles is that they will likely have to give up some of their privacy.
In a recent interview, the head of a large PR firm in Los Angeles, Sheeraz Hasan, said that he already has 150 paparazzi waiting for a chance to catch Prince Harry and Meghan in Los Angeles.
Hasan revealed that everyone in Los Angeles is waiting for Harry and Meghan to arrive and that she could easily build a billion-dollar brand in the city.
"Trust me, the second Meghan Markle lands in Los Angeles, I'm going to put so many lights on that woman, 150 cameras are going to be following her – we're going to make her 100 times bigger than Kim Kardashian," he stated.
Given how Prince Harry and Meghan Markle's biggest goal is privacy, they probably are not thrilled to hear about all the cameras that are awaiting their arrival. The couple has not commented on the reports surrounding Megxit.