Prince Harry and Prince William: What Is The Difference Between Being a Prince and a Duke?
Prince Harry and Prince William have gained several royal titles over the years, but the fact that they both have the title of a duke can be a bit confusing. Although Prince Harry has lost his HRH title after stepping away from his royal duties, he is retaining his title as the Duke of Sussex. Prince William, meanwhile, is also called the Duke of Cambridge, a title he was granted after marrying Kate Middleton in 2011. What is the difference between being a prince and a duke?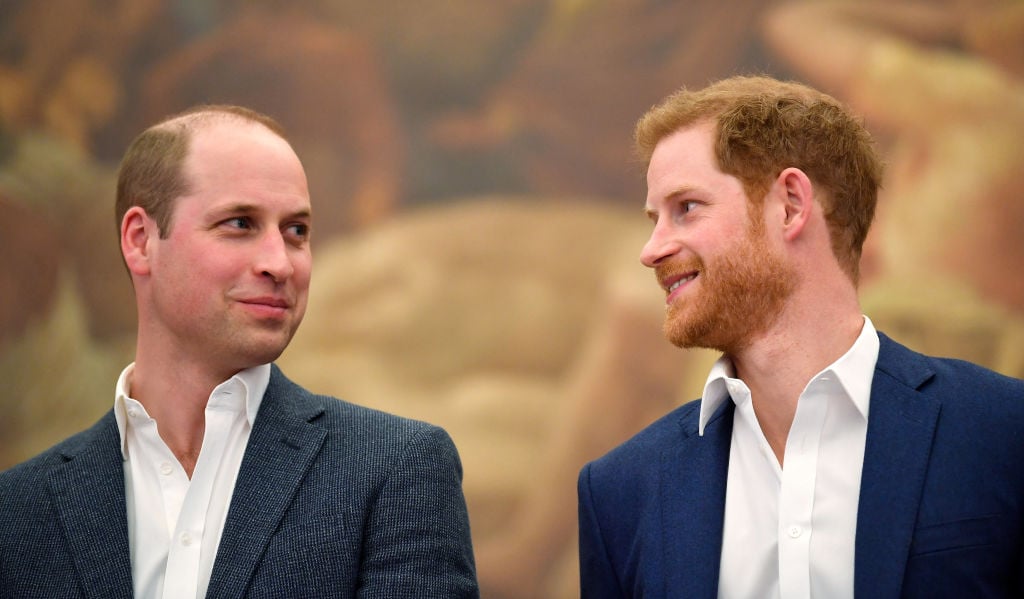 Inside the British monarchy
Along with retaining its monarchy, the UK has also kept its system of nobility. This is why members of the royal family have different titles and are not simply called prince or princess.
Each title has a different meaning in the ranks of the royal family, and each one is listed in an order of precedence. At the top of the nobility rankings is the title of duke, followed by marquess, earl, viscount, and baron.
All of these titles are part of what is called the British peerage system, which is managed by Queen Elizabeth. Her Majesty has the right to hand out these titles to people as rewards, and some of them come with land and estates.
Queen Elizabeth has frequently granted these titles to members of her own family, though there are others who hold these titles.
Why are Prince William and Prince Harry Dukes?
As is tradition in the royal family, princes are usually given a dukedom when they get married. Prince William was given the title of the Duke of Cambridge when he and Kate tied the knot.
Prince Harry, meanwhile, was not a duke until only recently. When Harry and Meghan Markle exchanged vows in 2018, Queen Elizabeth gave him the title of the Duke of Sussex.
While most royals become a duke when they get married, there are always exceptions to the rule. For instance, Prince Charles was named the Duke of Cornwall at the age of four. And Prince Edward was given an Earldom when he got hitched.
Edward reportedly liked the movie, Shakespeare in Love, and so Queen Elizabeth granted him the title of the Earl of Wessex (which is a character from the film). After Prince Philip passes away, Edward will likely receive the title of the Duke of Edinburgh.
What about becoming a Prince?
Becoming a prince or a princess is an entirely different matter. According to Express, the only people who are granted the title of prince or princess are those who are born into the royal family.
All of Queen Elizabeth's children, for example, are either a prince or a princess. The same holds true for Prince Charles' oldest son, William, who will inherit the crown someday.
This is why Kate and Meghan are not called Princess Kate or Princess Meghan. They were, however, given the titles of the Duchess of Cambridge and the Duchess of Sussex, respectively.
There are some rare cases when a person gains a prince or princess title upon marrying into the royal family, but this is not common. Prince William and Prince Harry's late mother, Princess Diana was commonly referred to by the wrong title.
Instead, she was known as Diana, Princess of Wales, after tying the knot with Charles. The media started calling her Princess Diana, however, and the name stuck.
Have Prince William and Prince Harry made amends?
Although Prince Harry has stepped down as a senior member of the royal family, he will not lose his Dukedom or his title as prince.
Harry and Meghan announced their exit at the beginning of January and are currently living in a home on Vancouver Island.
There has been a lot of talk about a growing rift between Harry and William, which ultimately led to his decision to leave the royal family. Harry alluded to the feud talk in an interview last year, but sources now say that the brothers have worked through their differences.
"William and Harry have spent time together privately away from the official Sandringham Summit working on their relationship and discussing their future," an insider dished. "It has been ground-breaking in terms of saving their bond as brothers and has been totally driven by them. "
Prince Harry and Prince William have not confirmed the reports surrounding their royal feud. Harry and Meghan's exit is expected to go into effect sometime this spring.