Prince Harry Is Still Very Angry About Princess Diana's Death
Princess Diana's tragic death on Aug. 31, 1997, was shocking and horrifying to people across the globe. However, it would forever change the lives of the princess' sons, Prince William and Prince Harry who were just 15 and 12 at the time.
The princess had been a doting mother to her sons, exposing them to all aspects of life even if that meant breaking royal tradition by taking them to amusement parks, fast food restaurants, and charitable ventures. She wanted to show them that not everyone was as privileged as they were.
Even after she and Prince Charles separated in 1992, eventually divorcing in 1996, they remained doting co-parents. Both the princes have spoken openly about how they were deeply affected by their mother's death and how it affected their mental health. In fact, Prince Harry still carries a lot of animosity about it.
Prince Harry and Prince William remember the last time they spoke to Princess Diana
In the last days of her life, Princess Diana was vacationing with her boyfriend, Egyptian billionaire Mohamed Al-Fayed. They'd returned to Paris after vacationing on Al-Fayed's yacht in the South of France. The princess was set to return to London the next day.
Sometime in the late afternoon, Princess Diana called Balmoral Castle in Scotland where Prince Harry and Prince William were staying with their dad. When the princess called, the boys were playing and inadvertently rushed her off the phone. It would be the last time the boys spoke to their mother.
In the 2017 documentary, Diana, Our Mother: Her Life and Legacy, Prince Harry recalled, "If I'd known that was the last time I'd speak to my mother, the things I would have said to her. … Looking back on it now, it is incredibly hard." Prince William agreed. He said, "If I'd known what would happen, I wouldn't have been so blasé about it. But that phone call sticks in my mind quite heavily." 
Prince Harry blames the media for Princess Diana's death
Princess Diana was killed in a car crash in the early hours of the next morning as paparazzi chased her car through the streets of Paris. As she lay dying in the street, photogs continued to snap photos. To this day, Prince Harry has never gotten over the media's involvement or response to the tragedy. ITV anchor Tom Bradby explained to Good Morning America,
The really important thing I think and the real difficulty is they just have entirely different parallel narratives about a whole bunch of stuff. One of which is about their mother's death. Harry feels quite simply that the press killed his mother and is now in danger of trying to damage his wife. William has a more nuanced view of that. He thinks that yes, their mother did have a very hard time, but also she made a mistake in allowing the press in and he just is absolutely adamant that that shouldn't happen and he thinks that sometimes his brother is too open and then tries to close up, and that doesn't work.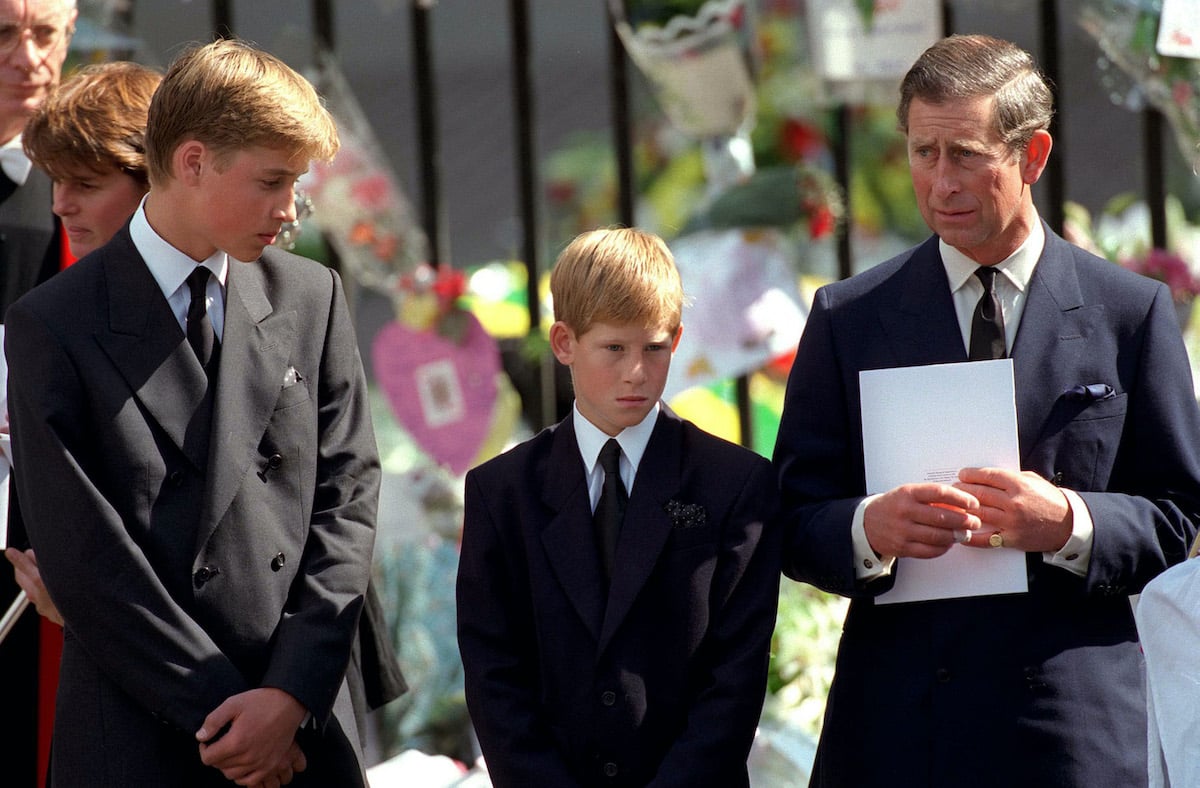 Prince Harry is still very angry about Princess Diana death
One of Prince Harry's main reasons for pulling the trigger on Megxit was to protect Meghan, Duchess of Sussex, and their son Archie from the media. It stems from the pain that he felt regarding the loss of Princess Diana. In 2008, there was an inquest into the death of Princess Diana.
"The jury determined that Diana and her boyfriend Dodi Fayed were unlawfully killed by a combination of the paparazzi following them, as well as by the driving of their chauffeur Henri Paul," The Guardian reported. At the time, Prince Harry and Prince William released a statement saying, "We agree with their verdicts and are both hugely grateful." However, the royal family didn't do much more.  Royal reporter Duncan Larcombe told Ok! Magazine that from Prince Harry's view, a statement was enough he said,
Harry was absolutely furious that his father's advisors had put out a statement. That was a sign to me that he has an inbuilt, unresolved anger about having no control of what's said. This desire to control his own destiny has always been there.