Prince Harry and Carson Wentz Are Doppelgangers but Who Has the Higher Net Worth?
It's pretty common for celebrities to have doppelgangers, but it's less common that their lookalikes are other celebrities. However, Prince Harry and Carson Wentz seem to have a lot of similar physical characteristics, and fans have certainly taken note. But which celebrity has the higher net worth, the royal or the pro footballer?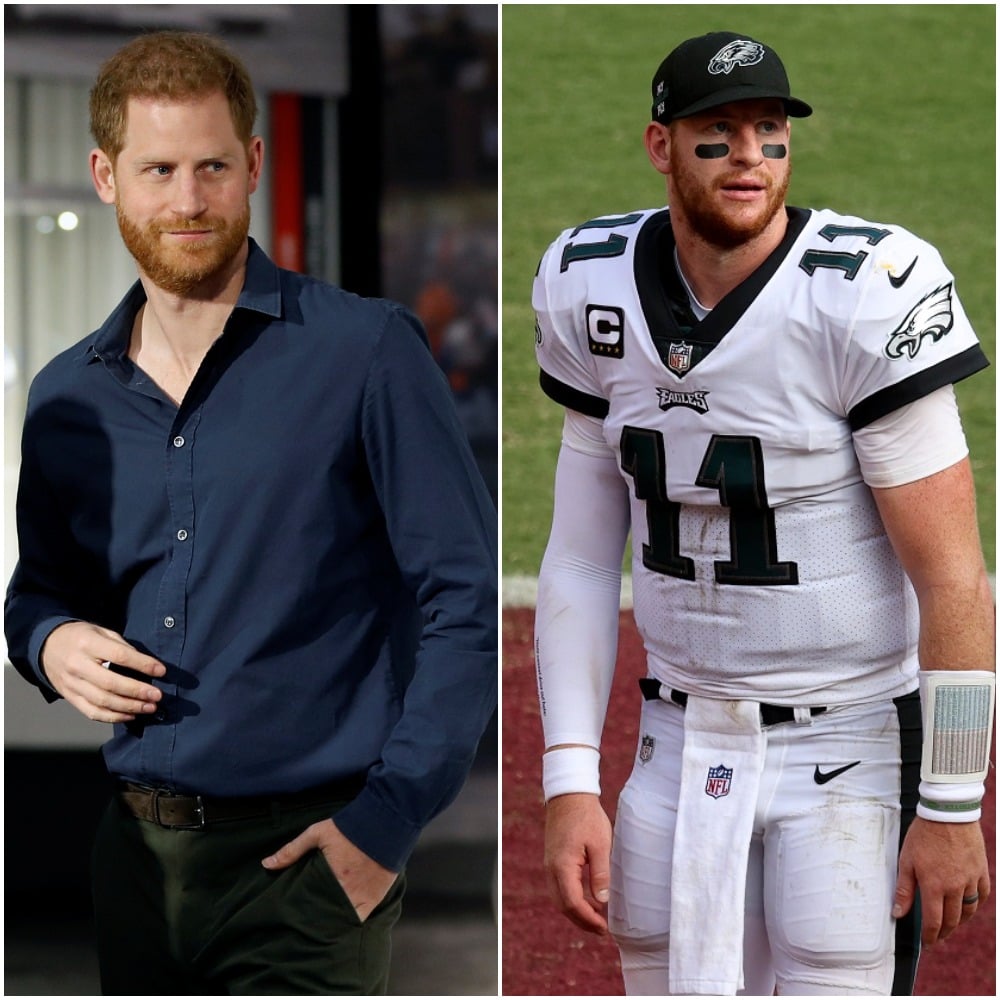 Prince Harry and Carson Wentz are doppelgangers
Since Prince Harry and Wentz run in completely different circles, some fans have failed to note that they share an uncanny resemblance. Both men have naturally red hair and have grown out a beard on their faces. They are also both quite tall in stature, though the royal is a bit shorter than the Eagles quarterback. While Prince Harry stands at 6'1, Wentz is a towering 6'5. Both men also have blue eyes and similar smiles.
The royal grew up with access to tons of money
Of course, the similarities between the two men pretty much begin and end with their physical attributes. Thanks to his place in the royal family, Prince Harry has had a unique upbringing. While Wentz may get his fair share of press now, thanks to his career, the royal has always been hounded by the paparazzi. Furthermore, while the Eagles footballer has built his net worth steadily thanks to his athletic talents, Prince Harry comes from old money and has always been surrounded by an exorbitant amount of wealth.
Though the royal family is worth billions of dollars, Prince Harry gave up a lot of access to that money when he stepped down from the responsibilities of being a senior royal. While some people assumed that he was choosing his wife over the royal family, he has made it clear that it not the case. In a recent interview with The Late Late Show with James Corden, Harry managed to clear up the speculation about why he left Britain and his royal duties.
Prince Harry denies he and Meghan Markle walked away from the royal family
"It was never walking away, it was stepping back rather than stepping down," Prince Harry revealed. "It was a really difficult environment as I think a lot of people saw. We all know what the British press can be like. It was destroying my mental health." Continuing on, the royal shared that he had to put the needs of his family first. "This is toxic, so I did what any husband and what any father would do which is 'I need to get my family out of here,' but we never walked away."
Prince Harry may not have walked away from the royal family, but he did walk away from the financial stability that being a royal provided him with. Still, the royal doesn't seem to be having a hard time being financially independent. Since he has moved to Los Angeles, he and his wife, Meghan, Duchess of Sussex, have signed multiple deals including a megawatt content deal with Netflix, which has significantly bolstered his personal wealth. According to Celebrity Net Worth, the royal is worth a staggering $50 million.
Who has the higher net worth?
But how does the newly independent royal's money stack up to the quarterback's? According to Celebrity Net Worth, Wentz isn't far behind his doppelganger in terms of wealth. The Eagles player is worth a pretty penny too with his net worth amounting to $45 million. Clearly, astronomical wealth is another thing these too lookalikes have in common.