Prince Harry 'Dominant' and 'Paying Less Attention' to Meghan Markle at Invictus Games, Body Language Expert Says
Prince Harry and Meghan Markle's body language was under the microscope while attending the 2022 Invictus Games. One expert noted the way Harry displayed "dominant" body language while "paying less attention" to Meghan when they attended an event together.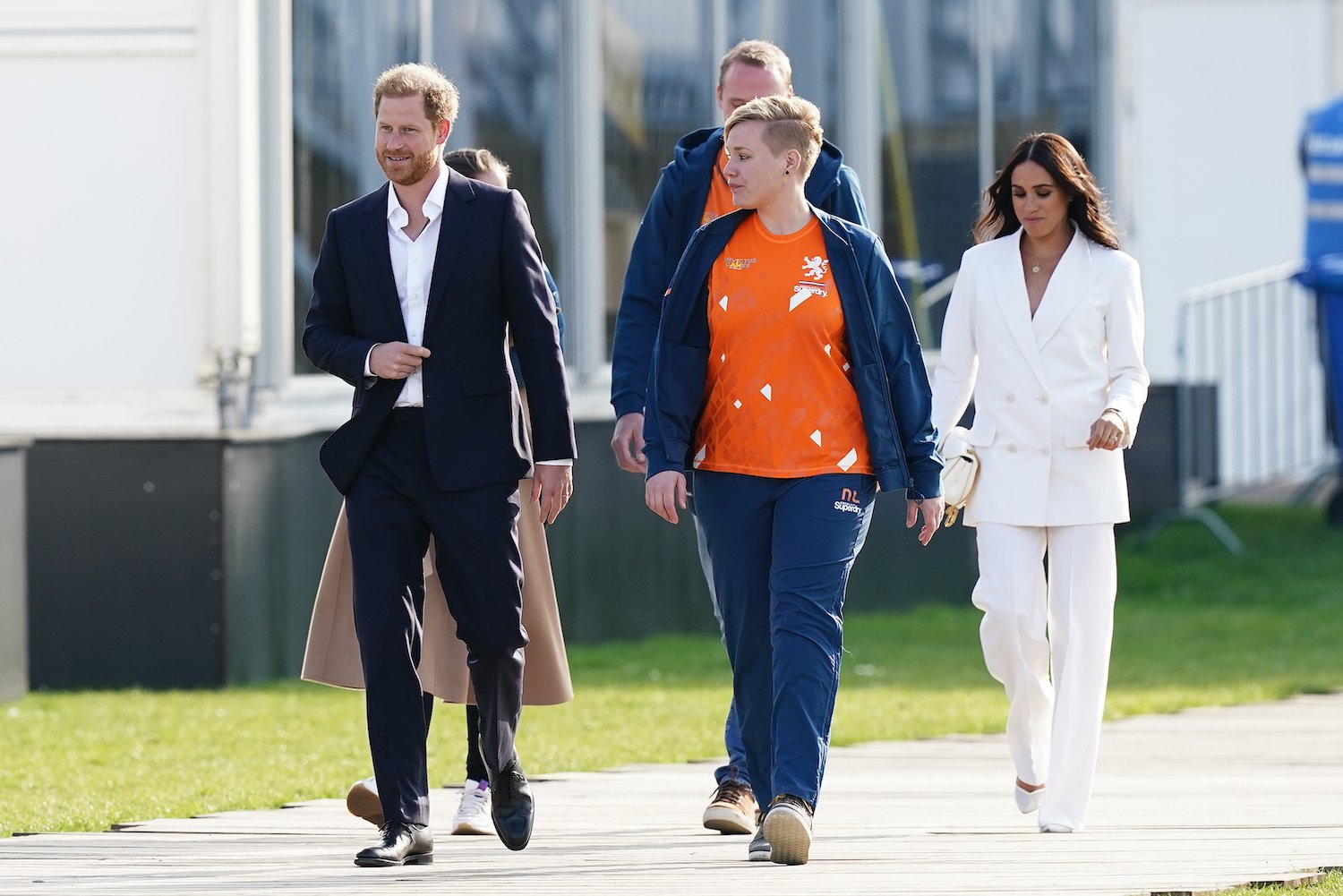 Prince Harry and Meghan Markle arrived at the Invictus Games
Body language expert Judi James gave her analysis of Prince Harry and Meghan's arrival for the Invictus Games reception. She explained to Express the significance of Harry walking ahead of Meghan.
"Harry looks so dominant in these shots, walking ahead with one hand nonchalantly slung into his pocket and paying Meghan less attention than usual as he appears as the star of his beloved Invictus Games," James explained.
She added, "There are moments when Harry looks confident and in control, with his hand over his wife's in their clasp."
Prince Harry also looked 'stressed,' expert noted
Harry wasn't all smiles, however. James pointed out how he was seen with a "more serious facial expression" that was also fitting for the setting.
"But there are also some photos where he looks drawn and rather stressed, adopting a much more serious facial expression as he chats to people in the crowd and — presumably — listens to their concerns," the expert explained.
"His body language suggests that he is happy and relieved to be back with his home crowd again," James added.
Prince Harry was also seen performing one of his typical "self-comfort" gestures. "Under the pressure of the cameras his self-comfort touch ritual involved reaching for and fiddling with his wedding ring, suggesting he still seeks comfort and support from his family," the body language expert noted.
Prince Harry became emotional at the Invictus Games opening ceremony
James also analyzed Prince Harry's body language during the Invictus Games opening ceremony. Meghan introduced her husband at the event. "It is my distinguished honor to introduce someone that I think you'll all be very excited to hear from … I could not love and respect him more and I know that all of you feel the same," she said.
"He's the founder of the Invictus Games, and the father to our two little ones, Archie and Lili," the Duchess of Sussex added. "Please welcome my incredible husband, Prince Harry, the Duke of Sussex."
The Sussexes kissed on stage and then Harry paused, overwhelmed by emotion.
James told the Mirror that Prince Harry stood "in overwhelmed-looking silence" after sharing the kiss with Meghan.
"The problem for Harry is that it appears to knock him sideways emotionally," James explained. "Watching his wife exit from the stage he stands in overwhelmed-looking silence for 30 seconds as the crowd carries on their applause."
Harry was seen turning his face to "shield his facial expression," James shared. "His eyes have the saddest expression as his tongue pokes out from the corner of his mouth and he looks down to suggest tearfulness."
The audience took their seats and Harry then had a "re-inflation of his confidence" and showed his "famously naughty grin" during his speech, the expert noted.