Prince Harry Fills in the Blanks on Meghan, Kate Flower Girl Dress Drama in 'Spare'
The flower girl drama from Prince Harry and Meghan Markle's royal wedding is back, thanks to Spare. What the Duke of Sussex reportedly had to say in his memoir about the "altercation" involving Kate Middleton, his wife, and Princess Charlotte's flower girl dress.
Prince Harry claimed Meghan Markle said Kate Middleton had 'baby brain' ahead of 2018 royal wedding in 'Spare'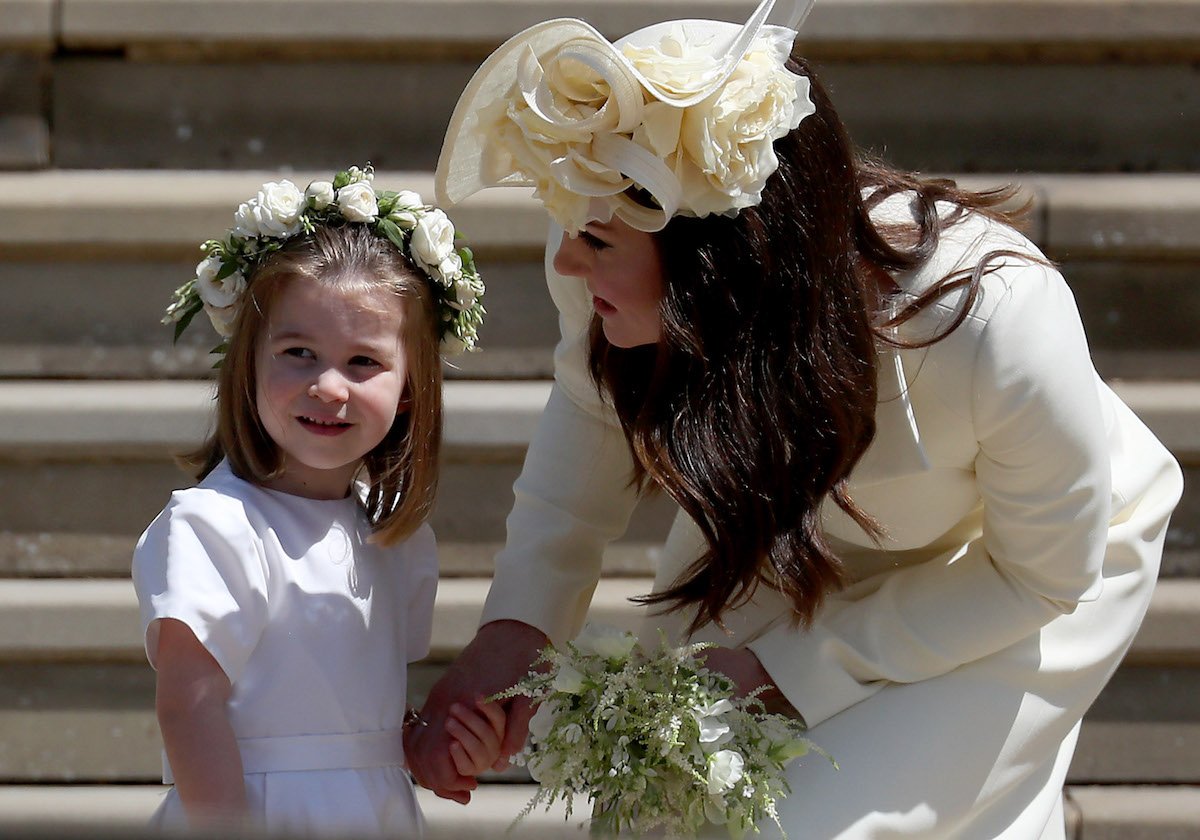 A comment from Meghan on Kate served as the precursor to flower girl dress drama, according to the Daily Mail. Kate had given birth to Prince Louis, now 4, her and Prince William's youngest child a month earlier.
"In the book, Harry says that there was a discussion about the timing of the wedding rehearsal and the flower girl dresses and Kate was very upset," a "well-placed" source said.  "Meghan said that Kate must have 'baby brain' because of her hormones."
They continued, saying the remark "caused a huge row." 
"Meghan was told that she wasn't close enough to her sister-in-law to discuss her hormones and it wasn't the way people spoke to each other within the royal family," the source explained. "The book makes clear that Meghan felt the fall-out wasn't her fault, but it doesn't exactly make her look very good either."
Kate Middleton reportedly wanted a new flower girl dress made for Princess Charlotte 4 days before Harry and Meghan's royal wedding
Page Six reported Harry wrote in Spare Kate texted Meghan about a "problem" with Charlotte's dress the week of the royal wedding. The young royal's flower girl dress had been made by Clare Waight Keller, the then-creative director of Givenchy, who also designed  Meghan's wedding gown. 
Charlotte and the rest of the flower girls' dresses were "French haute couture," Harry wrote, noting they were "hand-sewn based solely on measurements." 
Meghan replied to Kate's text, telling her soon-to-be sister-in-law to bring Charlotte to the palace where a tailor would be standing by to "perform alterations for all six of the bridesmaids," Harry wrote. 
The now-father-of-two dubbed the reply "not sufficient" for Kate, who then asked to speak to Meghan. Harry claimed the ensuing conversation involved Kate telling Meghan Charlotte's flower girl dress had been "too big, long and baggy." Additionally that the then-3-year-old "burst into tears when she tried it on." 
So how did Meghan react? Harry wrote she repeated what she'd previously said, that Kate should take Charlotte to the tailor at the palace. 
From there, Kate exclaimed all the flower girl dresses needed to be "completely remade." Furthermore, Alexander McQueen designer Sarah Burton, who made her own royal wedding gown, had already been consulted. It was four days before the wedding and after the "altercation," Harry found Meghan "on the floor" crying.
Meghan Markle told Oprah she accepted Kate Middleton's apology soon after 
Before Spare, Meghan addressed the rumors she made Kate cry ahead of her and Harry's wedding. In one of the most memorable moments from the 2021 Oprah interview the former Suits star claimed the "reverse happened." As in Kate made her cry. 
Meghan also revealed her sister-in-law "owned it" and apologized during what was admittedly a "hard week of the wedding."
"She owned it, and she apologized, and she brought me flowers and a note apologizing. She did what I would do if I knew that I hurt someone, to just take accountability for it."
Meghan continued. She revealed Kate "apologized and I've forgiven her. Ultimately, she concluded it had been "hard" getting over being "blamed for something not only I didn't do but that happened to me." 
Spare drops globally on Jan. 10.