Prince Harry and Meghan Markle Are the King and Queen of Adorable Umbrella Photos
Meghan Markle and Prince Harry are undoubtedly one of the most photographed couples in the British royal family. But it's their photos under umbrellas that rank as some of their most adorable.
Prince Harry, Duke of Sussex and Meghan, Duchess of Sussex are living in Los Angeles far removed from their former lives as senior members of the British royal family.
They're no longer making public appearances on behalf of Queen Elizabeth II but that doesn't mean there's any shortage of adorable pictures of the couple.
Meghan Markle and Prince Harry didn't let the rain dampen their spirits on a royal tour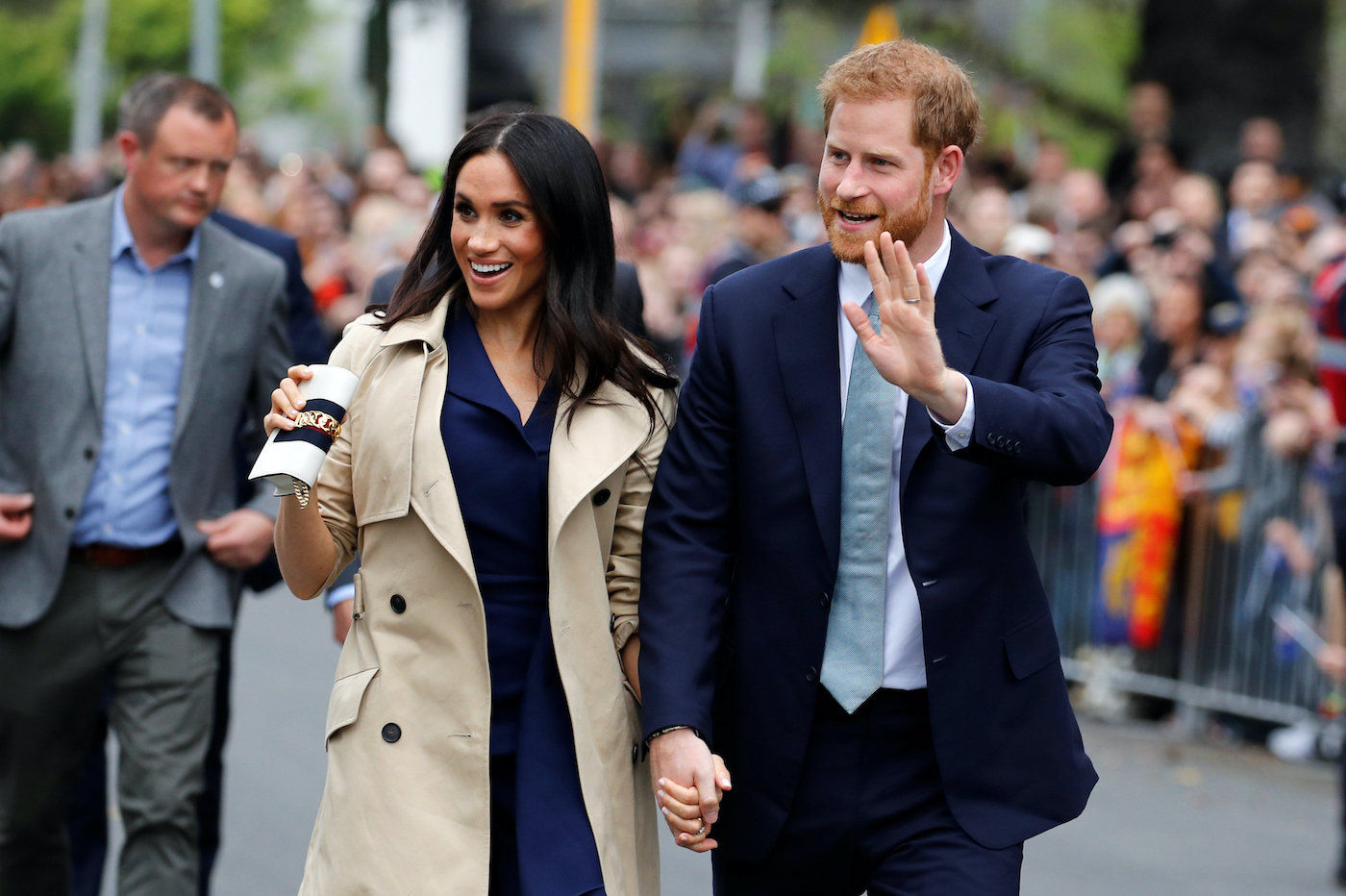 In the fall of 2018, Meghan and Harry embarked on a 16-day tour of Australia, New Zealand, and Tonga. It marked their first major tour since their royal wedding on May 19, 2018. 
A lot happened on the tour. The biggest thing being the couple announced they'd soon be a family of three. Just as the tour got underway, Meghan and Harry shared the news they were expecting their first child, the now-1-year-old Archie Harrison Mountbatten-Windsor. 
With the world abuzz about the royal baby announcement, the Duke and Duchess of Sussex moved forward with their jam-packed schedule. 
Prince Harry and Meghan Markle got cozy under an umbrella
The forecast wasn't on their side during a visit to Victoria Park located in Dubbo, Australia. However, that didn't stop the Meghan and Harry from sharing some downright adorable moments together.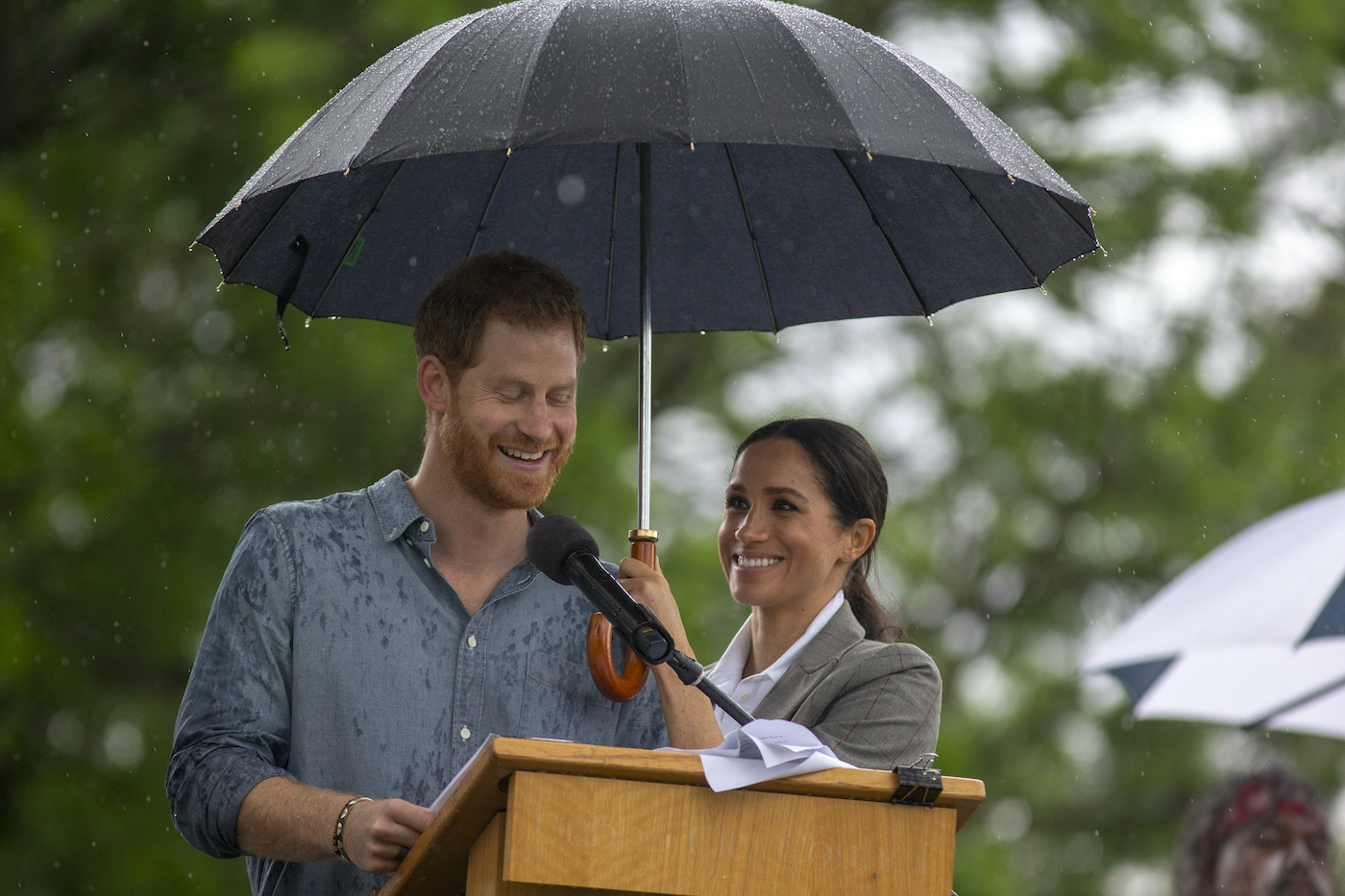 At one point, Meghan protected Harry from the rain with an umbrella while he addressed the crowd. Neither of them seemed to mind the weather as they smiled through the speech. 
During the same visit to Victoria Park, the Duke and Duchess of Sussex huddled together under an umbrella as the rain continued to fall.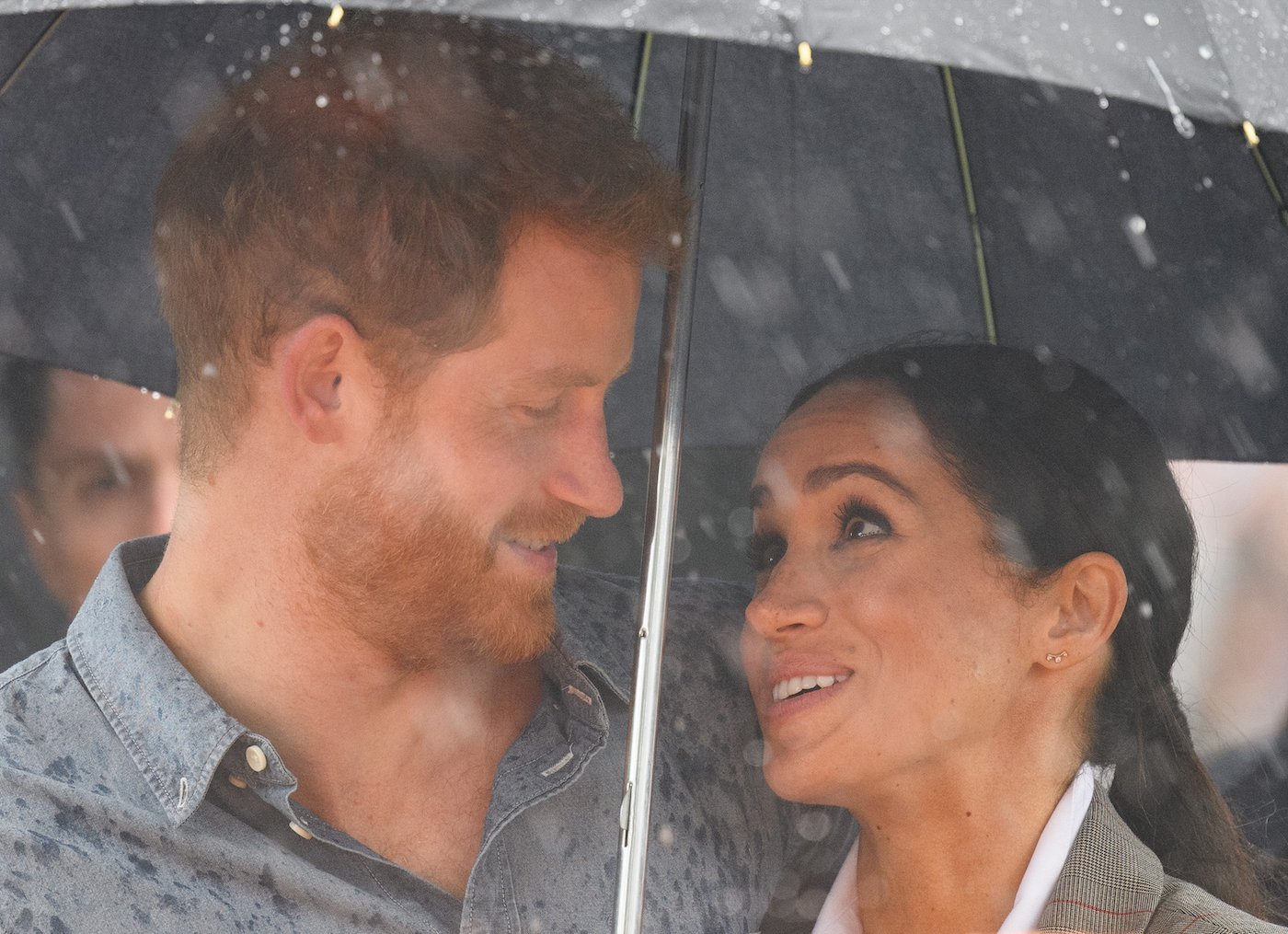 Meghan and Harry endured more rain in New Zealand. Again, they didn't let it dampen their spirits.
On a more casual visit to Auckland, New Zealand, the Duke and Duchess of Sussex showed up wearing rain boots. Armed with an umbrella, they stood together and were all smiles.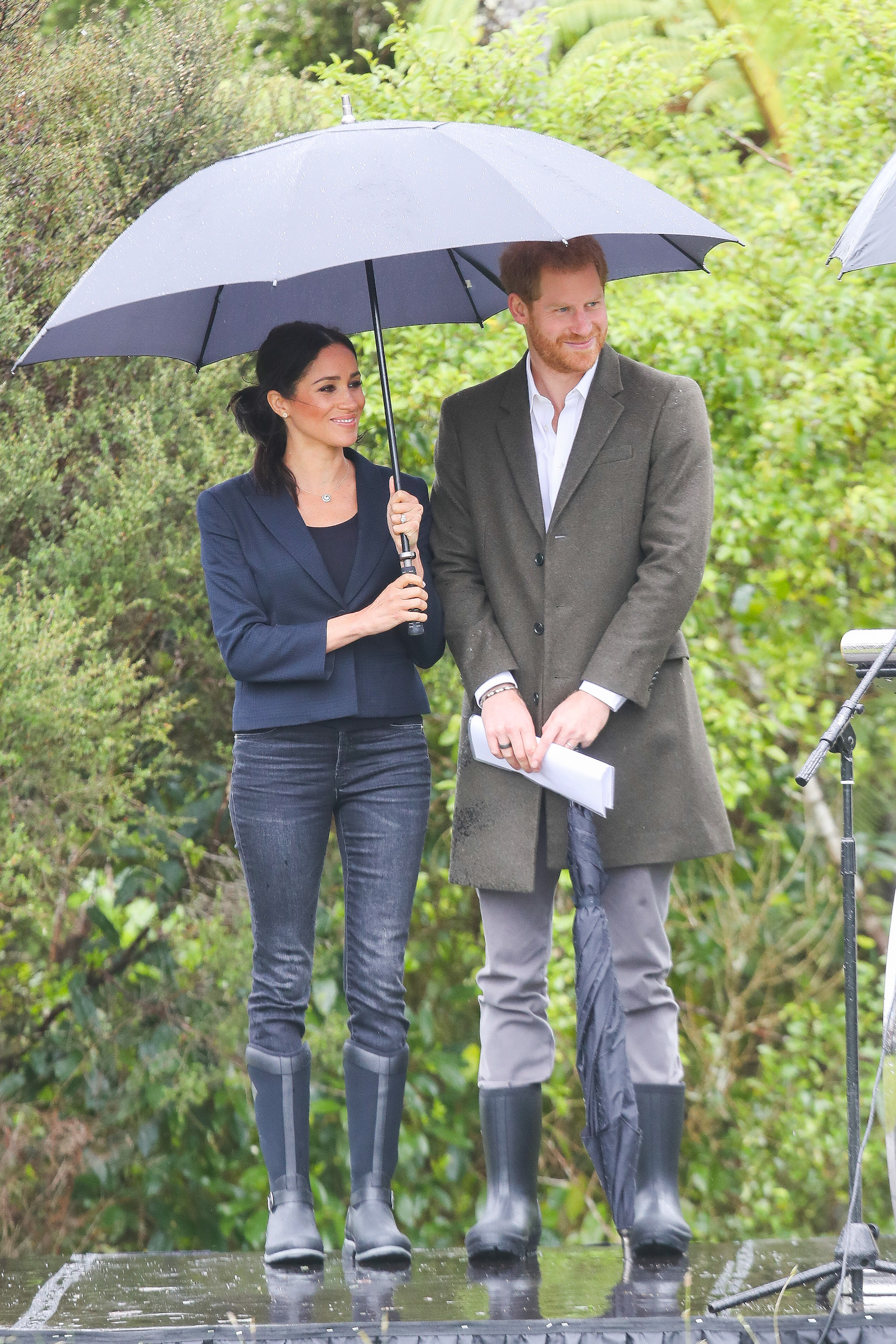 Prince Harry and Meghan Markle's umbrella photo goes viral in 2020
All of Meghan and Harry's previous photos involving an umbrella led up to one viral moment. As the countdown began on their final engagements as senior royals, they showed up at the Endeavour Fund Awards.
A rainy evening on March 5, 2020, the Duke and Duchess of Sussex arrived at the Mansion House. Striding past photographers protected from the rain by an umbrella, Meghan and Harry beamed at each other.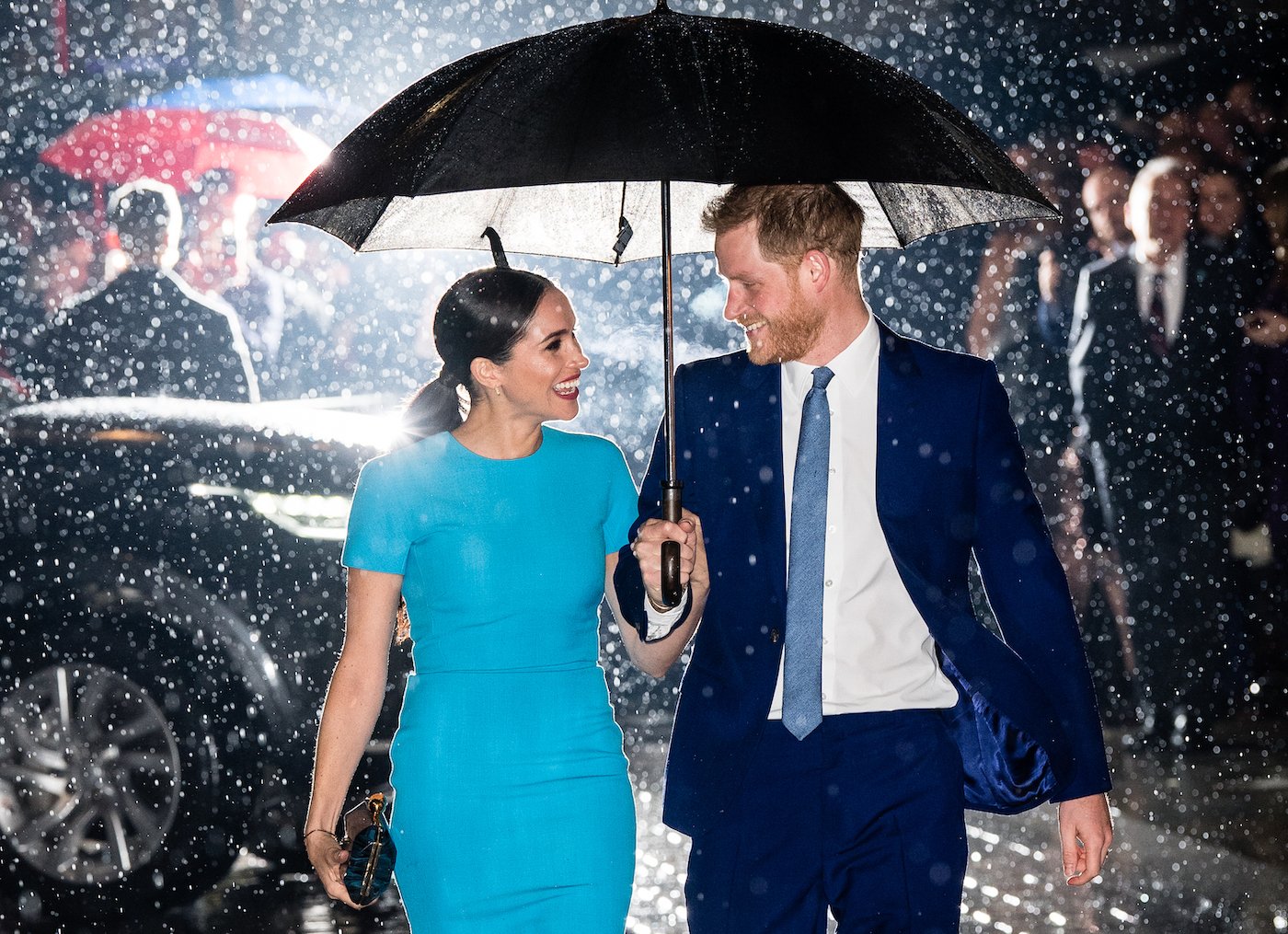 Taken by royal photographer Samir Hussein, the snapshot quickly went viral, becoming an image of resilience. Hussein, who has photographed royals for more than a decade, spoke with Us Weekly about the photo. 
"This is probably the most iconic photo I've taken," he told the publication. And, according to him, factors came together to create an image he only had seconds to capture. 
"It's a one in a million when all the elements you could wish for as a photographer come together," Hussein said. "Perfect timing, great lighting, strong symbolism and amazing subjects make this a magical photo I am extremely proud of," he added.