The Real Reason Prince Harry and Meghan Markle Always Do Their Own Grocery Shopping
Prince Harry and Meghan Markle aren't your average royal couple. While some royals embrace the public eye, Harry has always shied away from it a bit. And since marrying Meghan, the two have distanced themselves as much as possible from the royal limelight. While they still attend plenty of royal engagements and make important appearances often, they do small things to keep their lives as low key as possible.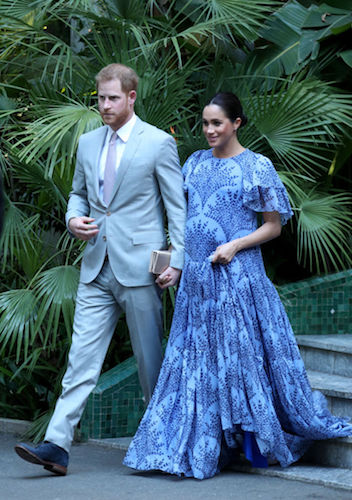 Harry has never liked all of the fanfare that comes with royalty
Although Harry has been in the spotlight since he was born, he never fully adjusted to it. The royal disliked everything that came along with being a prince. He recalled in an interview how much he hated walking behind his mother's coffin at her funeral while millions of people watched. "I don't think any child should be asked to do that, under any circumstances," Harry said in an interview with Newsweek. He found the spotlight hard to deal with and got caught up in a couple of scandals. But he said he realized he could use his position to do good in the world and turned his whole life around.
He and Meghan reportedly want to raise their children outside the public eye
Although Harry understands he'll always be in the media, he doesn't necessarily want the same for his children. Last year, Harry and Meghan announced they would be moving out of Kensington Palace and onto the grounds of Windsor Castle. While some thought the move was in response to a reported feud with Kate, those close to the couple have said Windsor Castle is a bit more private and will allow the family to have more time out of the public eye than if they stayed at Kensington Palace.
Harry and Meghan try to keep things normal by doing their own grocery shopping
It sounds hard to believe, but Harry and Meghan always do their own grocery shopping. Why? Because it keeps a sense of normalcy in their daily lives. "I do my own shopping," Harry said to Newsweek. "Sometimes, when I come away from the meat counter in my local supermarket, I worry someone will snap me with their phone. But I am determined to have a relatively normal life." Meghan has always done her own grocery shopping, and that didn't change when she and Harry got married. She can still be seen loading up her cart at Whole Foods.
Harry and Meghan differ largely from Will and Kate when it comes to privacy
Will and Kate differ from Meghan and Harry in a lot of ways, and privacy is one of them. Sure, Will and Kate like their privacy, but Will is also the future King of England, so there really isn't much of that. He and Kate don't do things such as go out and buy their own groceries, but it's because they live a much different life than Harry and Meghan. Harry is incredibly important, but he likely will never take the throne, so he has a bit more wiggle room to live life on his own terms; Will does not.
Check out The Cheat Sheet on Facebook!