Prince Harry, Meghan Markle, and Oprah Sat On Walmart Chairs During That Big Royal Interview
Every detail of Prince Harry and Meghan, Duchess of Sussex's bombshell interview with Oprah is being scrutinized in the aftermath. From the exact words the royal couple used to describe their experiences to the outfits they wore, it seems every detail was steeped in meaning.
The Duchess of Sussex is getting slammed for being out of touch with average citizens. But when it comes to the chairs she, Prince Harry, and Oprah were sitting on, it's surprising to find they're available at discount superstore Walmart.
Prince Harry and Meghan Markle are criticized for being out of touch
One of the chief complaints critics have against Harry and Meghan is that they have the audacity to complain. Both are rich, attractive, and famous beyond the wildest dreams of any Brits or Americans. This doesn't mean their lives are perfect. But, their wealth and status is enough to make many royal followers roll their eyes when this couple complains.
For example, some royal fans took offense at what Meghan wore for the interview. Meghan's outfit was comprised of a $4,700 Armani dress with an image of a lotus flower on it. She also wore Princess Diana's diamond tennis bracelet as a way of honoring her deceased mother-in-law.
Meghan's clothing budget has come into question in the past too. But one thing no one can complain about is the chairs Harry and Meghan were sitting on for the interview.
Harry and Meghan sat on Walmart chairs during their Oprah interview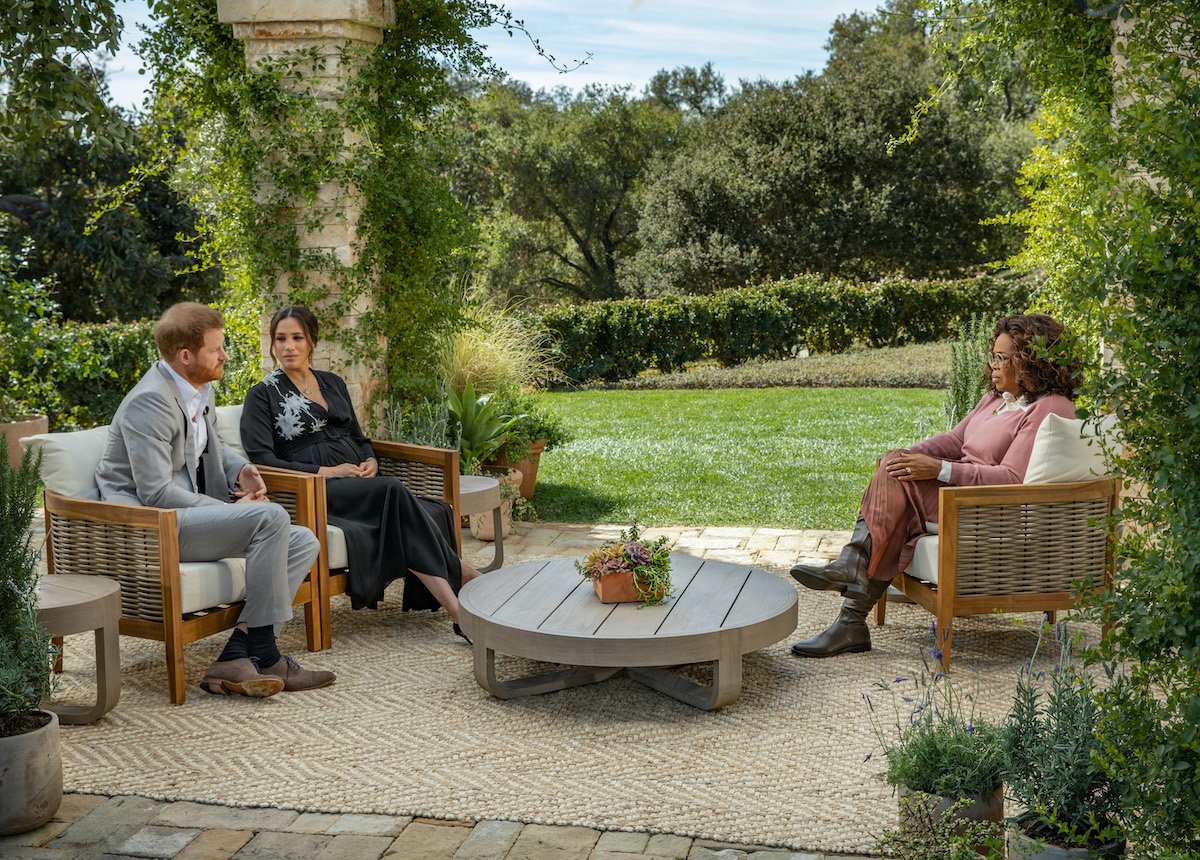 RELATED: Prince Harry and Meghan Markle Will Be Less Stressed Having Royal Baby No. 2 — Here's Why
Related post url: 
Because of the global pandemic plus the royal couple's love of California, the infamous Oprah interview was conducted in an idyllic outdoor setting rather than in a studio.
According to Domino, the Duke and Duchess of Sussex met Oprah at a mutual friend's house in Santa Barbara on a warm, sunny day. The couple sat more than six feet away from the legendary talk show host while they chatted.
The trio was surrounded by lush greenery and natural beauty. They perched on equally lovely outdoor furniture that was neutral and modern. Fans were surprised to learn that unlike Meghan's Armani gown and Harry's custom suit, the chairs were cheap and available at Walmart. At least, they were until they sold out.
They're called Noble House Rattler outdoor club chairs and retail for $337 per pair. Now they're out of stock thanks to the interview.
The Duke and Duchess of Sussex are enjoying a whole new lifestyle
Royal fans are divided on whether to love or despise Harry and Meghan, who have undoubtedly shaken up the royal family image more than anyone else in decades.
The couple spoke with Oprah candidly about their experiences with isolation, racism, and a general lack of support from senior royal family members. The Duke and Duchess of Sussex felt they had no choice but to leave the situation entirely.
The couple's relationship with the royal family remains rocky. However, Harry and Meghan seem happy as they settle into their new lives in California along with their toddler son, Archie. They no longer require permission to sit down for outdoor interviews with Oprah.
And even though they're still richer than the average citizen, at least Harry and Meghan aren't above settling into two Walmart chairs.