Prince Harry and Meghan Markle Argued on the Balcony at Trooping the Colour: Here's Why She Was 'Told Off'
Was Meghan Markle "told off" by Prince Harry when they stood on the balcony at the Trooping the Colour celebration last week? Fans of the royals noticed a tense exchange between the two in the blink-and-you-might-miss-it argument that unfolded.
What did Prince Harry say to Meghan Markle?
As Prince Harry and Meghan Markle stood on the balcony of Buckingham Palace, Markle was seen turning to ask Harry something. He appeared a bit bothered by her question and said something to her, she then turned facing forward, looking a bit defeated, while Harry looked momentarily unhappy.
The brief moment had many wondering what was said in the exchange and if this constitutes a public argument.
Fans speculated that the duchess had been "told off" as she turned her head towards Harry, away from the media and from those in attendance at the event.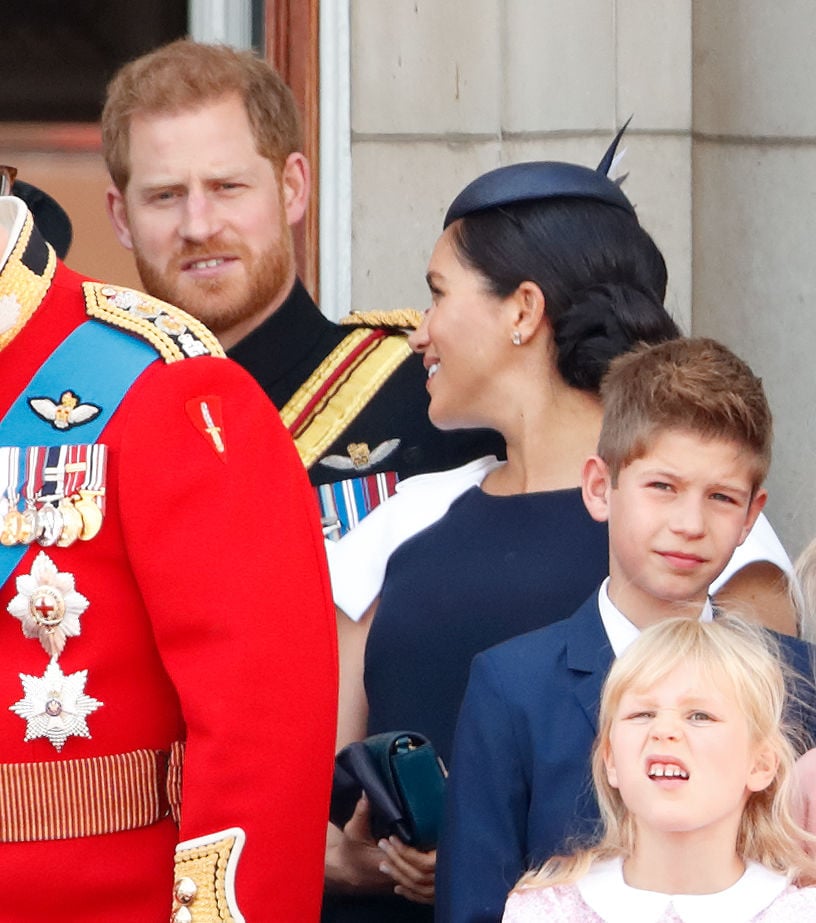 A lip reader weighs in
While fans have been trying to decipher what was said, the MailOnline turned to a lip reader to shed some light on the matter.
When Markle turned to face Prince Harry the first time, the lip reader noted that he appeared to answer her question, saying, "Yes, that's right."
She is seen returning to face forward, but then turns again to say something to Harry at which point, the expert notes, he tells her to "Turn around." She continues to look in his direction and he adds "Look," and glares in the direction of the front of the balcony.
Markle then faces frontwards and the national anthem begins to play.
The reason behind their seemingly tense exchange
While it was easy enough for people to assume this was a tense moment between Prince Harry and Meghan Markle, one expert explained why Harry was seen telling his wife to turn around.
During a segment of Sunrise, Basil Zempilas questioned whether Markle had received a "dressing down" from Harry, with radio host Chris Smith explaining, "At the end of the day, it is not a dressing down, they are scrutinized to the nth degree, unfairly, repeatedly."
Smith added, "Meghan would have done the same thing in reverse," noting, "If you look at the timing, she started to speak the second time as the national anthem just started to play. She didn't time that. He naturally said 'you better go to the front.'"
"She would have done the same thing," Smith reiterated.
Zempilas interrupted, noting his disagreement, offering, "You guys are kidding yourselves, look at his face, he is unhappy."
Smith responded: "She was mildly entertained by this too, she pursed her lips, as if to say 'oh I've been dressed down.'"
Royal fans weigh in
Of course, there were plenty of opinions flying on social media about whether Prince Harry really scolded Markle or not.
One Twitter user offered this explanation: "That clip shows just a fraction of what happened. Prince Harry told someone off behind him. He seemed quite angry. Meghan Markle then turned around to ask Harry what happened. He then said something to her, and she turned away with a wry smile."
Another royal fan noted: "He OBVIOUSLY told her to face the crowd to follow proper etiquette for photos."
Still another Twitter user agreed and reminded us of another 'dressing down' in the past: "She has to follow protocol and she knew what she was signing up for but for those saying it's everybody picking on Meghan it isn't – it was either last yr or yr before the queen told William off for bending down to talk to Prince George on the balcony."