Prince Harry and Meghan Markle's Body Language at Queen's Platinum Jubilee Showed 'United Front,' Expert Says
A body language expert looked at Prince Harry and Meghan Markle gestures when they went to the queen's Platinum Jubilee. She pointed the way the Sussexes had a 'united front.'
All eyes were on Prince Harry and Meghan Markle when they attended the St. Paul's Cathedral service during the queen's Platinum Jubilee. According to one body language expert, the Duke and Duchess of Sussex showed a "united front" at the event.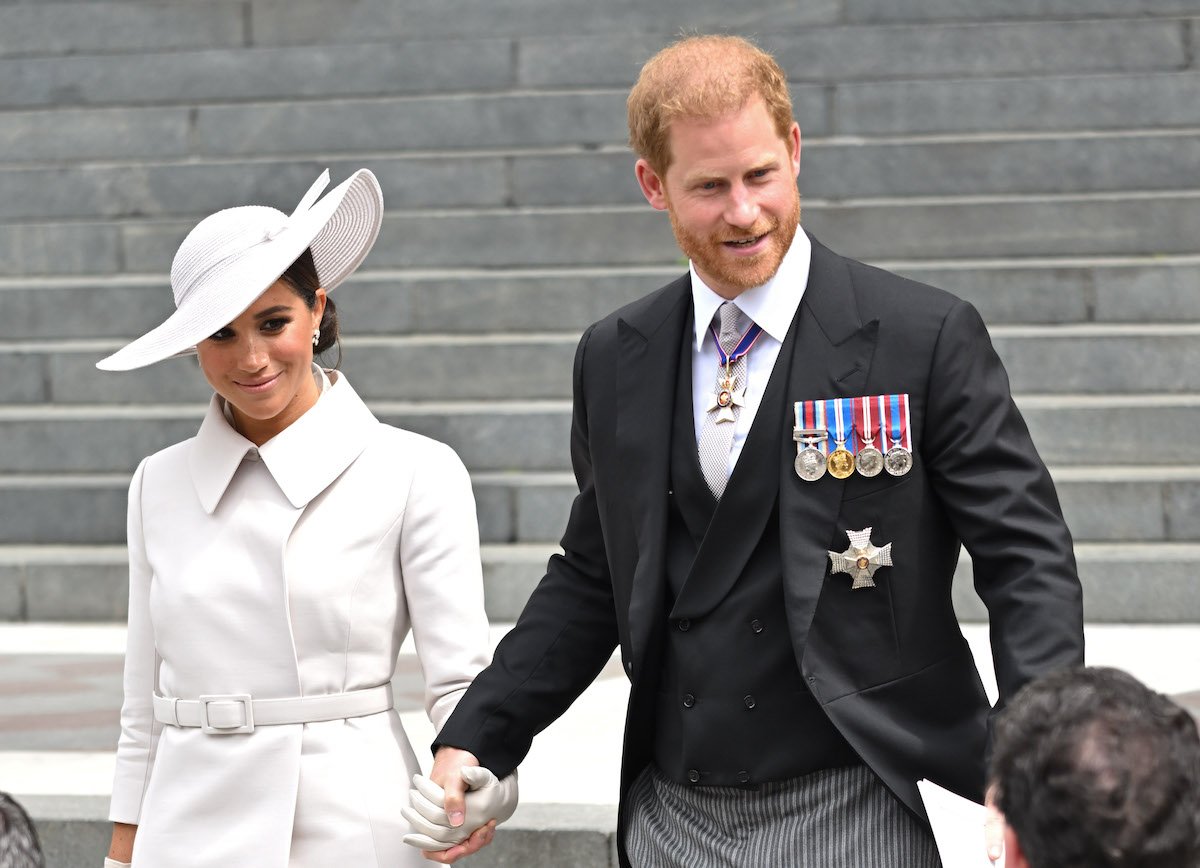 Prince Harry and Meghan Markle attended the Service of Thanksgiving at the Platinum Jubilee
On June 3, Prince Harry and Meghan arrived at the queen's Service of Thanksgiving at St. Paul's Cathedral. They held hands and smiled as they walked down the aisle and sat in the second row while Prince William and Kate Middleton sat in the front row.
A lip reader told The Sun that Meghan appeared to offer reassurance to Harry, saying, "Yeah, will be fine."
Another lip-reading expert shared the riveting exchange about logistics that went down between the Sussexes. Juliet Sullivan told the Daily Mail that she observed this conversation:
Harry: "So when we go … and then we have to … that's together…"
Megan: "Yes … (nods) … should be fun (laughs)."
Prince Harry was supportive of Meghan Markle, according to a body language expert
Body language expert Elaine Swann weighed in with her take on Harry and Meghan's appearance at the event. During an interview on the June 8 episode of the Royally Us podcast, Swann was asked, "How do you think they seemed? What was kind of the vibe that you were getting from them?"
The expert noted the supportive body language she observed. "You know, the thing with Harry and Meghan that I love is that they really truly lean on one another for that equal support," Swann said. "And Harry's just so gracious, so attentive to his wife."
She continued, "You can tell, there were gestures and holding their hand, giving her little glances to let her know that he's there for one another and they certainly had this united front with one another. And it's very clear that, as far as the dynamic is concerned for this family, it really is them together collectively and then also the monarchy and the working royals in the family. There's definitely a divide as far as it's concerned."
Swann further noted that Harry and Meghan put on "brave" faces. "But I believe, behind the scenes, you know, this is still a family. This is still a family and they're going to tread through these waters in the best way that they can but they certainly put on the bravest face that they could and moved forward with their focus being, 'We're here to celebrate this jubilee and focus on this' and not necessarily lean too much into the rift that the rest of the family members might have," she said.
"So I think they did a pretty good job," the expert added.
The Sussexes kept their focus on the queen's jubilee
Swann noted that the couple was able to keep their focus on what was important, stay on task, and ignore the noise surrounding their appearance. "I feel like they leaned on each other and they understood the purpose," she said.
The expert continued, "They went there, they did what they were supposed to do, and sat where they were supposed to sit, whether it was on the other side of the aisle or not … and they said, 'You know what, this is a moment in time, we're going to get on the other side of this' and live the rest of their lives."
Swann added, "Because what they do have is a very, very warm welcome reception back here in the U.S."