Prince Harry and Meghan Markle Should 'Move On' With Their Life After 'Tragically Sad' Behavior, Royal Expert Says
Royal expert Angela Levin slams Prince Harry and Meghan Markle for their 'downhill' behavior, saying it's 'tragically sad' and 'painful to watch' Prince Harry.
Prince Harry and Meghan Markle's exit from the royal family was a little over two years ago and they have since aired their family dirty laundry, most notably during an interview with Oprah Winfrey. One royal expert thinks the couple should "move on" after their "tragically sad" behavior.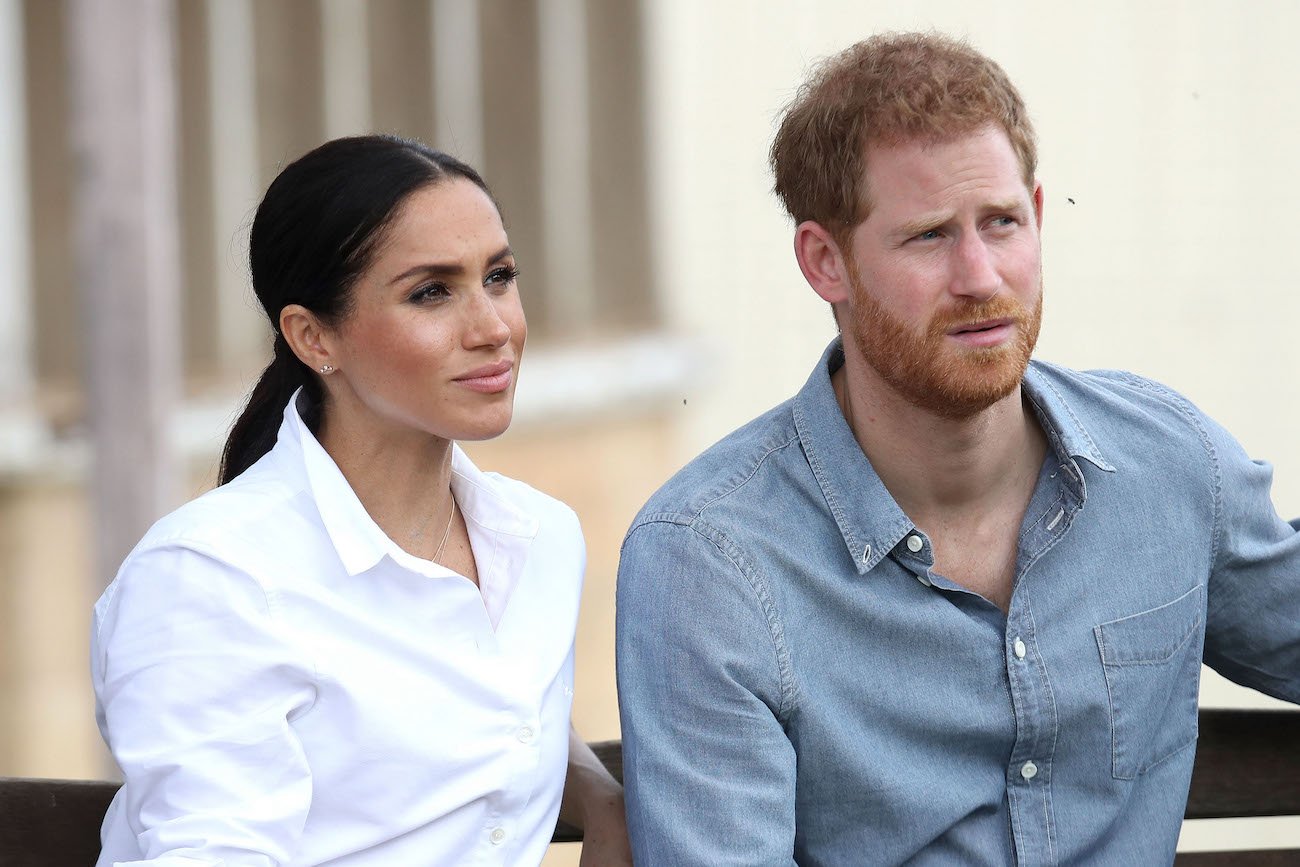 Prince Harry may 'go after' Prince Charles and Camilla Parker Bowles in upcoming memoir, royal author says
While the specifics of Prince Harry's upcoming memoir are unknown, there has been plenty of speculation that he will take aim at royal family members.
Royal author Tina Brown, who has been promoting her book The Palace Papers: Inside the House of Windsor — The Truth and the Turmoil, shared her thoughts with the Telegraph. "William has accepted Camilla in terms of what she means to his father. He's been grown-up about it. 'My father loves this woman, I can't fight it, so I won't,'" Brown noted.
She added, "Harry, on the other hand, can't stand Camilla, he doesn't want Camilla to be queen, he's very angry that it's happening. He has not made his peace with it and he probably never will."
Brown believes that Harry's book will focus on his father Prince Charles and Camilla. "William was disgusted about Meghan's attack on Kate (over the wedding dress/who made who cry saga) because she can't answer back. But that's nothing compared to how furious he's going to be when this book comes out," she shared.
"Because Harry's not going to go after the queen, she's sacrosanct. And he probably won't go after Kate, whom he's very fond of," Brown explained. "But he will go after Charles and Camilla and maybe William. And that's so unhelpful to them all at this particular moment; for William that's the big cloud in their relationship right now."
Royal expert said Prince Harry and Meghan Markle's behavior 'keeps going downhill'
Royal biographer Angela Levin is vocal about her thoughts on Harry and Meghan since stepping away from their royal duties.
Levin shared with Kay Burley on Sky News Breakfast (via Express), "Their behavior just keeps going down and downhill. The fact that it was sort of suspected yesterday in another new royal book that Prince Harry was really going to go for Charles and Camilla — we're all bored of that. We just want to say move on and try and enjoy your life, not on and on endlessly about how badly you were treated."
Levin continued, "It's just tragically sad and nothing like the Harry that I knew. It's quite painful to watch actually, you want to shake him and say, 'Don't you see what you're doing?'"
She added, "We've all had absolutely enough of it, bored stiff with it. You know, be positive and show us a very happy man because you got exactly what you wanted."
Harry and Meghan appear to have a 'restrained social life'
Harry and Meghan didn't attend Brooklyn Beckham's wedding and royal writer Daniela Elser shared her thoughts on why the couple seem to be skipping out on high profile events such as the Oscars and Met Gala.
"Now, Harry and Meghan may well have been invited to all of these events and wisely decided they did not want to spend their spare time dodging and weaving royally-star struck celebs in favor of a nice night in enjoying oat milk, sugar-free hot chocolates, and a new Brene Brown audiobook," Elser wrote on News.com.au.
"However, for whatever reason, what is notable about the Sussexes is, since quitting the UK to talk about making content, how restrained their social life has been, she noted.