Prince Harry and Meghan Markle's Oprah Interview Is 'Crossing a Line' by 'Attacking the Queen,' Claims Royal Critic
Does Prince Harry and Meghan, Duchess of Sussex's interview with Oprah Winfrey cross a line? One royal expert believes that by sitting down for the tell-all interview, the Sussexes are "attacking the queen" and their intention to clear the air will "backfire" for the couple.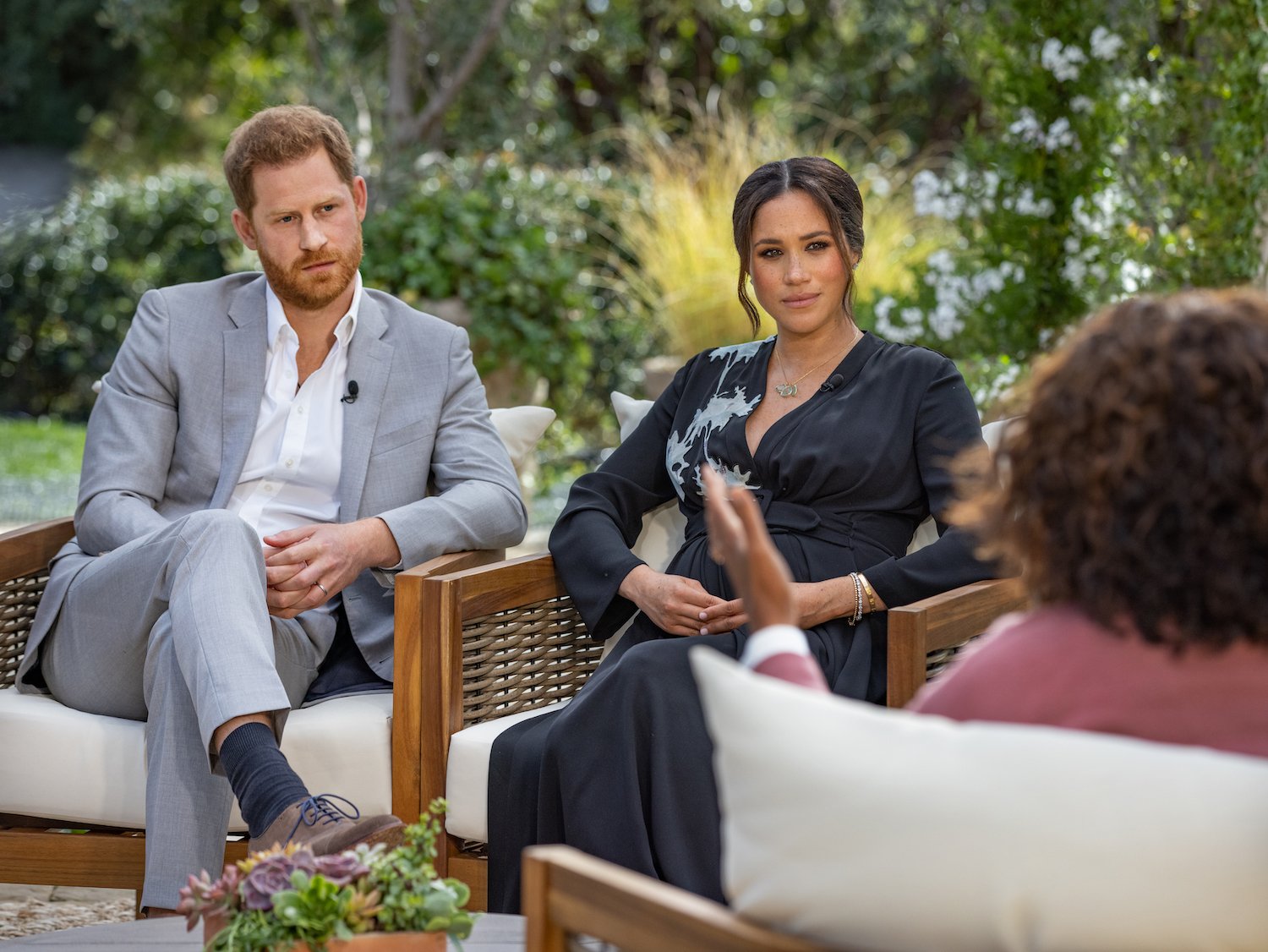 Prince Harry and Meghan Markle's interview with Oprah has been highly anticipated
Video teasers of Prince Harry and Meghan's interview with Oprah have given some indication of what royal fans can expect to hear from the Sussexes.
Oprah explained how nothing "is off-limits" during the interview and asked Meghan, "How do you feel about the palace hearing you speak your truth today?"
"I don't know how they could expect that, after all of this time, we would still just be silent if there is an active role that The Firm is playing in perpetuating falsehoods about us," Meghan said.
"And, if that comes with risk of losing things, I mean, I … there is a lot that has been lost already," she added.
Prince Harry and Meghan 'had each other' while dealing with being in the royal spotlight
In another teaser clip, Prince Harry shared how he and Meghan faced a number of challenges while in the royal family, including intense media scrutiny, but they could navigate it together.
"For me, I'm just really relieved and happy to be sitting here, talking to you with my wife by my side," Prince Harry explained. "I can't begin to imagine what it must have been like for [Princess Diana] going through this process by herself all those years ago, because it has been unbelievably tough for the two of us, but at least we had each other."
"My biggest concern was history repeating itself," he explained in another clip.
Expert claims their interview crosses a line
TV presenter Lorraine Kelly addresses the Sussexes' interview with Oprah in a Mar. 5 article for The Sun. "Meghan and Harry have wrecked their relationship with his family and I ­honestly don't see how they will ever be able to repair the damage unleashed," Kelly writes.
Kelly admits that Meghan could have better understood royal protocols and the family might have "cut her some slack because it can't be easy coming into such a bizarre family dynamic." She takes issue, however, with Meghan's claim that the royal family was "perpetuating falsehoods."
"The trouble is when you attack The Firm you are essentially attacking the queen, and that is crossing a line," Kelly writes. "I'm baffled as to why Harry and Meghan would both want to do a no-holds-barred interview with Oprah."
"What on earth do they have to gain?," she asks. While she believes that the couple "are clearly bruised and upset" by what they've been through, Kelly notes the confusion over Prince Harry and Meghan demanding privacy but participating in this "high-profile" interview.
"I fear that, obviously for vastly different reasons, Harry and Meghan's Oprah interview could also backfire on them," Kelly notes. "They will live to regret trying to settle scores and burning down all those royal bridges."